Maybe your neighbor is a gym rat, your workmate is a competitive runner, or your best friend is a yoga teacher. They seem to have several hours multiple times a week to wring it out, ratchet up their heart rates, burn some serious calories, and expand their glow of total fitness. It's great if you can keep pace with them, but if you're like most of us, there are times when 10 minutes is just about all you can carve out of your schedule for a workout.
Well, rather than tap around on your device or flip through some channels during those 10 minutes, give yourself some real rejuvenation by trying any—or all—of the 10-minute workouts recommended by some of our Shaklee Pure Performance Team athletes. They're experts at long, intense workouts, but every single one of them emphasize the same time-honored sentiment: Any activity is better than no activity, and 10 minutes can do wonders for your health and well-being.
Kelli Stack: 2010, 2014 Winter Games, Hockey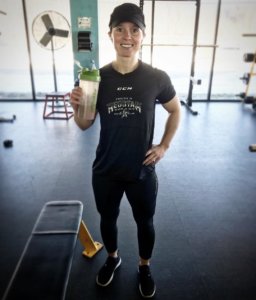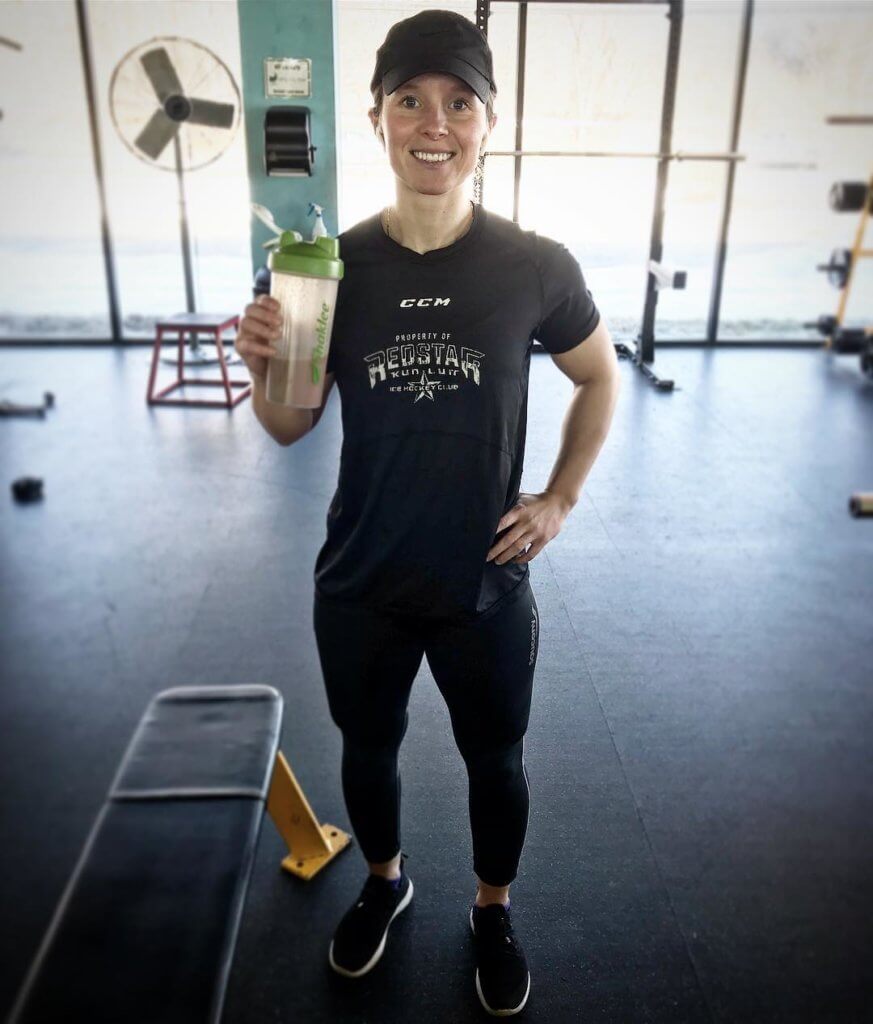 Bodyweight squat: 30 seconds
Front plank, right-side plank, left side plank: 20 seconds each
Rear-foot-elevated split squat: 15 seconds each leg
Push-ups: 30 seconds
Explosive split squat jumps: 30 seconds
Low back press (Lay on your back, hands at sides. Press your lower back to the ground, hold your feet 6 inches off the ground): 30 seconds
Squat hold: 30 seconds
Push-ups: 30 seconds
Superman pulses: 30 seconds
Try two circuits of these exercises, pushing yourself to reduce the rest time between each exercise during the second circuit.
Amy Cozad Magana: 2016 Summer Games, Diving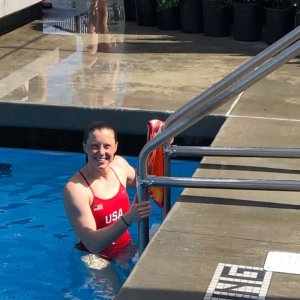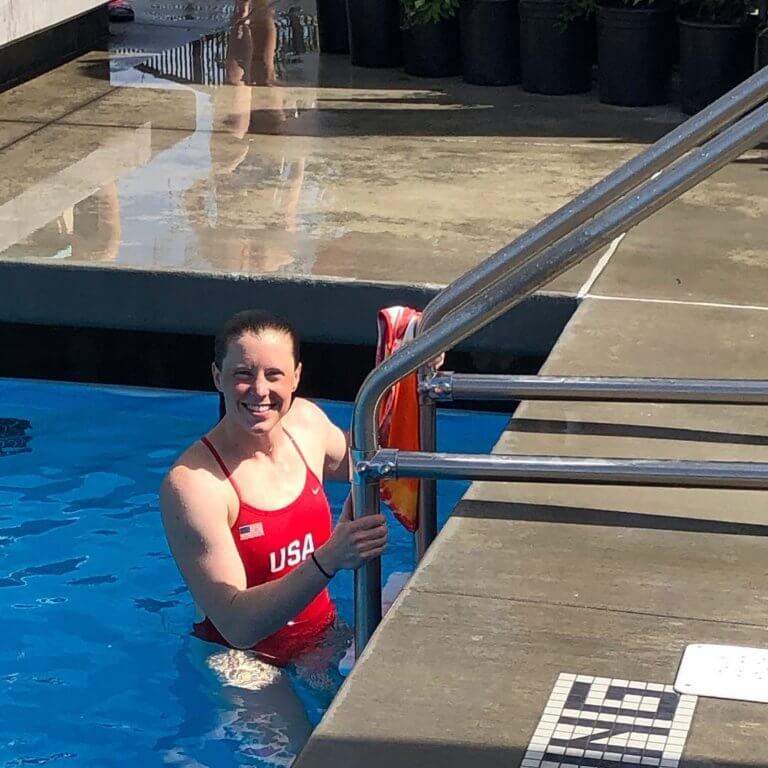 10 Sumo jumps: Taking a wide stance, squat down as low as possible, keeping chest upright, and hold squat position for five seconds. Then jump out of the squat and return immediately back to squat position. Every jump is one rep.
10 Push-ups with knee tucks: Perform one push-up, and while holding the push-up position, tuck right knee into chest and return foot to original position. Then repeat tuck with left knee for a total of 10 push-ups and 10 knee tucks on each leg.
20 Lunges in place, 10 each leg: Perform regular forward lunges, alternating legs each time.
10 Squats, feet shoulder width apart: Do regular body weight squats, keeping chest tall and heels flat on the ground.
15 + 15 Diagonal crunch to leg raise: Lying on your back with right foot resting on left knee, do an ab crunch diagonally to touch left elbow to right knee. After 15 crunches, uncross legs and hold left elbow to right knee while doing 15 straight leg lifts with left leg. Perform the same on the other side of the body.
20 Lunge jumps in place, 10 each leg: Start in a lunge position with right foot forward, then jump up and switch to a left-foot-forward lunge. Do this continuously until you've completed 10 jumps on each leg.
30 Wall tricep push-ups: Place forearms vertically, parallel on the wall, elbows at shoulder height, and step your feet back as far as comfortably possible. Push hands into wall and straighten elbows. Slowly return elbows back to the wall.
10 Squat jumps, feet shoulder width apart: Start in a squat position, perform an explosive jump and return back to squat position while keeping chest tall and feet shoulder width apart.
10 Scapular wall slides: Standing with back flat against the wall with feet in front for stability, press elbows and back of hands against the wall with elbows at shoulder height and hands pointing up. While keeping elbows and back of hands in contact with the wall, slowly slide arms up and down the wall.
Calf raises, 25 right foot only, 25 left foot only, 50 with both feet: Perform slowly with a full range of motion in the ankle joint, all the way down and all the way up to tippy toes.
Cale Simmons: 2016 Summer Games, Pole Vault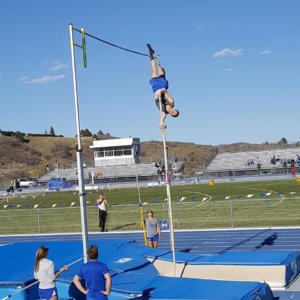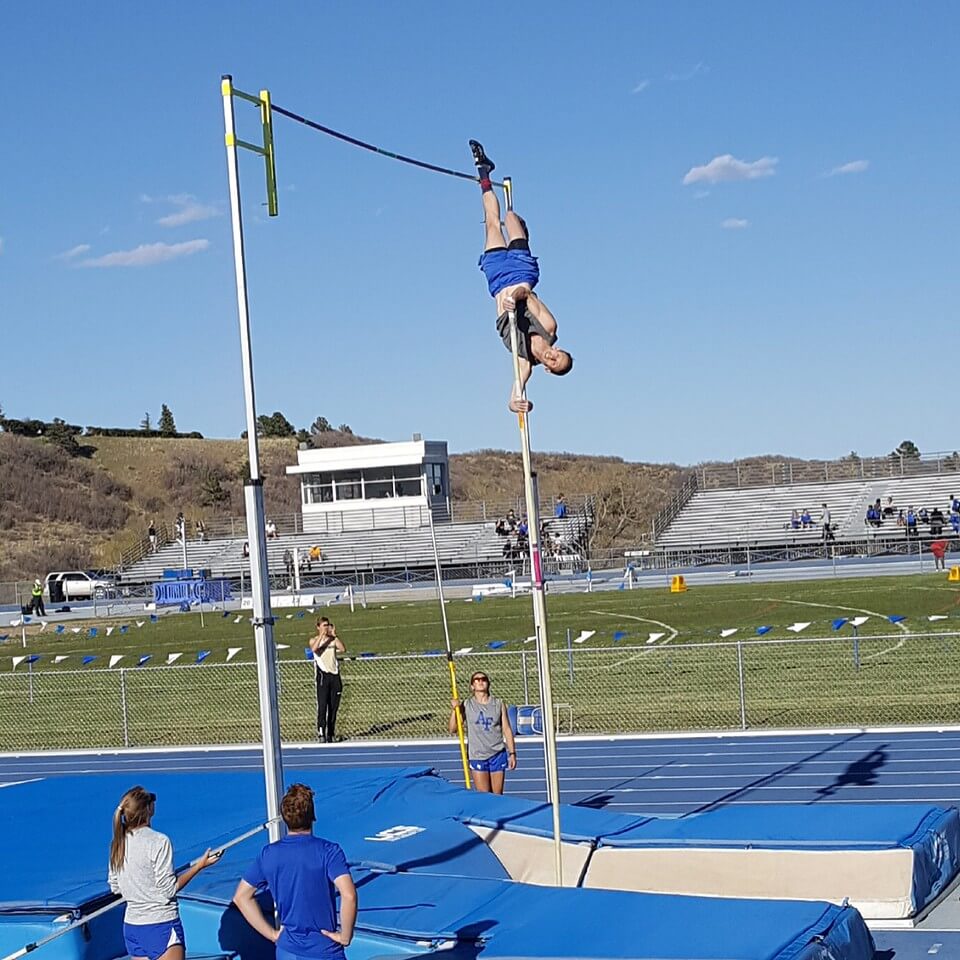 Here are two workouts, one for when you are at a track, and one for at home.
At the track, enhanced mile run:
Run a lap.
Lunge for 100 meters.
Run a lap from there.
Lunge 100 meters.
Run a lap from there.
Lunge 50 meters.
Run until the end to finish your mile.
At home, repeat twice:
Perform as many push-ups as possible (till you fail).
Do a 1-minute wall sit.
Lying on your back for 1 minute, alternate elbow-to-opposite knee touches, holding each touch for 2 seconds.
Lying on your stomach for one minute, perform 15-second superman arches.
End with a 30-second glute bridge.
Isabella Isaksen: 2016 Summer Games, Modern Pentathlon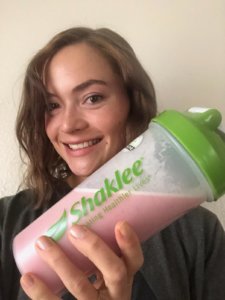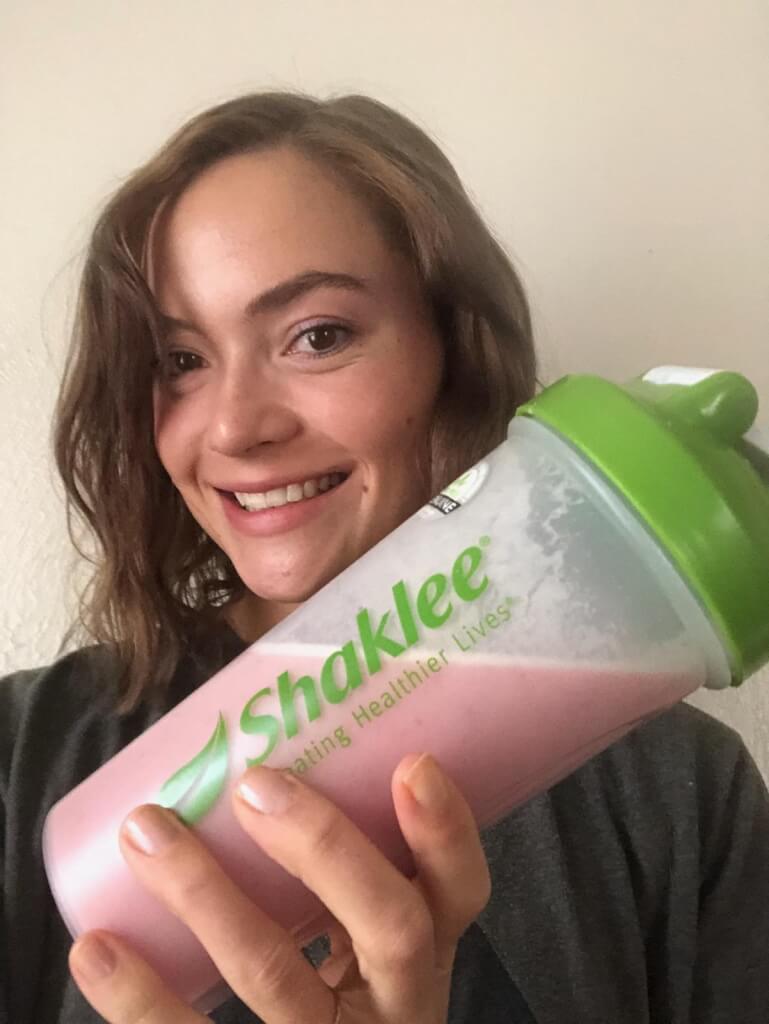 I love to do this core workout anytime, but especially when I'm traveling. I do each of the exercises below for 40 seconds, then rest for 20 seconds before moving to the next exercise:
Plank
Side plank, once each side
Charles Fernandez: 2016 Summer Games, Modern Pentathlon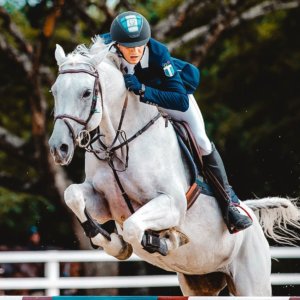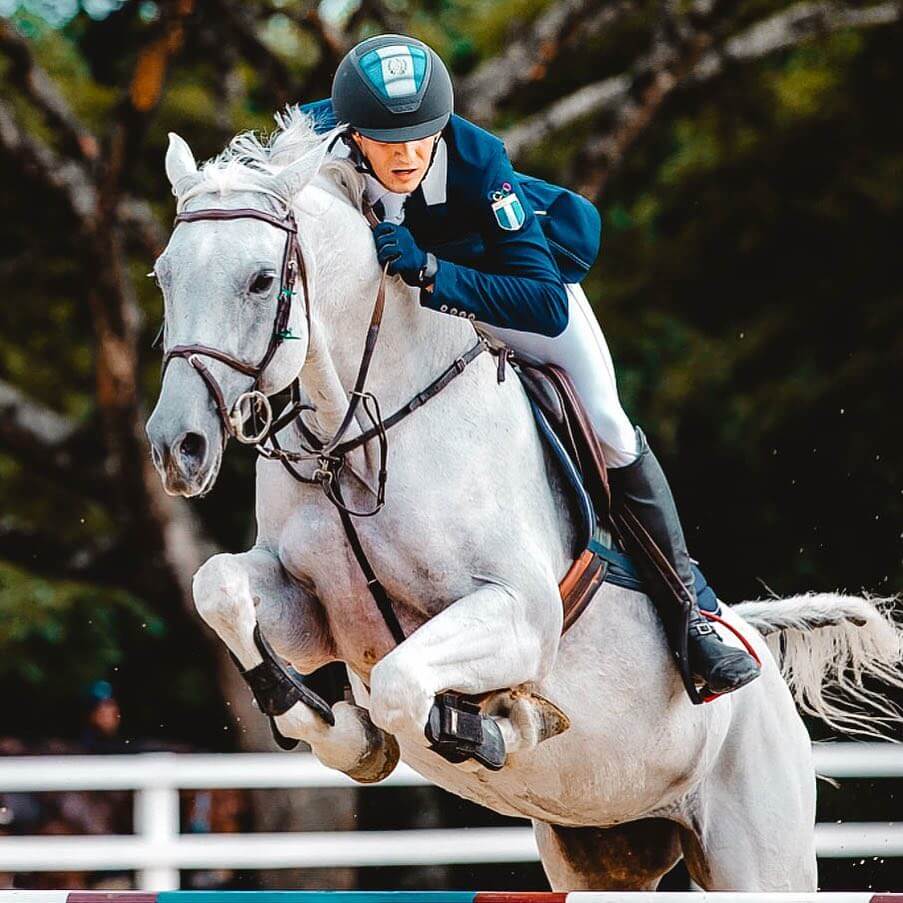 Here is a 10-minute core workout I do every day—really helps with my stability and balance. For this workout, perform the exercise for 45 seconds, then rest for 15 seconds. Complete two circuits.
Eleanor Harvey: 2016 Summer Games, Fencing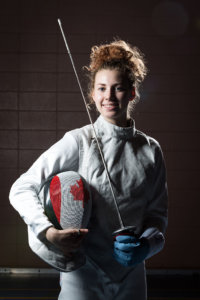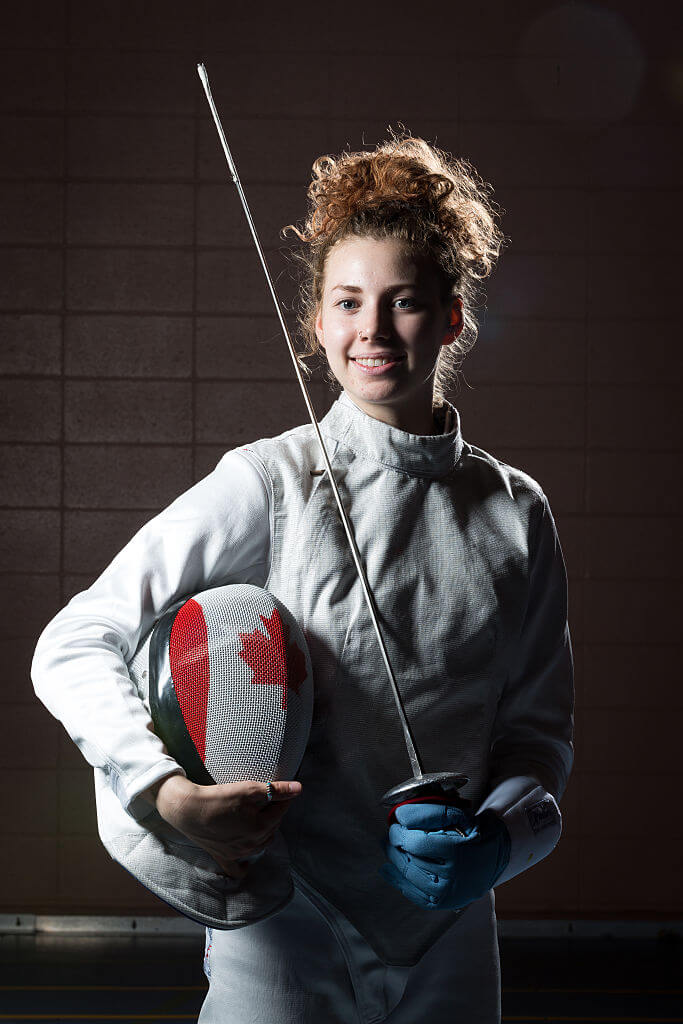 Repeat this sequence of exercises five times:
Squat jumps, 30 seconds
Side plank with right leg lifted (right side), 20 seconds
Side plank with left leg lifted (left side), 20 seconds
Mountain climbers, 20 seconds
Take a 30-second break, then start over.
Margaux Isaksen: 2008, 2012, 2016 Summer Games, Modern Pentathlon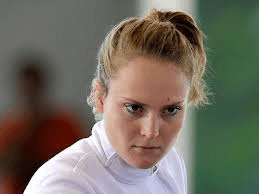 While my favorite form of exercise is getting outside for a run, I have designed this workout with expectant mothers in mind. It's a great addition to any exercise routine, or perfect on its own. Be sure you stretch and drink lots of water. After all, you're exercising for two now!
3 x 20 body weight squats: Take it slow and only go as low as you can while staying comfortable. You want your weight over your heels to get that good burn in your glutes. Remember to keep your core tight and your chest up. Rest 30 seconds between sets.
2 x 20 split squats: Please be mindful of any pressure on your knee and remember not to let your knee go over your front toe. This will protect your knees from any unnecessary stress. Remember to engage your core and keep your chest up. Rest 30 seconds between sets.
2 x 30 clamshells, 30 pulses each leg: Focus on small, controlled movements. Rest 30 seconds between sets.
2 x 30-second side planks, each side: Feel free to drop to your knees if you aren't comfortable. This will target your obliques without any added pressure on your abdominals.
Mary Whipple Murray: 2004, 2008, 2012 Summer Games, Rowing
Dust off that rowing machine for this workout. Be sure to warm up sufficiently so that you can row with strong pulls. This is a classic workout to help you figure out what your 2,000-meter split goal should be (2,000 meters is the length of the Rowing competition).
4 minutes at 20 strokes/minute, or a pace that you can hold steady for the 4-minute period. Think more of a jogging pace.
3 minutes at 24 strokes/minute and a slightly stronger pressure. Try decreasing your 500-meter split by at least 2 seconds.
2 minutes at 28 strokes/minute. Again, trying to decrease your 500-meter split by 1–2 seconds.
1 minute at 32 strokes/minute. Maximize your effort with the goal of decreasing your 500-meter split by 1–2 seconds.
Have fun, and just when you think that you can't keep rowing, break down your goal into 10-stroke mini-goals. Rowers are notorious for counting strokes and breaking down a workout into smaller manageable goals within the workout. Also check out Jamie Corkish and Amanda Elmore's recommended "Workouts for Busy Moms" on our Naturally blog.
Here's a bonus: People who squeeze in just 10 minutes for a workout often find they have more energy and better focus to find even more time in their busy schedules for longer workouts or other enriching activities…after all, anything is better than screen poking or channel surfing!