We often think of Games' athletes as superhuman beings who are naturally great at everything—their sport, their vibrant lifestyles, and even their relationships. But we know that's not universally true; sometimes the greatest athletes haven't exactly won a gold medal in their home life. But we spoke with four Shaklee Pure Performance Team members who have forged the right balance between excellence in sport and bliss in their marriage. Here's a glimpse at the secrets of their success. As you'll see, the "secrets" are pretty basic—they just do them so well!
Corey Unrein: Shooting (2008 bronze medal, 2012, 2016 bronze medal)
Q: It's almost not fair, Corey—you're a future Hall of Famer in Shooting married to a nine-year veteran of the National Football League, Mitch Unrein. So much talent in one family, but also lots of competition-induced stress. How do you do it?
A: I'll show you stress: In an 18-month period, we moved six times to follow Mitch as he played for Denver, San Diego, Chicago…all the while, I was in the middle of the 2016 US Team selection cycle. Think about that for a minute, and you can add up all the stresses—it's a lot! So, we decided for every day we are together, we will dedicate some time to sit down, tell each other about our day, and basically just converse. That communication prevented us from being just roommates and helped us to be actual friends and partners. And now that we have a 9-month-old son, it's even more important to avoid being self-centered, to be a stronger team. We've worked through almost nonstop chaos, but I guess we thrive there…after all, I was able to win that medal in 2016!
Ashley Nee: Kayak (2016)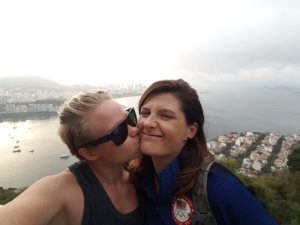 Q: Obviously, communication is a key in successful relationships. But you can't just talk your way through the stresses and challenges of being a Games competitor, can you?
A: My wife (also named Ashley) has been through three Game cycles with me! The most fun way to balance Kayak racing at the highest levels of competition is to go on a road trip after the annual World Championships, which are usually held in Europe. That always gives us time to reconnect after a big event and after the demands of a highly competitive season. Plus, I get to show her all the cool places I explored while training, traveling, and competing! When I am home, we hit the river together. She is a great kayaker and we get to share that too. She doesn't race, so we don't need to worry about a family rivalry—we just paddle for fun together. In fact, her whole family paddles!
John Landsteiner: Curling (2014, 2018 gold medal)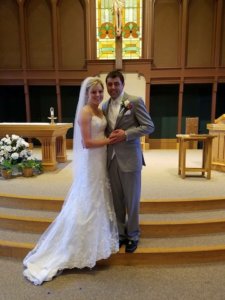 Q: We've heard of a match made in heaven, but your match was made on ice! How does it work when both partners enjoy the same sport?
A: The funniest and cutest thing about my relationship with my wife and my sport would be that the two worlds combine flawlessly! I met my wife in a Curling match at the Duluth Curling Club. Our wedding reception was at the Bemidji Curling Club—I guess it was meant to be! My wife's family have become some of our team's biggest fans. My wife and I even occasionally compete in the mixed doubles tournaments, and we were the Mixed Elite Champions in 2018–2019 at the Duluth Curling Club!
Taylor Morris: Luge (2018)
Q: With all the inevitable highs and lows of juggling elite athletics and a successful relationship, you've got to have some great advice and equally great memories, right?
A: My wife, Megan, and I met 10 years ago in our senior year of high school. I competed and traveled extensively early in our relationship, so we found that communication had to be our foundation. It seemed like such an easy thing to do, but when we were both running 8+-hour days and in massively different time zones, it was easier said than done. But in these moments of communication, we inherently grew closer as the conversations were more intimate. One of the best memories we have together occurred during the 2018 Winter Games. Megan was 11 weeks pregnant and made the grueling trip to South Korea to watch me compete in my first Games. After the first day of competition, I walked through the interview zone to answer questions. I mentioned my wife was pregnant and they asked me to point her out in the crowd. Megan opened her jacket and had a custom-made shirt that said, "Olympic Baby Girl On Board!" It was an endearing moment to be able to succeed in my lifelong goals, becoming a father and competing at the Winter Games. It was even more memorable that we were able to share this with the world!
Most elite athletes will readily admit that it takes a large dose of self-centeredness to hone those athletic skills, but as we've seen above, many athletes also point back to their spouse as their greatest motivators!