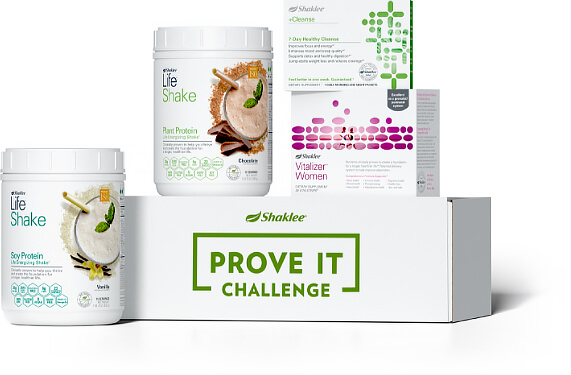 Prove It Challenge™
The Prove It Challenge is an easy to follow and effective way to take charge of your health and kickstart a daily nutrition routine, making it one of our most popular products.
For details, please review the information in this section to understand the full benefit and creative ideas for you to start promoting The Prove It Challenge.
Also, for a limited time, we are offering additional incentives for our Influencers who are promoting The Prove It Challenge. Ready to start? Email us.
We hear every day why people love The Prove It Challenge.
Here are the top reasons.
Easy to follow: Not complex, just straight-forward.
Customizable: There are different Life Shakes and Vitamin combinations to make sure your followers get the right Prove It Challenge for them
Safe: Developed by the scientist at Shaklee
The Prove It Challenge is simple and safe.  Below you will find important information which will let you make better, more informed posts.  Below you will find details on each phase, as well as, links to .pdf downloads.
Prove It Challenge Phase Details:
Phase 1: Day 1-7:  7-Day Healthy Cleanse:
Directions:
Start with a 7-Day Healthy Cleanse to completely reset your system
In a preliminary study, results showed improved focus and energy, improved sleep and healthy digestion.† It also helped jump start weight loss and reduce cravings.† Average weight loss of 6.8 pounds and a decrease in waist circumference of 1.62 inches†
What your followers eat each day:
During the 7-Day Healthy Cleanse your followers will eat fruit, leafy greens and other vegetables.
They will also take Vitalizer™ vitamins.  Vitalizer's™ effectiveness is well proven.  Based on 12 clinical studies and the Landmark Study, one of the largest studies ever done on long-term supplement users, showed that those who used Shaklee supplements had much healthier biomarkers for heart, brain and cognitive health compared to non-supplement or single-supplement users. Take one morning and one night packet daily with a glass of water.
Finally, each day your followers will drink one Life Shake per day.  In a published clinical weight loss study, Life Shake™ helped participants lose fat, weight, and inches while retaining lean muscle.‡
Phase 2:  Day 8-30
Now your followers can eat normally.  They just need to replace one meal with one Life Shake per day.
Who should NOT take the Prove It Challenge:
Not intended for use by children, or pregnant or lactating women.
Please make sure you mention this when you make a post.
Additionally, please ensure you mention if a follower is taking medication or have a medical condition it is recommended, they discuss with their physician prior to use.
General Prove It Challenge Overview and Information
We already know you're a skilled Influencer. Please review these social posts as inspiration and not direction. Much of the imagery is IG Story-ready!