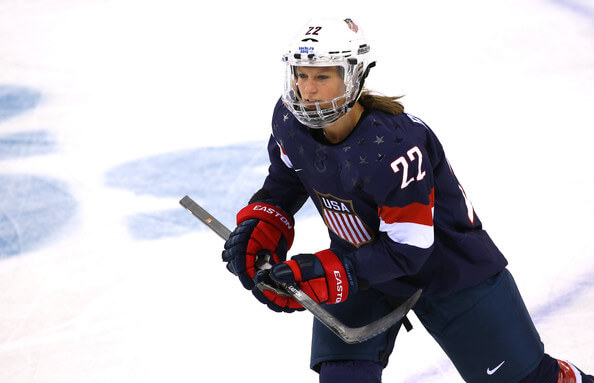 For most of her life, Kacey Bellamy has been darting, checking, and blocking on the ice hockey rink among the world's most elite players. As a defense player on the best U.S. teams, she has displayed an almost savage fury of arms and legs, blades and stick, as she helps to regulate the tempo of a game often described as controlled chaos. "Hockey is actually such a beautiful game," said this Shaklee Pure Performance Team athlete, "and our team has grown so much in the past four years."
Kacey will skate on the world's biggest stage for the third time, having won silver medals in Vancouver in 2010 and Sochi in 2014. She and her teammates will bring their brand of beautiful chaos to PyeongChang, South Korea this February, and Kacey hopes the world will see some of the best hockey ever played.
Kacey discussed her views on competition, health, nutrition, and motivation in a recent interview:
Q: What's your outlook going into PyeongChang, and how is it different from your past two Games?
A: I think going into Sochi in 2014, we only had the gold medal on our minds and maybe even got ahead of ourselves in some detrimental ways. But in the ensuing four years, we stepped back, and learned a lot as a program and a team. We worked extensively on the mental part of the game. We've also worked on the little things, from better face-offs to overcoming difficult game situations. We're better at handling those situations mentally and emotionally and have improved vastly. In addition, Women's Ice Hockey has grown tremendously, so the games are better and our off-ice training is more effective.

Q: Have those evolutions also produced a distinct team personality or mantra?
A: Our team's entire philosophy and approach is 'Better every day.' That attitude includes everything on and off the ice: our mental attitude, how we lift weights, the way we play, and anything else that can help us get better. We're focused as a team on trying to get better, and we are definitely better than we were in Sochi. Every game, every tournament, every day is a stepping stone. Our training habits are better, and we're doing everything for the greater good of the team.

Q: Part of getting better is a serious focus on diet and nutrition, correct?
A: Yes! One of my teammates says 'Our body is our temple,' suggesting that we need to take good care of our bodies. My approach to nutrition is different from the past 5 to 6 years. I know that everything we consume is important. I know the importance of recovery, how to refuel—all those things are so critical. As I get older, I feel that knowing those nutritional concepts gives me an advantage. Every morning I start with eggs, avocado, and toast and a Shaklee favorite, Life Energizing  Shake™; I add variously a banana, spinach, cashews, almond milk, and almond butter. I have a big sandwich or salad for after practice, a Shaklee Physique®+Bio-Build® recovery shake, and then for dinner I eat some red meat, chicken, or fish. Plus, I always try to throw in a grain food and, of course, lots of veggies. But I also believe that balance is a huge key in life, so I'll occasionally indulge in a dessert, maybe a few bites of ice cream once a week or so.

Q: You've included some key Shaklee nutrition in your diet. Any other favorite Shaklee products?
A: Everything! I use the laundry detergent, all the great cleaning products, and several of the YOUTH® skin care products. Lately, one of my favorites is the YOUTH® Radiance C+E, and also the YOUTH® Activating Serum. As I mentioned, I drink the protein-rich Life Energizing Shake every day.

Q: You've been on the ice competing at a high level for most of your life. What motivates you?
A: Our objective is to get to the pinnacle, to the gold medal, but it's my teammates who really motivate me. I've learned in the past three Game cycles that it's so much about the journey—being in the present moment with your teammates. I want to get better for them; I want to be great for the girls next to me, and they want to do the same for me. It's team chemistry, and we play for each other. I find that the difference between victory and disappointment is the human will and heart as a team. Whoever plays that way will come out on top.

Q: Any other motivational thoughts for the Shaklee Family?
A: Every day when you wake up, nurture a hunger, a goal…no matter what it is, wake up with that desire. Live your life to the fullest throughout the day, then go to bed with no regrets. My hockey life has been an incredible journey, and I've been fortunate to put on this jersey—I don't take any of it for granted. The Women's Hockey Team hasn't won a gold at the Games in 20 years, so we realize that we're attempting to do something historic. That's pretty exciting—and motivational!
A special thank you to Kacey Bellamy. She is a 2-time silver medalist: 2014 in Sochi and 2010 in Vancouver B.C., and a 7-time USA Hockey Women's National Festival participant (2006-12). Her favorite Shaklee products are  Life Energizing  Shake™ , YOUTH® Radiance C+E, and also the YOUTH® Activating Serum