Dads: They're often grossly misportrayed in modern media as inept, goofy, self-absorbed, unaware, or simply absent. In truth, the influence of the fathers of the world is profound and immeasurable.
They've helped us prepare for the big (and small) moments in our lives, and they beam with pride in our accomplishments, always wanting things to be better for us than they were for them and helping us become our best selves. They are often the providers and protectors but also wise, gentle, enthusiastic, and unbowed supporters. We look at our fathers and can barely imagine being as awesome as they are, but the whole time, they were building us up to do just that: care, encourage, guide, teach, sustain, achieve, and love.
Here are tributes by some of the Shaklee Pure Performance Team members to the greatest men we know: our fathers!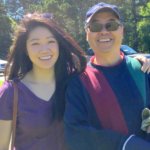 Lily Zhang, Table Tennis, 2012, 2016
Just wanted to wish a very Happy Father's Day to the best dad out there! I love my dad infinitely—he's been there for me for my entire life, through thick and thin. Over the years, I've really learned to appreciate his sacrifices and everything he's done for me. As an immigrant from China, he worked tirelessly to rebuild a whole life in a different country and give me the best life possible. I know for a fact that I wouldn't be in this position without his endless encouragement and support, so thanks, Dad, for everything.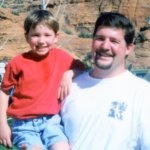 Taylor Morris, Luge, 2018
My dad is the most driven, hardworking, dedicated man I know. He teaches with kindness and shows compassion in all things. Thank you for being my greatest friend and biggest ally, for reminding me that impossible is just a word, and believing in my dreams even more than I did. Today and every day, I love you, Dad!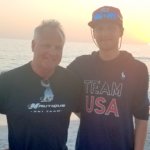 Michael Glasder, Ski Jumping, 2018
As an athlete, I have a lot of mentors, from coaches, to trainers, to other athletes, but none compare to you, Dad. Even though my dad never ski-jumped, he has always had the best advice for me whether it's in athletics or in life. Here's to you and all that you have done for me. Happy Father's Day!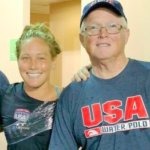 Courtney Mathewson, Water Polo, 2012 (Gold medal), 2016 (Gold medal)
I am so thankful to my dad for his unwavering support in my Water Polo career. He really has been my number one fan since day one. He was the one who would wake up early to get us doughnuts before a game or practice, drive us to every tournament and tryout, attend nearly every collegiate game I played in, and follow me around the world to support my international career with the men's Water Polo Team. He was always there to offer a hug and a "Good job," never critical or overstepping. I'll never forget being able to show him my gold medal in 2012 and seeing the huge smile on his face. I will forever remember that moment! Love you, Dad!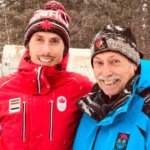 Brendan Green, Biathlon, 2010, 2014, 2018
Happy Father's Day to my number one fan. Thanks for spending countless hours with me while I chased my dreams of competing in the Games, and for the many life lessons along the way!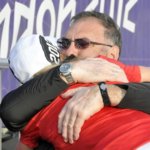 Donna Vakalis, Modern Pentathlon, 2012, 2016
After crossing the finish line at the Games in London in 2012, he was there to hug me, even though being there required him to make great sacrifices. Over his lifetime, I know my Dad has made many great sacrifices—most of these to help me. There is nothing I can do to ever make it up to him. I love you, Dad.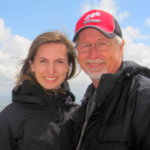 Jenny Hardy, Archery, 2004, 2008, 2012
My dad is and will always be my biggest fan. He introduced me to the sport of Archery when I was 11 years old, and it became the glue that bonded us together. He not only taught me by example how to work hard, he was with me every step of the way in my journey to three Games as my greatest supporter, head cheerleader, expert arrow spotter, and cherished counselor, not to mention an amazing father who loved me no matter my performance. His love, devotion, and the time he invested in our family made me who I am today and gave me the strength, security, vision, and perseverance to achieve my goals. I love you, Daddy. You are truly the best father!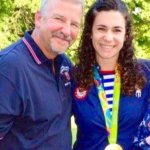 Amanda Polk, Rowing, 2016 (Gold medal)
Thank you for supporting me in every activity I chose—every dance, voice, and piano lesson, every soccer, softball, and basketball game, until I finally chose Rowing! You have always supported my dream to compete in the Games and never doubted me once along the journey. Happy Father's Day, Dad. I love you!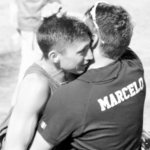 Ismael Uscanga, Modern Pentathlon, 2016 (Bronze medal)
This photo is a couple of minutes after crossing the finish line in 2016 at the Games in Rio. Dad, you are my role model and the father I aim to become one day. Thanks for all the lectures and guidance. I couldn't have done it without you!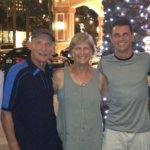 Troy Dumais, Diving, 2000, 2004, 2008, 2012 (Bronze medal)
My Father, Marc Dumais, is a Shaklee fanatic! He was a dad who raised five kids, all divers, three of them Shaklee Pure Performance Team athletes. He never gave up. He was always there for us no matter how many oceans separated us. He showed true professionalism striving for excellence as a doctor, in life, in work, and in family. He is a perfect and true example of what it means to be a father, teaching us the meaning of life, love, religion, and the dollar bill. And looking back, we wouldn't have changed anything we did or he did because it all made us who we are today…a true successful and loving family in all aspects of life. Thanks, Dad, for everything! Happy Father's Day!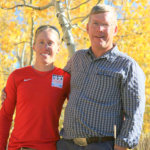 Lanny Barnes, Biathlon, 2006, 2010, 2014
I can't say that my dad taught me everything I know, but it's pretty darn close. Not only did he encourage me to work hard and follow my dreams, but he led by example. I can't say enough about how grateful I am for everything my dad has done for me.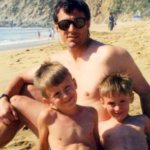 Cale Simmons, Pole Vault, 2016
My dad paved the way for my athletic career. He helped introduce me to lots of sports when I was young and challenged me to beat him or his previous records. Above all, he gave me an opportunity to start training when none existed. When I was about 12, he built us a makeshift pole vault setup in our backyard that lit the flame for the years ahead. Thanks for your support—all the long meets in the sun and the can-do attitude you have instilled in me throughout the years that brought me to where I am now. I couldn't have done it without you.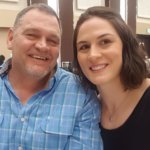 Adeline Gray, Wrestling, 2016
To my Daddy: When you first got me into wrestling when I was six, it was just for fun. It was something you could teach me. We never dreamed it would shape and direct my life forever. Your love is known from your showing me my favorite moves that I still use today to your unwavering commitment to make it to every major event. You were my role model to be big and strong growing up, and now you are my role model to be a great parent, one day, so my kids feel as loved as I feel by you! Happy Father's Day.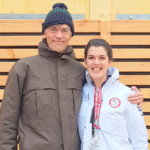 Carlijn Schoutens, Speed Skating, 2018
Dad! Thanks for 23 years of dad jokes…and for your support in my endeavors, from learning to walk and going all the way to the Games in PyeongChang. Love you!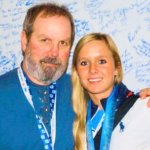 Kelli Stack, Ice Hockey, 2010 (Silver medal), 2014 (Silver medal)
My love of sports and hockey is because of my dad. He was always in the yard playing catch with me and my siblings or coaching my youth teams. If it wasn't for his guidance and support throughout my athletic career, I never would have achieved my dreams of playing in the Games and winning two medals. He sacrificed so much throughout my career and was always in the stands watching me play. Thank you, Dad, for your love and unconditional support!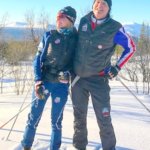 Sophie Caldwell, Cross Country Skiing, 2014, 2018
My dad has been one of my biggest supporters for as long as I can remember. He is a ski coach, so for a while, he actually had to balance the role of coach and dad. It's funny because I hear all these horror stories about parents coaching their kids, but I honestly can't relate. My dad was always able to balance being a great coach and a great dad, and I think it was because he knew being a supportive dad was the most important role.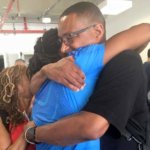 Jason Pryor, Fencing, 2016
Over my life, my Dad has been a coach, cheerleader, friend, and inspiration. As a kid, he coached my soccer leagues, and he would help me fight through disappointment in my teenage years, telling me to go for the Games when I was on the verge of retiring. My father pushed and believed in me and my dreams even when I couldn't. We can't wait to do it again in Tokyo at the Games in 2020.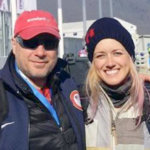 Faye Gulini, Snowboard Cross, 2010, 2014, 2018
Dad, you are my hero. You've been nothing but loving, accepting, and supportive of me my entire life. You are the dad that my friends try to claim as their own. The dad that we all consider a great friend and truly enjoy hanging out with. The dad that doesn't discriminate and treats all people with respect. You are an incredible role model, and I would be satisfied if I became half the human being that you are. Although it was tough losing my mother at such a young age, you stepped in and filled that void before I had even realized that void existed. You are my dad, my mom, my best friend, and my rock. I don't know how or why I got so lucky. Thank you, Dad!
Aaron Tran, Speed Skating, 2018
Thank you, Dad, for always looking out for us! You are hilarious at times and have great knowledge in the profession you pursue!
Tracy Barnes, Biathlon, 2006
My dad has taught me to be resilient, humble, kind, and fair. In him, I see the gift of inherent and immeasurable compassion, and the richness born from a devotion to others. He is the gauge from which I measure the greatness of a man, and the example that I try to follow. To a truly remarkable human being, whose blood runs proudly through my veins: Happy Father's Day, Dad.
Julian Yee, Figure Skating, 2018
My dad may not understand my sport 100%, but one thing for sure is that he supports me completely up to a 110%. He's always there when I need him and he'll go out of his way to help me out. I couldn't have asked for anyone better. He's definitely a true hero to me and one day I hope to be like him. Cheers to all the dads out there and Happy Father's Day, Dad!
Kim Vandenberg, Swimming, 2008 (Bronze medal)
My dad taught me work ethic, perseverance, and confidence through his example. He would drive me to swim practice at 5:00 a.m. on his way to the office in San Francisco, and be there for me at swim meets, with a towel behind my blocks. I would never have become a member of the Team in Beijing in 2008 without his love and support. Happy Father's Day, Dad! I love you!
Jessica Kooreman, Speed Skating, 2014, 2018
Happy Father's Day to my dad, Rick! Thank you for always believing in me. You have pushed me to be the person I am today. I'm thankful for all that you do and for always supporting me along the way.