Both the calendar and the big weather map are confirming our suspicions: Fall is nudging out the summer spell, and many of us are now harvesting from our gardens or purchasing and preparing foods that fit the season.
Searching for some of those end-of-summer or Fall recipes? A few of our Shaklee Pure Performance Team members offered some of their seasonal favorites, some of which might include a Shaklee product or two you have in your pantry. Many thanks to Tracy Barnes, Amanda Polk, Jenny Hardy, Amanda Elmore, Martha McCabe, and Maggie Hogan for their yummy (and healthy) contributions.
Tracy Barnes – Biathlon, 2006
Fall Spaghetti Squash
Ingredients:
1 small spaghetti squash
2 Tbsp. extra-virgin olive oil
Salt and freshly ground black pepper, to taste
1 bunch thin asparagus, steamed tender
2 tsp. minced fresh rosemary
1 tsp. Tuscan seasonings
1/2 cup Parmesan cheese
1/4 cup pine nuts
Directions:
Preheat oven to 375 °F.
Cut spaghetti squash in half lengthwise. Scoop out the seeds and place the cut side down on a baking sheet.
Pierce the shell several times with a fork and place in oven. Bake for 45 minutes to 1 hour or until squash is tender. Remove from oven and let cool for 15 minutes.
Use a fork to remove the spaghetti strands from the squash. Drain any excess liquid from shell and strands. Place spaghetti strands in a bowl and add remaining ingredients. Spoon back into squash shell and place in oven for 10–15 minutes. Remove from oven.
Steam asparagus and chop into 1-inch pieces. Mix all ingredients with spaghetti squash.
Place mixture back in shell and sprinkle with Parmesan cheese. Bake for 10–15 minutes and enjoy!
Shrimp & Avocado Tacos
Ingredients:
1 package of hard- or soft-shell tacos
1/2 lb. cooked shrimp (cut in thirds) with tails off
1 can corn (drained)
3 avocados (cubed)
3 medium tomatoes (cubed)
Juice from 1 lime
1/4 bunch cilantro (chopped)
1/4 cup shredded Mexican blend cheese
Directions:
In a large bowl, combine all ingredients (except cheese) and stir.
Fill taco shells with mixture and top with cheese. Serve cold and enjoy! It's that simple and delicious!
Amanda Polk – Rowing, gold medal in 2016
Amanda's Turkey Burgers
Ingredients:
1 package potato buns/rolls
1-1/2 lbs ground turkey
1/4 cup Italian-style breadcrumbs
1/2 medium-sized onion, diced
1 Tbsp. extra-virgin olive oil
1 Tbsp. garlic powder
1 Tbsp. onion powder
1 Tbsp. Italian seasonings
Himalayan rock salt
Black pepper
Butter
Toppings:
Lettuce
Tomato
Havarti cheese
Honey BBQ sauce
Directions:
In a large bowl, mix together turkey, breadcrumbs, diced onions, extra-virgin olive oil, garlic powder, onion powder, Italian seasonings, salt, and pepper. Form mixture into five patties.
In a large skillet over medium-high heat, melt just enough butter to form a thin layer. Add patties and cook until golden and cooked through, five minutes per side. Add cheese and turn to low heat until cheese melts.
Serve on a potato bun with lettuce, tomato, and honey BBQ sauce, or desired toppings. Enjoy!
Jenny Hardy – Archery, 2004, 2008, 2012
Almond Meal Pumpkin Muffins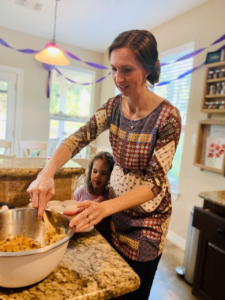 My girls love these muffins for breakfast or as a snack. Pumpkin anything makes me feel like Fall (even if temps are still in the 90s here in Texas). I love that these muffins don't have any wheat or added refined sugars (except for a little in the dark chocolate chips) as I've become more aware of foods that can spike blood sugar. They are a healthy, delightful taste of Fall we always look forward to. From sproutedkitchen.com.
Ingredients:
1 cup pumpkin purée
3 eggs
1/2 cup maple syrup
1/3 cup olive oil or coconut oil, warmed
2 tsp. pumpkin pie spice
1/2 tsp. sea salt
1/4 cup coconut flour
1-1/2 cups almond meal (preferably blanched)
1/2 tsp. baking soda
1/2 cup chocolate chips or a 3.5-oz. dark chocolate bar, roughly chopped
Raw pepitas/pumpkin seeds, for garnish (optional)
Directions:
Preheat oven to 360 °F, and grease a muffin tin with coconut oil or use liners.
In a large mixing bowl, combine the pumpkin purée, eggs, maple syrup, olive or coconut oil, pumpkin pie spice, and salt and whisk really well to combine. You want to get some air up in there. Add the coconut flour and mix. Let that sit a minute to absorb some moisture. Add the almond meal and baking soda and stir again to mix. Add the chocolate chips and give it one last stir.
Distribute the batter evenly among the cups in your muffin tin. Sprinkle the pepitas on top. Bake on the middle rack of oven for 30 minutes or until a toothpick comes out clean.
Let muffins cool before removing them from the pan, and enjoy.
Amanda Elmore – Rowing, gold medal in 2016
Campground Tortilla Soup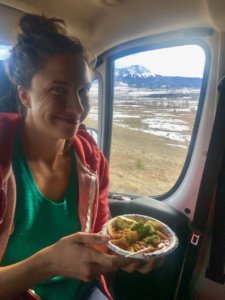 This is a recipe I made up while traveling around the US in a converted cargo van for a few months. Even with a tiny cooking space, you can make healthy, delicious meals. This is my favorite 10-minute soup for two, because it has veggies, tastes great, and only costs about $5 to make the whole pot!
Ingredients:
1 Tbsp. butter
1/2 white onion
1 can diced tomatoes
1 can green chilies
1/2 rotisserie chicken, leftover chicken breast, or canned chicken
1 bouillon cube
Few shakes of chili powder
Water to cover
Garnish:
1 avocado
Shredded cheese
Tortilla chips
Directions:
Sautee onions with butter, and then add all the ingredients into a pot. Simmer for 15–30 minutes.
Serve with garnish and a view!
Martha McCabe – Swimming, 2012, 2016
Peanut Butter Chai Pudding with Shaklee Performance® Advanced Physique® 100% Grass-Fed Whey Protein
Ingredients:
1–2 cups of almond milk
3–4 Tbsp. chia seeds
1 Tbsp. peanut butter (preferably natural)
1/2–1 scoop of Advanced Physique® 100% Grass-Fed Whey Protein
Directions:
Whisk/mix it all up to remove the chunks, and then put it in the fridge overnight.
Enjoy in the morning after a nice workout!
Maggie Hogan – Canoe/Kayak, 2016
Greek Yogurt Peanut Butter Mousse
Ingredients:
1 cup plain Greek yogurt
2 Tbsp. powdered peanut butter
1–2 scoops Advanced Physique® 100% Grass-Fed Whey Protein. (I use chocolate or vanilla, and both are delicious.)
1 tsp. coconut spread, or 1/4 tsp. vanilla extract
1 Tbsp. cacao nibs
Directions:
Mix it all together! Low-sugar, high-protein, and healthy. Enjoy!
If you haven't already whipped up your favorite end-of-summer dish, give one—or all—of these a try!