It's your time. The world is watching, and your gold medal is on the line. You've prepared your entire life for this moment. Your heart is a jackhammer, and your heavy queasiness is a mix of adrenalin, anxiety, and apprehension that flows from a deep drive to succeed—or merely to survive!
OK, so you don't actually compete in the Games like our Shaklee Pure Performance Team members, but everyone feels the demands of their job, family, personal health, and crisis moments of intense pressure and stress.
How do you manage the stress? We checked in with two of our Shaklee athletes for some stress-squashing strategies: Samantha "Sammy" Achterberg Schultz, who worked through her stresses to win gold and silver medals at the 2019 Pan American Games and qualify in the Modern Pentathlon for the 2020 Games in Tokyo, and Tyler George, gold medalist in Curling in the 2018 Games in PyeongChang, who inspired the world with his victory. Here's what they had to say:
Sammy: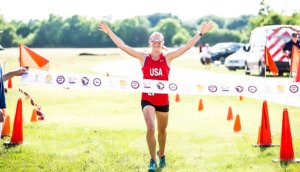 Not going to lie—I'm still getting better at managing stress and turning it into a good thing. For example, pushing myself through multiple training sessions each day as I prepare for the 2020 Games in Tokyo or strategizing with a coach can cause the pressure to mount, but I know those activities make me stronger.
I reduce stress by prioritizing and making lists. I love the feeling of crossing off items. Lists also help me develop my game plan for conquering and dealing with numerous activities and stresses. I use my phone for making lists or journaling to reflect or express feelings for that day.  
Exercise and breathing also help me de-stress. I'm not "running" away from my stress; the choice to stay physically and mentally active helps me conquer stress. Also, eating right and staying active put your mind and body in a more positive state! I also listen to podcasts, audio books, or music while I work out to keep my mind engaged and maybe learn a thing or two.
I by no means have this all down perfectly; at times I just want to cry or throw in the towel and forget about everything. I find that surrounding myself with people who care about me and support me is huge. They can offer a different perspective or encouragement or suggest a new approach to challenges. 
Stress and pressure can also be motivators. Stress to meet a deadline, hit a new personal best, or uphold commitments to a friend, spouse, or family member, these are things we all manage frequently and that motivate me to work better under pressure. In competition and my Army trials [Sammy is in the US Army World Class Athlete Program], I am better able to adapt, think quickly, and let my body react and to trust my training. Small habits and daily rituals form a healthy and productive way of dealing with stress.
Tyler: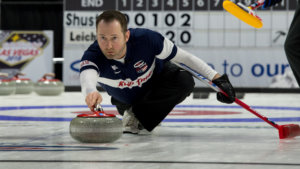 You may think elite athletes are immune to stress or don't feel pressure like "normal" people. Truth is, we feel the same stresses but have worked hard to become experts in managing those emotions. 
In my team's preparation, we always go through the same routines and processes regardless of the magnitude of the event. Your normal routine mitigates the stress and helps you feel more comfortable, even in the most high-pressure situations. This was a huge factor in our success at the Games in 2018; we treated the matches just like any other Curling tournament and handled the stresses accordingly.
We were also open about any nerves we had; addressing those emotions can lessen the effects they have on your psyche. Before the gold medal game, we were laughing, we were joking…we felt like we belonged there, we felt like this was our moment.
With large crowds, television cameras, pressure to perform, and many other stresses, it wasn't easy for us to block out everything. You can't always control your circumstances, but you can control the way you prepare for them and handle them in the moment.
This same logic applies to everyday stresses. Whether it's a work issue, something in your personal life, or anything else that makes you feel uncomfortable, it always helps to stay in your routines and have a sounding board for your stress. And don't forget Shaklee Stress Relief Complex* or MoodLift® Complex*—many of our Shaklee athletes use these great products in conjunction with stress strategies for success!
Try some of the strategies suggested by Sammy and Tyler the next time you're in the pressure cooker that is your life. Keep a lid on it by keeping your cool, and then grab your well-deserved gold medal!