Every two years a large portion of the world population nearly stands still to witness the inspirational and incredible performances of the world's greatest athletes during the Summer or Winter Games. Starting with the Opening Ceremonies of the Tokyo Summer Games on July 24, 2020, we will be riveted to our screens as we exult, gasp, maybe even cry as we witness nearly inhuman feats of courage and skill. About 50 Shaklee Pure Performance Team members will be there, and 10 of our Shaklee athletes have already qualified for the Games. We gained a glimpse of five of those athletes in Part 1; now check out the next five Shaklee heroes:
Kelley Hurley: Fencing (also a Games athlete in 2008, 2012; bronze medal, 2016)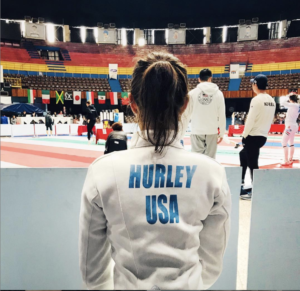 Tokyo in 2020 will be my fourth Summer Games. You would think by now that I have it down, but the truth is, every new Summer Games Trial feels like the first one. I'm like every athlete out there, trying to find a way to deal with the nerves and anxiety that come with trying to qualify for the Games. It's an incredible mental endeavor as well as a physical one. Confidence is my friend, and I realize this even if I have trouble summoning it from time to time. My family has helped me get through so much, always believing in me and supporting me every step of the way, through thick and thin. And of course, my Shaklee Family has been right there, boosting me up both emotionally and physically. Here we go, 2020—bring it on! 
Courtney Hurley: Fencing (also a Games athlete in 2012; bronze medal, 2016)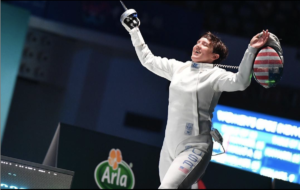 The older I get, the more I realize how important rest is. I benefit more from training efficiently and resting than just training hard. Rest is certainly very important for the mental aspect of Fencing. Fencing competitions are a marathon, not a sprint; there are so many competitions throughout the year, so you must pace yourself mentally. The mental aspect is extremely important in Fencing and can be more important than the physical aspect. This qualification season I'm focusing on being happy and resting to pump up my mental health.
Chloé Dygert: Cycling (also a Games athlete in 2016, silver medal)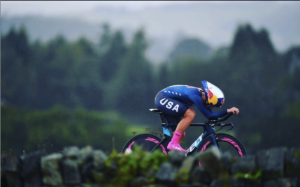 I'm so happy to have qualified for my second Summer Games, which will be my second cycle as a Shaklee Pure Performance Team member. My favorite quote is "To give anything less than your best is to sacrifice a gift." I've been blessed with a good family, good genes, and a competitive nature; I don't like losing, and I like to work that extra mile and do my best. I never put a cap on what I can do, because I want to do it all; it's just a matter of what my body will allow me to do. I'm hoping to qualify in three events for Tokyo, so I'll be focusing on excelling in all three of those events (Team Pursuit, Road and Track, cycling).
Lily Zhang: Table Tennis (also a Games athlete in 2012, 2016)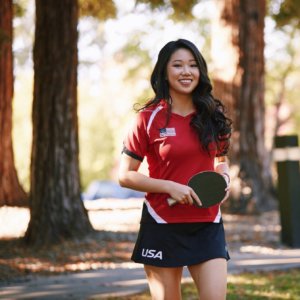 After I graduated from UC Berkeley, I decided to become a full-time professional athlete to prepare for the Tokyo Games in 2020. I moved to Düsseldorf, Germany, and currently train at the German National Training Center and compete in the 1st Division of the German pro league. The transition was so stark and tough that Iconsidered quitting. However, it was at my lowest point that I learned the most about myself. By keeping my goal of making the US Team in mind and holding on just a bit longer, I was able to overcome my mental rut by looking at my situation from an entirely new perspective. Rather than dwell on the "negatives" in my life, I tried to take each loss or unpleasant moment as a learning experience and a lesson for the future. Through painstaking trial and error, I've learned that patience and hard work really do pay off in the end. It may sound cliché, but this more positive mindset has truly helped me tremendously. I know there will be even more difficult moments ahead, but I'm also confident in my resilience and my ability to overcome those challenges. Now, I'm more motivated than ever to keep climbing the ladder, and I believe that anything is possible at the Games with the right attitude. In addition, I'm super-grateful to Shaklee for continuously supporting me through all my endeavors and giving me the resources to be the best that I can be. I just hope I can make them proud!
Juan Maegli: Sailing (also a Games athlete in 2008, 2012, 2016)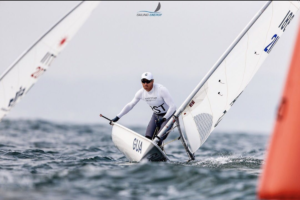 Hello, Shaklee Family! I am currently in Melbourne, Australia, training hard for the upcoming Sailing World Championships in February. The next few months are key in my preparation for Tokyo as we push hard to improve fitness and technique. The sailing conditions—windy—have been just what we were hoping for, as I know I need to improve sailing on windy days. I am really happy with our decision to spend so much time here in Australia this time of the year. After our World Championships, I will go back home for a couple of fitness training camps and then head to Europe for a few events before making my way to Japan in June. Very exciting months ahead, and I am making the most of them!
We'll continue to provide updates and insights as more of our Shaklee heroes qualify for the Games. In the meantime, mark your calendars for July 24 – Aug 9, and take Kelley Hurley's advice: Here we go, 2020—bring it on!