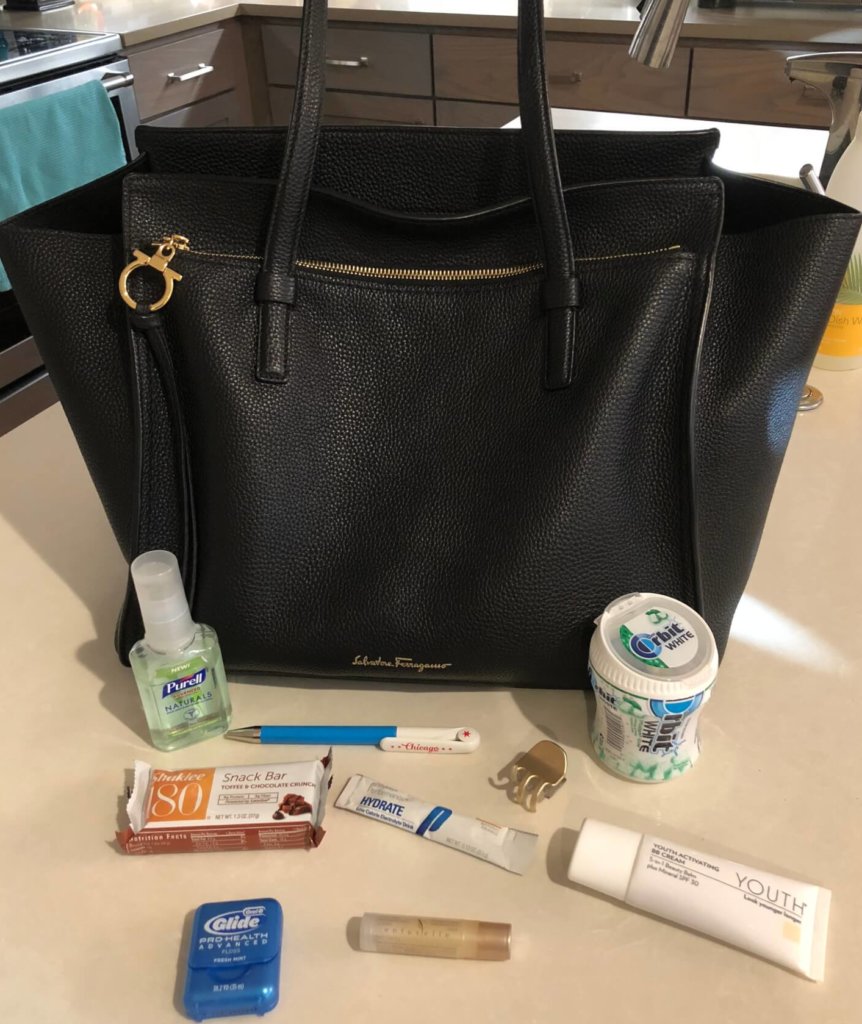 Shaklee Pure Performance Team athlete Christina Loukas was a Diver for the US team in the 2008 Games in Beijing, and again in the 2012 Games in London. She is now a Physical Therapist in Dallas, Texas, stays in top condition with regular workouts, and still enjoys using Shaklee products.
We wanted to know more about her day-to-day routine and couldn't resist asking, "Christina, what's in your bag?" Here's what she had to say.
You may be thinking, "Why such a big bag?" Well, with all the competing and traveling I did as a diver, I often said, "I wish I had brought that." So now I'm prepared wherever I go. I am no longer competing for the US team and now work as a physical therapist full time, so I like to be prepared for my busy days treating patients. Here are the few essentials I ALWAYS carry:
Shaklee YOUTH® Activating BB Cream (#2): I'm loving this addition to the YOUTH Beauty line! I keep my morning routine fast and simple, so all I use is some mascara, my YOUTH Activating BB Cream, and to top it off, some Shaklee Enfuselle® Lip Treatment. One, two, three and I am out the door! The BB Cream moisturizes my skin, gives the perfect amount of coverage I need, and includes naturally derived SPF 30 Broad Spectrum UVA/UVB sun protection. What else do you need? I keep this in my purse just in case I need a touch-up throughout the day, or if I go straight to dinner from work.
Hair clip: I have very curly hair. The hot, humid Dallas summers and my hair do NOT get along, which is why I always carry my hair clip in case I need to help tame the frizz. I prefer a clip because it is more comfortable than always having my hair in a ponytail.
Gum: As a physical therapist, I am always working closely with my patients, and I never want to be that therapist with the bad breath! I always make sure to have some gum with me to freshen up after coffee or a meal.
Shaklee Performance® Low Calorie Electrolyte Drink: Staying hydrated is always a difficult task for me. I get really bored drinking only water and sometimes like to add a little flavor. The Low Calorie Electrolyte Drink is perfect since it adds a little flavor without all the calories and sugar of other popular hydration drinks. The stick packs are so convenient; I can throw a couple in my bag and use them throughout the day. They are also great for workouts because they provide the electrolytes I need.
Shaklee Life Energizing Shake®: Some mornings I just really need to sleep in and don't have the time to make a big breakfast. That's usually when I have my go-to morning smoothie using Life Energizing Shake. My favorite additions to my morning smoothies are strawberries, banana, and blueberries. It's great because I can drink this on my commute to work.
My Chicago pen: I'm not going to lie—I have a terrible memory. It is really important that I remember everything my patients tell me, so I take notes the old-fashioned way, with a pen and paper. This also happens to be my favorite pen because I'm from Chicago, so it's like carrying a little piece of home with me everywhere I go. I always carry a pen with me when I travel as well, because you never know when you will come across a newspaper with a great section of crossword and sudoku puzzles. And you never want to be that person who asks a stranger for a pen and then forgets to give it back!
Shaklee 180® Snack Bar: Everyone in my family suffers from the "hangries" sometimes. If you have never heard of this, it's that deadly combination of hunger and anger you can get when you haven't eaten in awhile. As a physical therapist, I work long hours during the week, and I usually start to feel a little hungry around 4:00 or 5:00 pm. So, now, to avoid getting "hangry," I always make sure to carry Shaklee 180 Snack Bars with me. They are so convenient to toss in my purse, and they're a perfect size. This way I can eat my snack and not ruin my appetite for dinner. And for those of you who know me, I always travel with snacks! You never know when hunger will strike.
I spend all day helping people feel better, and I emphasize a healthy lifestyle inside and out. We all have busy schedules with much to accomplish, but nothing is more important than taking care of ourselves—hopefully, you won't be needing a visit to me or any other physical therapist. I hope this glimpse inside my bag has helped you pick up a few healthy tips that have really worked for me!