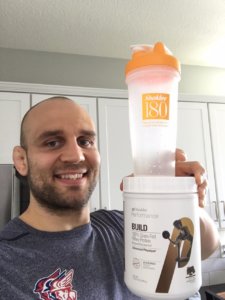 We're inspired, even mesmerized by the tremendous athletic feats of the world's greatest athletes, including the Shaklee Pure Performance Team members. We wonder how they generate their motivation, marvel at their grueling training routines, and admire the resilience that powers them through daily challenges. We might also speculate about their diet and nutrition, for behind every great performance is a sound fueling regimen. So, we checked in with two Shaklee athletes and asked, "What's in your fridge?"
Tervel Dlagnev provides our first glimpse into the diet of an elite athlete. Tervel participated in the Games in London in 2012 and in Rio in 2016 as a Freestyle Wrestler for the US team in the 125-kg (heavyweight) division. At 6' 2" and 265 pounds, Tervel needs plenty of fueling and energy to sustain him through 11 workouts a week: 3 lifting sessions, 3 conditioning sessions, and 5 sessions on the mat.
Here's what's inside his fridge:
The usual suspects you might find in my fridge are eggs, turkey bacon, avocados, sriracha hot sauce, a medley of veggies, and lean ground beef (preferably 93% lean). I start each day with four scrambled eggs, a whole avocado, and two strips of turkey bacon. I go with turkey bacon because of the higher protein-to-fat ratio. I keep my fats pretty high with the whole eggs and avocado, so I choose a leaner meat. I eat two large meals a day. I developed this habit from my intermittent fasting days. I like it because I have energy and I don't need to stuff myself before workouts. For my second meal, I go with ½-to-1 pound of meat (usually beef) with some sort of veggie (Brussels sprouts are my favorite). I always end the day with my nighttime smoothie (3 scoops of Shaklee Performance® Advanced Physique 100% Grass-Fed Whey Protein, 1 scoop of collagen, 1 scoop of Shaklee Organic Greens Booster, 1 cup of frozen blueberries, and 1 cup of almond milk). This has been a very sustainable diet for me over the years. I feel satisfied but never bloated or lethargic, which allows me to maximize my training. I make up for my lack of carbs with a higher amount of healthy fats. Things are good!
Tervel also relies on Shaklee nutrition to supplement his diet:
I cycle in and out of a ketogenic diet, which makes it super-important to get all my B vitamins in, so I take the B-Complex. I also rely on Vita-D3® and Zinc Complex, which are great for immune health. Finally, I love the Performance™ PM Recovery Complex, which helps with nagging, chronic pain and general recovery so that I can get up and grind it out all over again!