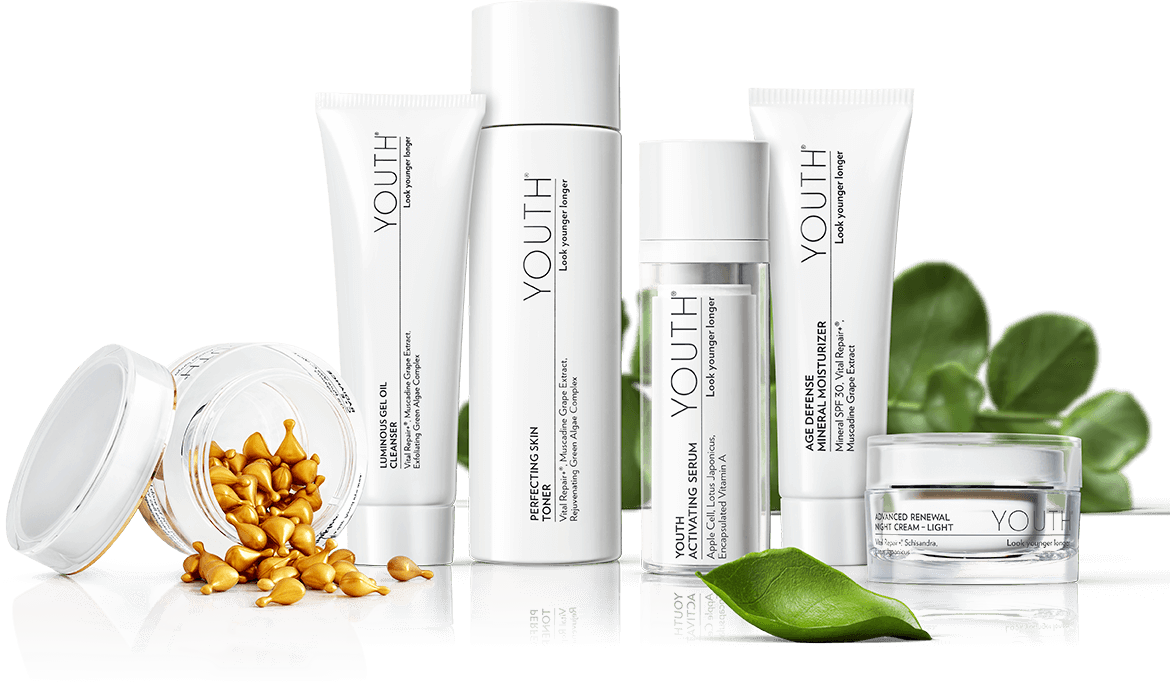 YOUTH® SKIN CARE
LOOK YOUNGER LONGER
For more than 60 years, we have been helping people Live Younger Longer by addressing aging at the cellular level. Now we are applying that same success to helping people Look Younger Longer too.
In our quest to develop a revolutionary youth complex, we discovered something fascinating.
It wasn't that women minded getting older—they wouldn't trade that wisdom for anything! They just didn't like how what they saw in the mirror each day didn't reflect how young they felt on the inside.
And that was the inspiration for YOUTH. Skin care products designed to make sure the world sees you the way you see yourself.
To make sure you always look as young as you feel, start now. Your future self will thank you.
Our promise is that YOUTH skin care will not only dramatically improve the health of your skin but is 100% guaranteed to shift your skin to a younger age. Really.
Advanced Anti-Aging Regimen
The entire Advanced Anti-Aging Regimen was designed to work together to deliver remarkable results. Formulated with active anti-aging ingredients in every single product in the line, YOUTH provides treatment benefits in each of the four simple steps.
Luminous Gel
Oil Cleanser
Our 3-in-1, soap-free, pH-balanced cleanser combines a patented blend of vitamins and polyphenols plus exfoliating algae to gently polish, purify, and prepare your skin. Face the world with the radiance you were born with.
Perfecting
Skin Toner
Free your skin of dull cells and environmental pollutants to show the world a brighter, more radiant you. Go way beyond the basics to exfoliate, hydrate, and nourish with a patented blend of essential vitamins, polyphenols, and botanicals for glowing skin.
YOUTH
Activating Serum
Youth Activating Serum has 10x the actives to provide the critical regeneration step. A potent blend of vitamins, polyphenols, and our Youth Complex supports collagen production and renews at the cellular level, making your skin act younger for superior radiance and rejuvenation.
Age Defense
Mineral Moisturizer
Protect your skin from far more than just the sun. Natural marine biopolymers protect you from pollution. Patented antioxidants protect against free radicals. Naturally derived mineral zinc oxide provides chemical-free SPF 30 Broad Spectrum UVA/UVB protection. Vitamins and nourishing oils moisturize your skin and improve overall appearance of skin tone.
Advanced Renewal
Night Cream
Extracts of marine algae, muscadine grape, and Lotus Japonicus, plus other antioxidants support your skin's cell renewal process while you sleep. Our proprietary botanical blend helps collagen and elastin production to make skin appear younger looking, smoother, and more luminous.