Feel amazing in 30 days
Feel younger, longer for the rest of your life
35 patents/pending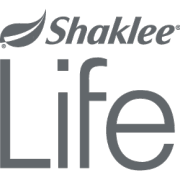 The best, most comprehensive nutritional system in the world.
Shaklee Life Plan is the result of the foremost scientific research and decades of studies, designed to bring you the essential nutrients for a healthy life. Combining the Shaklee Life Energizing Shake and the Shaklee Life-Strip, the plan promotes every aspect of your health—with nutrients clinically proven to help provide the foundation for a longer, healthier life.*
Life Plan includes 30 days of the Shaklee Life Energizing Shake and the Life-Strip featuring:
Vivix® polyphenols to help support cellular health and prevent free radical damage*
OmegaGuard® Plus—one gram of pure, ultra-concentrated DHA/EPA omega-3 fatty acid with an enteric coating to prevent burps
Vita-Lea® Life advanced multivitamin
B+C vitamins
#89383 | Retail Price: $287.35 | Member Price $244.25 | PV: 166.67
Buy Now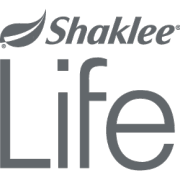 Shaklee Life Energizing Shake
Increase energy. Achieve a healthier weight. Incredible digestive and immune support.
Feel younger, longer for the rest of your life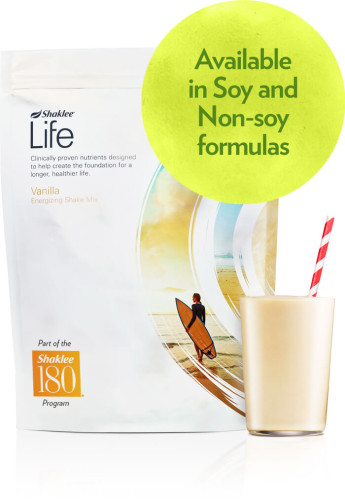 24 grams† of protein, including 16 grams of proprietary, ultra-pure, plant-based, non-GMO protein with precise ratios of the 9 essential amino acids
Added leucine to help preserve lean muscle and achieve a healthier weight
One billion CFU of patented probiotics to support digestive and immune health
Patent-pending pre- and probiotic combination
Contains omega-3 (ALA), an essential fatty acid that supports heart and brain heath
Gluten-free, lactose-free, low glycemic, kosher, and no artificial flavors, sweeteners, or preservatives
Retail Price: Starting at $48.00 | Member Price: Starting at $40.80 | PV: up to 53.62
Buy Now
† When prepared as directed with 1 cup of nonfat milk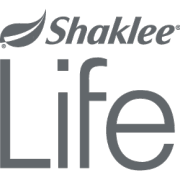 Shaklee Life–Strip
Live younger, longer
Every serving of Shaklee Life is the culmination of years of research and quality testing to guarantee every Life-Strip delivers pure and potent vitamins, minerals, omega-3 fatty acids, polyphenols, antioxidants, and phytonutrients to help create the foundation for a longer, healthier life.*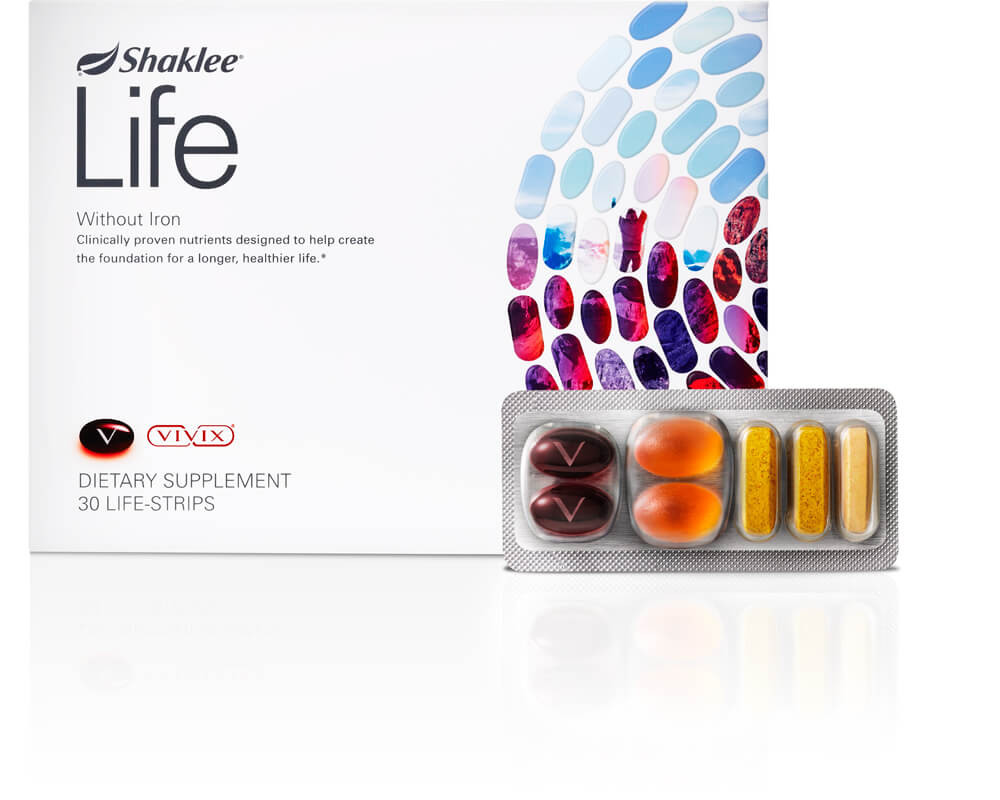 Vivix® Liquigels to Slow Aging at the Cellular Level*
Patented blend of a broad spectrum of polyphenols with key ingredients shown in laboratory studies to protect and repair DNA and combat free radicals.
OmegaGuard® Plus for Heart Health; Brain Health*
1,000 mg of pure, ultra-concentrated DHA/EPA omega-3 fatty acids 
sourced from wild Alaskan Pollock and combined
 with heart-healthy CoQ10 and vitamin E in an enteric-coated softgel to eliminate fishy aftertaste.
Vita-Lea Life for Complete Nutrition; Bone and Joint Health*
Dissolves in less than 30 minutes in the stomach and is designed to enhance absorption of folic acid from the patented microcoating.*
B+C Complex for Immune Health; Energy*
Shown in a clinical study to provide up to 198% greater absorption of B-vitamins over 12 hours.*
With or without Iron
#21293/#21294 | Retail Price: $200.00 | Member Price: $169.96 | PV: 114.23
Buy Now
Proven by Science
The Landmark Study
UC Berkeley conducted one of the largest studies of long-term supplementation and found that Shaklee supplement users had markedly better health than nonsupplement users as well as:
11% lower cholesterol ratios, a key marker for cardiovascular health
33% lower levels of triglycerides, a critical biomarker for heart health
36% lower levels of homocysteine, an indicator of brain and cognitive health
59% lower levels of c-reactive protein, a key biomarker for long term biological stress
Substantially higher levels of nutrients in the blood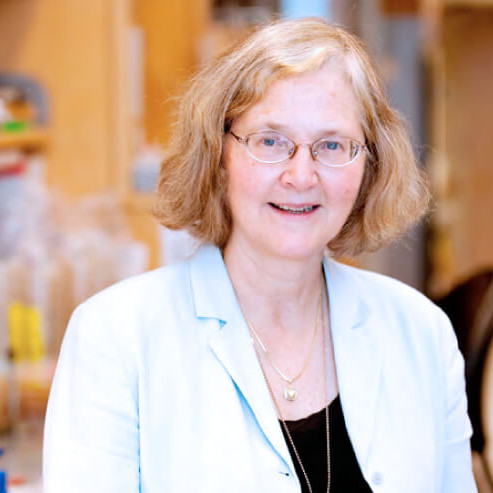 Dr. Elizabeth Blackburn, Shaklee Scientific Board Advisor, was awarded the 2009 Nobel Prize for Medicine for the discovery of an enzyme that lengthens telomeres and protects chromosomes. Over time, our telomeres gradually become shorter and telomere length is thought to be a marker of overall health.
Shaklee conducted a telomere study that compared people using Shaklee supplements for at least 5 years to healthy nonsmokers living in the San Francisco Bay Area, and showed that the rate of telomere shortening in Shaklee users was 40% lower than the healthy control group.
A statistical analysis projects that an 80-year-old Shaklee user would have the same telomere length as a 41-year-old.∞
Proven by People
Hundreds of thousands of people in the US use Shaklee to improve their health. Many Shaklee users have been customers for decades and tell inspiring stories of their life transformations. Our Shaklee athletes, who have already won a combined total of 121 gold, silver, and bronze medals, use Shaklee to get the performance and efficacy they need to compete.
Vitalizing Plan
Contains the Shaklee Life Energizing Shake plus:
Vitalizer (added B & C vitamins, carotenoids, probiotics, and a unique, patented delivery system designed to improve nutrient absorption.)*
Enteric coated omega-3 fatty acids deliver carotenoids, vitamin E, and other fat-soluble nutrients to the upper intestine.
30 servings of protein
#89384 | Retail Price: $188.20 | Member Price: $159.95 | PV: 111.12
Buy the Vitalizing Plan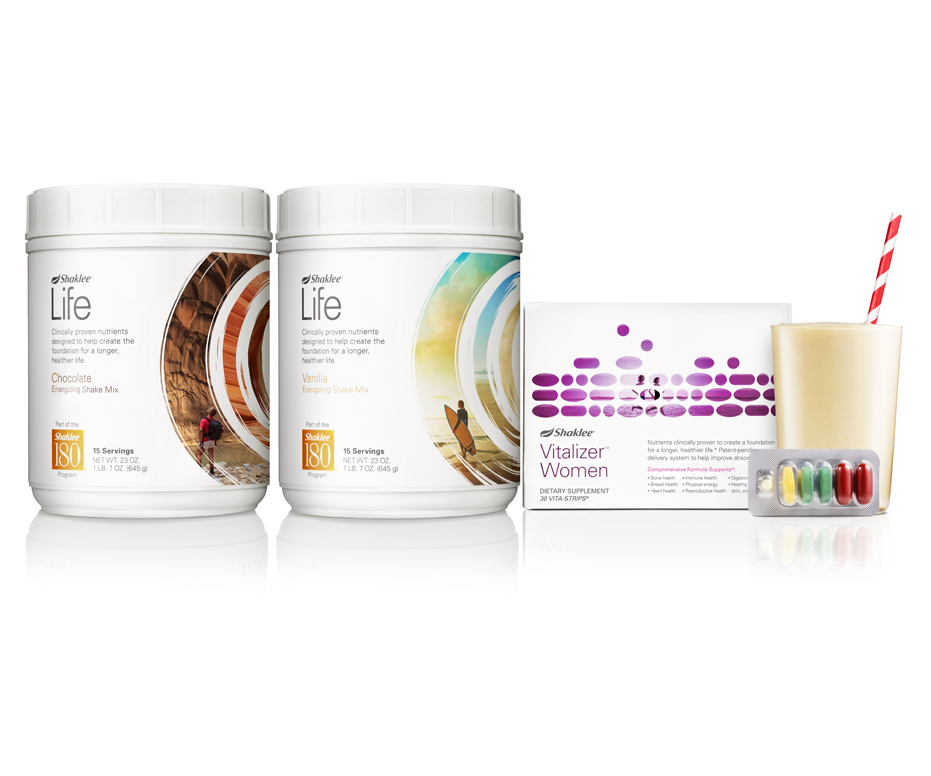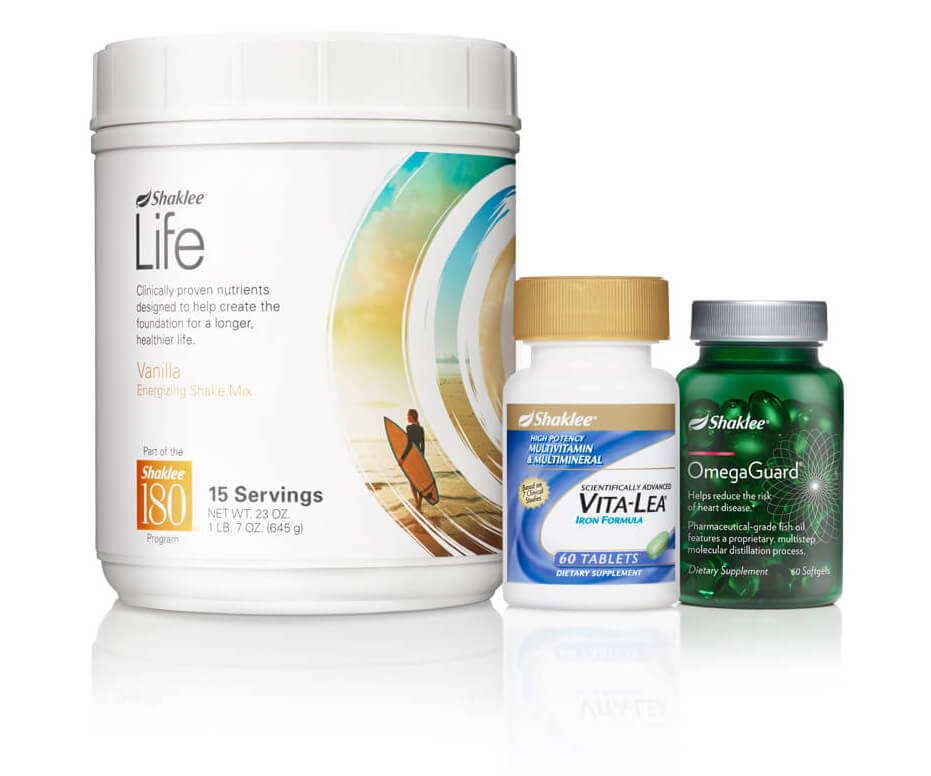 Essentials Plan
Covers your basic nutritional needs with:
Shaklee Life Energizing Shake (15 servings of non-GMO plant-based protein with prebiotic fiber and 1 billion CFU patented probiotics)
Vita-Lea® (23 essential vitamins and minerals)
OmegaGuard® (500 mg of EPA and DHA omega-3 fatty acids)
#89385 | Retail Price: $89.95 | Member Price: $76.45 | PV: 55.56
Buy the Essentials Plan
* This statement has not been evaluated by the Food and Drug Administration. These products are not intended to diagnose, treat, cure, or prevent any disease.
∞ Cross-Sectional Analysis of Telomere Length in People 33-80 Years of Age: Effects of Dietary Supplementation. Harley CB et al. (2014) 55th Annual Conference, JACN, Vol. 33(5), p414.