2 Ingredient Banana Berry Nice Cream*
Ingredients:
2 bananas (medium ripe)
1 cup frozen sliced strawberries
Directions:
Slice your bananas and then freeze for at least one day.
Place bananas and sliced strawberries in a food processor or good blender and blend to a creamy consistency. Serve immediately.
*Courtesy of the Official Shaklee 7 Day Healthy Cleanse Facebook® Group
Mushroom "Tacos"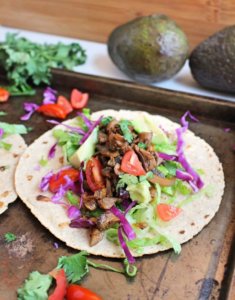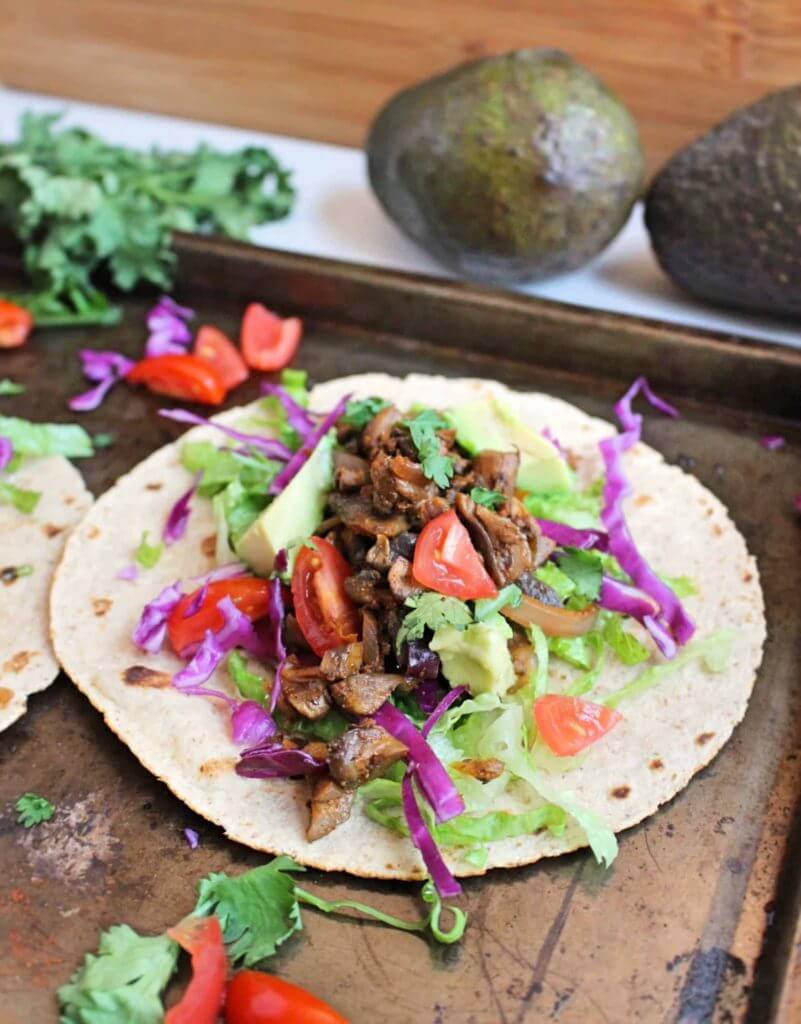 Ingredients:
1/2 tablespoon olive oil
1/2 cup chopped yellow and/or red onion
2 garlic cloves, chopped
2 pints sliced white button mushrooms, finely chopped
Spices:
1 teaspoon smoked paprika
1/2 teaspoon chili powder
1/4 teaspoon each: cumin, garlic powder, black pepper
2 tablespoons chopped cilantro (more to taste)
Iceberg lettuce (to replace the tortilla)
Optional toppings:
Avocado
Pico de gallo salsa
Shredded lettuce and/or cabbage
Chopped tomatoes
Directions:
In a large sauté pan, sauté onions, garlic, and mushrooms until mushrooms are browned on the outside. You may need to sauté in batches so that your mushrooms have plenty of room to brown and do not steam instead. Drain excess water that accumulates in your pan while sautéing.
Once mushrooms are mostly browned and the water is drained, add your spices. Continue to sauté until aromatic for another 1–2 minutes.
Turn off the heat and mix in cilantro. Divide mushroom taco mixture into 6–8 lettuce wraps. Top with your favorite taco garnishes (I prefer shredded lettuce, tomatoes, cilantro, and avocado!). Enjoy!
Photo and recipe via @chelseyamernutrition
All trademarks are the property of their respective owners.
Sweet Potato Hash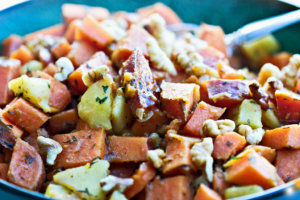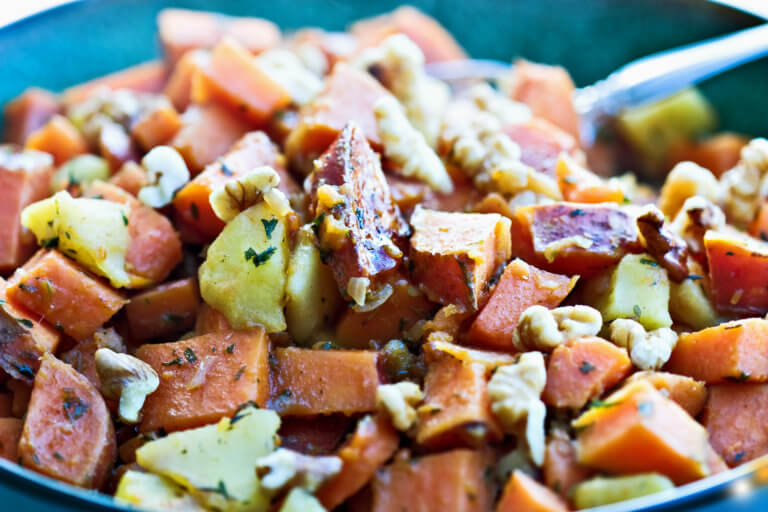 Ingredients:
6 cups peeled and diced sweet potatoes (around 2–3 large depending on their size)
1 tablespoon garlic powder
1 teaspoon onion powder
1 teaspoon thyme
1/2 teaspoon pepper
1/2 teaspoon paprika
up to 1/3 cup olive oil
1 head of garlic (around 12–15 cloves), minced
1 medium onion, diced
Directions:
Preheat oven to 450 °F.
Add diced sweet potatoes to a glass casserole dish.
Sprinkle sweet potatoes with garlic powder, onion powder, thyme, pepper, and paprika.
Drizzle on olive oil to coat, up to 1/3 cup.
Toss to combine.
Roast at 450 °F for 55–65 minutes, stirring 3–4 times to avoid burning.
Once sweet potatoes have about 15 minutes left to cook, add the minced garlic and diced onion to a skillet with 1 teaspoon of olive oil.
Cook garlic and onion for 12–15 minutes on medium heat, stirring often, until soft and caramelized.
Once sweet potatoes have finished cooking, remove from oven and add the garlic and onion mixture.
Stir to combine.
Recipe via @buildyourbite