Chicken fans rejoice! You don't have to give up on good food during the Shaklee 180® Program. Try these recipes for your healthy meal of the day.
Chicken Fajitas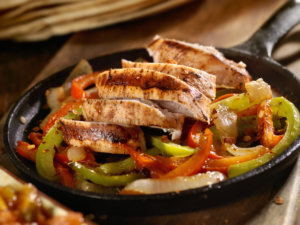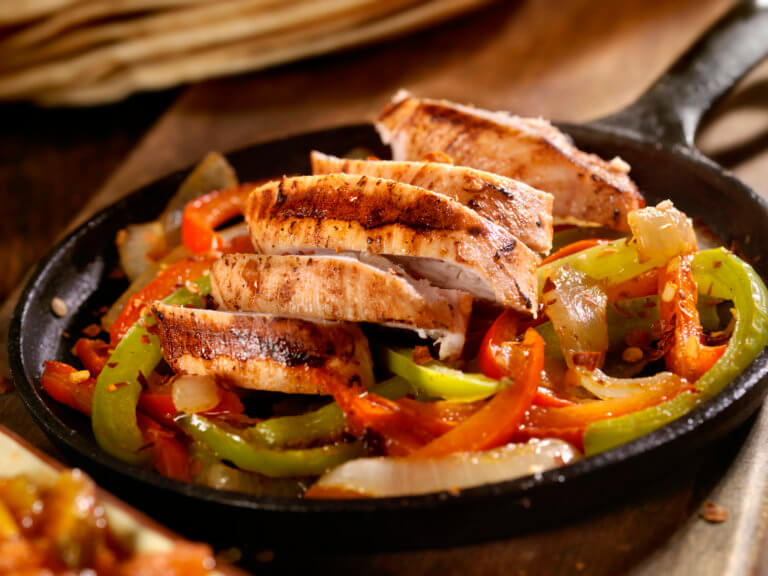 Ingredients:
1 clove garlic, finely minced
1 T olive oil
1 ½ T fresh lemon or lime juice
3 T Worcestershire sauce
1/8 t ground pepper, or to taste
1 ¼ lbs boneless chicken breasts, skinned and all visible fat removed
1 large onion
1 large green bell pepper
2 t olive oil
8 corn tortillas
Directions:
Preheat broiler. To make the marinade, combine garlic, 1 T oil, lemon or lime juice, Worcestershire sauce, and pepper in a bowl. Cut chicken lengthwise into thin 3/8 inch strips. Add to marinade, toss to coat evenly and let chicken marinate in refrigerator 10-20 minutes, turning at least once. Slice onion and pepper into thin 1/8 inch strips. In a nonstick skillet, heat 2 teaspoons oil over medium-high heat. Add onion and pepper slices and sauté, stirring constantly, about 5 minutes or until onion is slightly brown. Wrap tortillas in foil and place in the lower shelf of oven. Heat thoroughly. Line broiler pan with foil. Place chicken on foiled covered pan about 3 inches from heat for 4 minutes. To serve, place 4 oz of chicken on 1 tortilla, top with onions, peppers and assorted garnishes (salsa, sour cream and guacamole in amounts stated in meal plan)
Servings: 4 1 Serving = 4 oz chicken, 1 corn tortilla, ¼ of green bell peppers & onions
Nutrition Information Per Serving: 312 calories, 24g carbohydrates, 33g protein, 10g fat, 195mg sodium, 78 mg cholesterol, 1g fiber
Chicken Cacciatore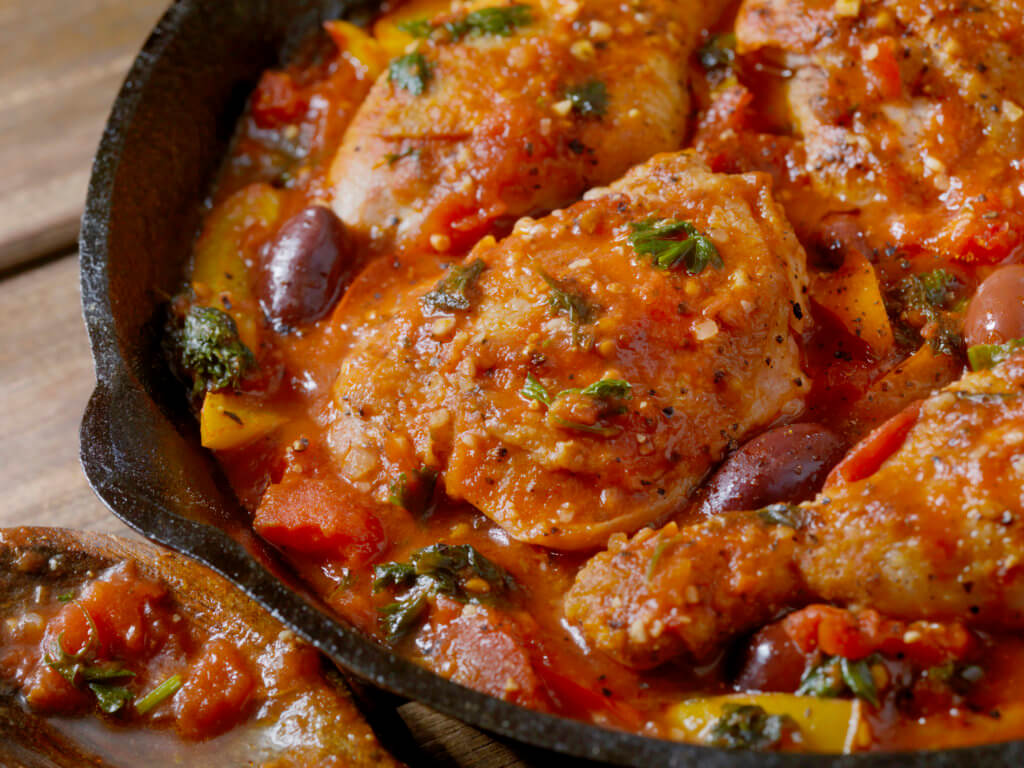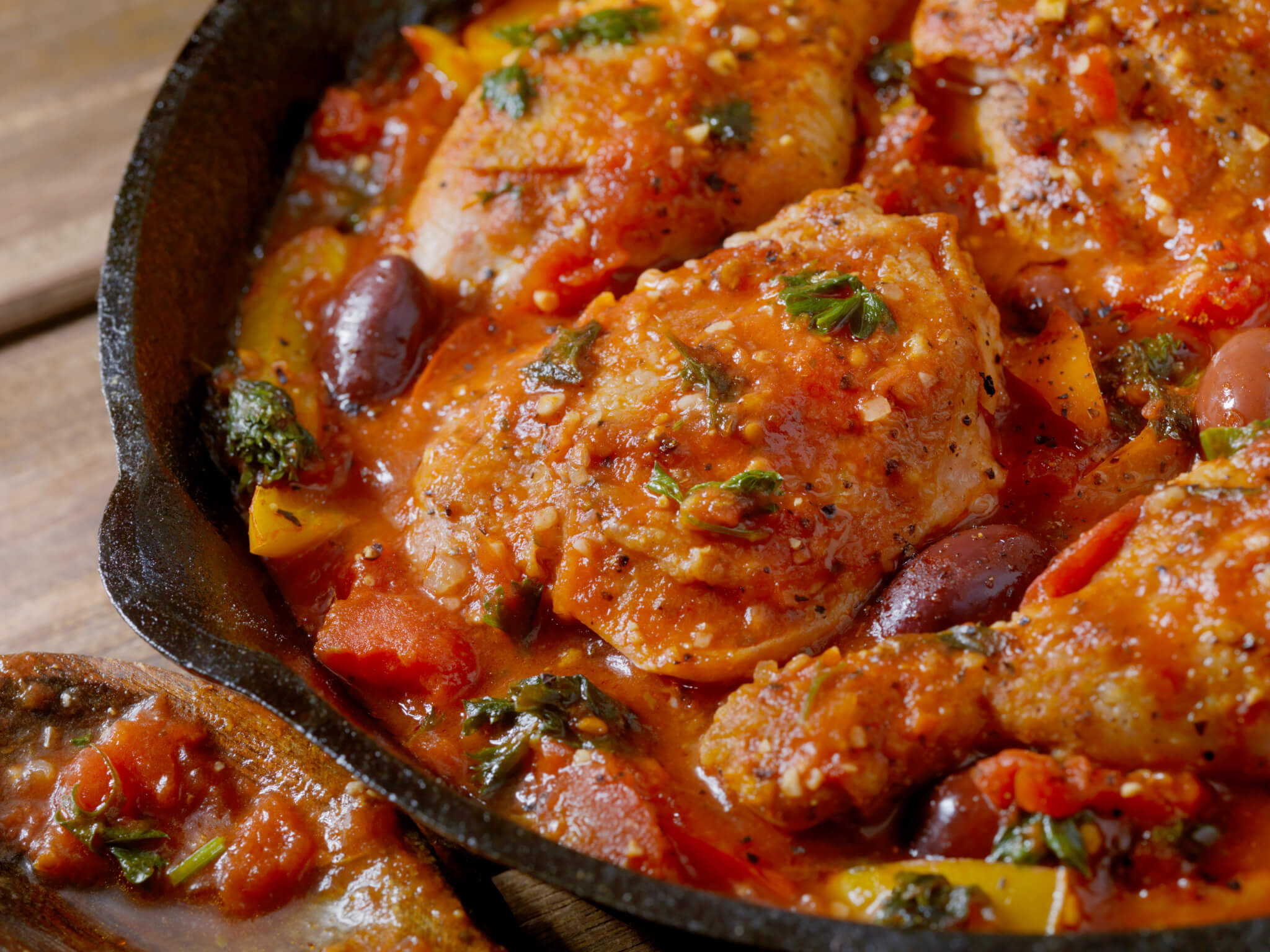 Ingredients:
2 lbs chicken breast meat, skinless
1 tsp olive oil
2 14.5 oz. cans plum tomatoes, undrained and chopped
1 cup sliced fresh mushrooms
½ cup chopped onion
2 garlic cloves, minced
¾ cup dry red wine
½ tsp dried oregano
¼ tsp crushed red pepper
¼ tsp black pepper
Salt to taste
Directions:
Sprinkle black pepper and salt over chicken breast meat and set aside. Heat olive oil in large nonstick skillet over medium heat. Add chicken and cook 5-7 minutes on each side or until lightly browned. Remove chicken from skillet, cover and set aside. Add mushrooms, onion and garlic to skillet, sauté over medium heat 5 minutes. Add wine and next 3 ingredients; bring to boil. Cook 10 minutes or until sauces is slightly thickened, stirring occasionally. Return chicken to skillet; cover and cook for 5 minutes. Uncover; turn chicken over and cook an additional 10 minutes or until chicken is done.
Servings: 8
Serving = 4 oz chicken
Nutrition Information Per Serving: 259 calories, 13 g carbohydrates, 38g protein, 5g fat, 489 mg sodium, 96 mg cholesterol, 3g fiber
Chicken and Butternut Gratin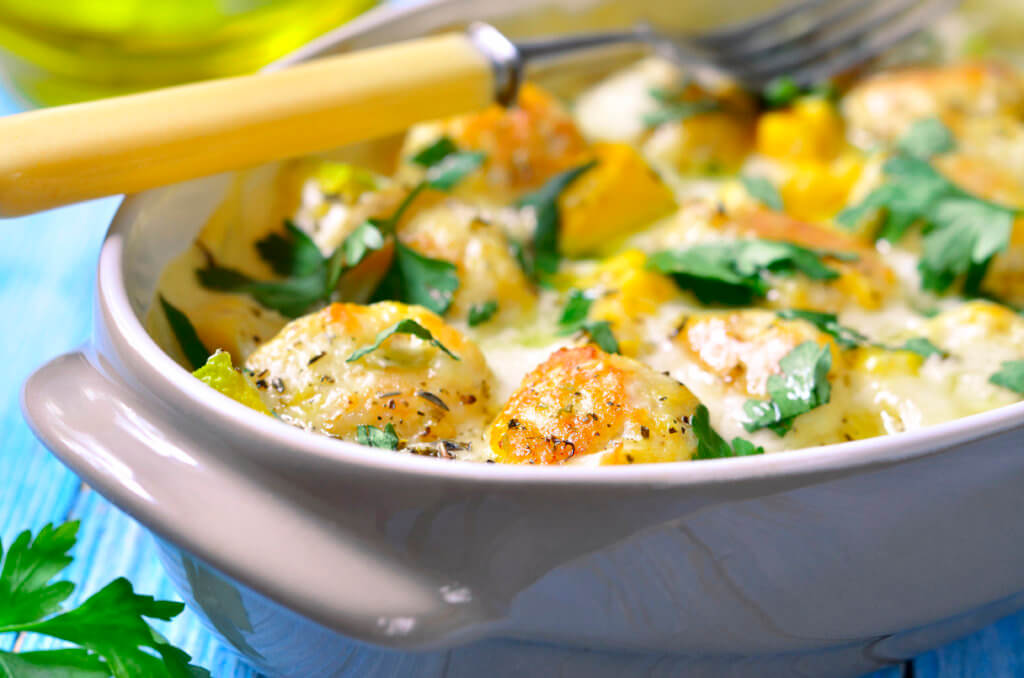 Ingredients:
1 lb fresh or frozen butternut squash cubes
6 oz cooked chicken breast, cut in bite-size pieces
½ c chopped celery
1/3 c whole grain bread crumbs
¼ c sliced green onion
¼ c low sodium vegetable broth
2 T shredded cheddar or asiago cheese
¼ t dried sage
¼ t black pepper (optional)
Directions:
Cook squash until almost done. Spray a microwave-safe casserole dish with nonstick cooking spray. Add 2 cups of squash, chicken, celery, bread crumbs, onions, and broth. Sprinkle with cheese. Microwave 2-3 minutes, or until mixture is heated through.Season with pepper.
Nutritional Information:
Calories: 358; Protein 34 g; Carbs 35 g; Fat 8.5 g; Sodium 216 mg; Cholesterol 87 mg; Fiber 6 g
Honey Pecan Chicken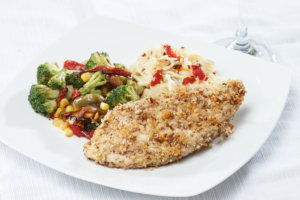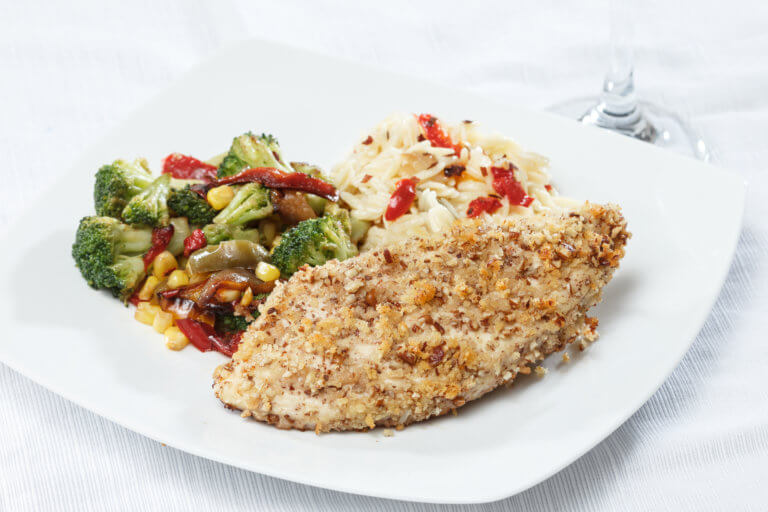 Ingredients:
¼ t salt
¼ t pepper
2 lb chicken breasts, skinless (4 oz each)
¼ C honey
2 T Dijon mustard
¾ t paprika
1/8 t garlic powder
1 ¼ C crushed cornflakes (about 4 cups uncrushed cereal)
½ C chopped pecans
Cooking spray
Directions:
Preheat oven to 400 degrees F. Sprinkle salt and pepper evenly over chicken; set aside. Combine honey, mustard, paprika, and garlic powder in a small bowl; stir well. Combine cornflakes and pecans in a shallow dish; stir well. Brush both sides of chicken with honey mixture; dredge in cornflake mixture. Place chicken pieces on a large baking sheet coated with cooking spray. Lightly coat chicken with cooking spray and bake at 400 degrees for 40 minutes or until done.
Servings: 8. Serving = 4 oz chicken
Nutrition Information Per Serving:
299calories, 14 g carbohydrates, 32 g protein, 13g fat, 288 mg sodium, 94mg cholesterol, 1 g fiber
Chicken Vegetable Soup




Ingredients:
2 t olive oil
3 boneless, skinless chicken breasts, cut into 1-inch pieces
1 medium onion, chopped
2 ½ c low-sodium chicken broth
3 medium carrots, cut into 1/4-inch thick slices (2 c)
3 medium parsnips, peeled, cut into 1/4 –inch thick slices (2 c)
2 small turnips, peeled, cut into ¼-inch thick slices and quartered (1 c)
1 T chopped fresh thyme or 1 t dried thyme leaves
¼ c chopped fresh parsley
Salt and pepper to taste
Directions:
Heat oil in a large non-stick pot. Add chicken and onions, cook, stirring, until chicken is done. Add broth, carrots, parsnips, turnips, and thyme. Bring soup to a boil then reduce heat to simmer. Cover and cook until vegetables are done-about 15 mins. Add parsley just before serving.
Note: You can add your favorite vegetables and herbs to this recipe. Consider sage, green beans and peas.
Makes 4 servings.
Nutritional Information Per Serving: Calories: 260, Protein: 26 g, Carbs: 25 g, Fat: 6 g, Sodium: 580 mg, Cholesterol: 55 mg, Fiber: 7 g
Chicken and Potato Salad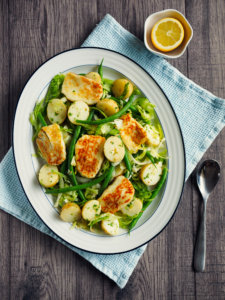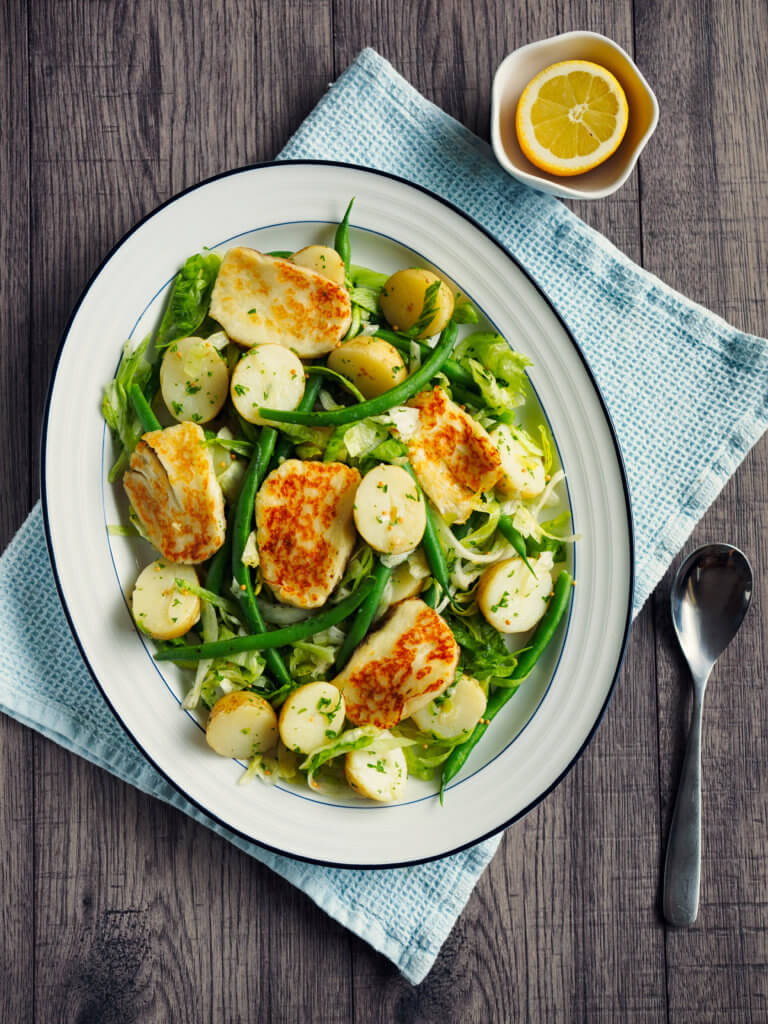 Ingredients:
1 lb medium red potatoes (4) cut into ¾-inch cubes
2 c cooked chicken breast, cut in bite-size pieces
2/3 c chopped celery
½ lb. fresh green beans, cut to 1-inch pieces (2 c)
Dash pepper
¼ tsp. salt
1 T prepared horseradish (optional)
½ c plain nonfat yogurt
1/3 c fat-free Ranch dressing.
Salad greens
Directions:
Boil about 6 c of water and cook potatoes until just tender – about 10-15 minutes. Remove potatoes. Add green beans to the boiling water. Cook until crisp-tender – about 5 minutes. Remove beans. Cool potatoes and green beans in ice water. Mix non-fat yogurt, Ranch dressing, salt, pepper and horseradish in a small bowl. Combine chicken, celery, beans, and potatoes in a large bowl. Add dressing and toss. Place salad greens on a plate and top with 1 ¾ cup of chicken salad.
Serves 4.
Nutritional Information Per Serving: Calories: 260, Protein: 26 g, Carbs: 25 g, Fat: 6 g, Sodium: 580 mg, Cholesterol: 55 mg, Fiber: 7 g