7-Day Cleanse Friendly Recipes
Eating fruits and veggies during the 7-day Healthy Cleanse doesn't need to be boring. Try these easy, delicious and healthy recipes to keep you going!
Baked Portabella
Ingredients:
1 tsp. olive oil
1 clove garlic, minced
2 large Portabella mushrooms, cleaned
5 fresh basil leaves
1 large, fresh tomato, sliced roasted, or grilled
Salt and pepper, to taste
Directions:
Combine oil and garlic in small bowl and run mushrooms with mixture. Place mushroom cap side down on an oiled baking sheet. Arrange the basil and tomato slices in a circle on top of mushrooms. Bake at 450F until done, about 3 minutes.
Roasted Veggies and Spinach Salad
Ingredients:
1 cup baby spinach
1/3 cup winter squash
1/2 cup cauliflower
1/4 cup white onion
1/2 cup diced carrots
Fresh rosemary
1/4 tsp cumin powder
1/4 tsp red chili flakes
1/4 tsp oregano
1 Tbsp extra virgin olive oil
2 cloves garlic minced
Juice of 1/2 a lime
Directions:
Preheat oven to 400F. Mix veggies (except spinach) with oil, garlic, and all dried herbs. Place in the oven and bake for about 25-30 mins. In a salad bowl, combine the spinach with roasted veggies, lime and enjoy!
Non-dairy Creamy Cauliflower Soup
Ingredients:
1 head cauliflower (about 1 1/2 pounds), broken into florets
1 medium onion, thinly sliced
3-4 cloves garlic, finely chopped
3 tbsp. olive oil
5 1/2 cups water, divided
Extra virgin olive oil, to taste
Freshly ground black pepper, to taste
Cilantro, chopped for garnish
Directions:
Warm the olive oil in a soup pot or a large pan. Add the onion and cook it on low heat until translucent. Add cauliflower, garlic, and 1/2 cup water. Increase heat to medium-low, cover pot and stew the cauliflower for 15 to 18 minutes, or until tender. Add another 4 1/2 cups hot water, bring to a low simmer and cook an additional 20 minutes uncovered. Purée the soup in batches in a blender to a very smooth, creamy consistency. Pour back into pot and let it rest for 20 minutes to get a thick consistency. Thin the soup with 1/2 cup hot water. Reheat the soup. Top with a drizzle of extra virgin olive oil, cilantro and freshly ground black pepper to taste.
Healthy Zoodles
Ingredients:
1 medium to large zucchini, spiraled (or pre-made zucchini noodles)
6 mini sweet peppers, chopped
1/2 red onion, sliced
1/2 cup cherry tomatoes, sliced in half
2 Tbsp. olive oil
2 Tbsp. chopped cilantro
1/2 lime
1/2 avocado, sliced
Directions:
Heat a saute pan on medium to high heat. Add 1 Tbsp. olive oil. Once the oil has warmed, add the zucchini noodles. Saute for about 3-4 minutes and then place on paper towels to drain some of the liquid. Add 1 Tbsp. olive oil to the already hot pan. Throw in the onions, peppers, and tomatoes. Saute for about 5 minutes. Sprinkle cilantro over the veggie mix. Plate your "zoodles" and place the sautéd veggies on top. Squeeze the lime juice over the veggies. Top with the sliced avocado and salsa. Enjoy!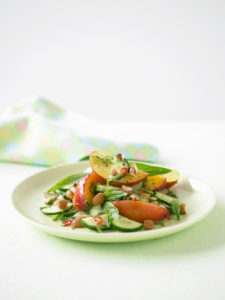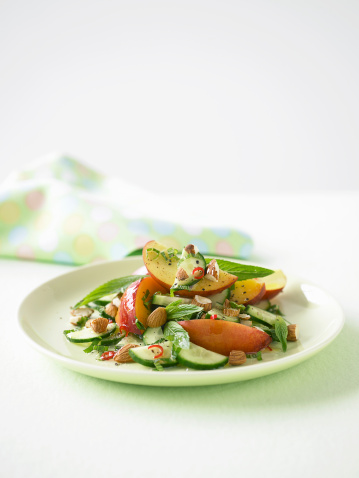 Cucumber Peach Salad
Ingredients:
1 lettuce heart
1 medium sized tomato, diced
1 cucumber, sliced
½ pound ripe peaches, cut into wedges
½ red onion, chopped
1 carrot, peeled and shredded
2 Tbsp. lemon Juice
2 Tbsp. red wine vinegar
1 ½ tsp. olive oil
Small basil leaves for garnish
Directions:
Combine peach, tomato, carrot, lettuce, onion, and cucumber in a large bowl. Mix olive oil, lemon juice, vinegar. Pour over peach, tomato, carrot, onion, and cucumber. Toss well to coat. Garnish with basil.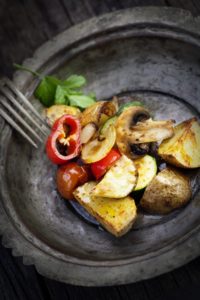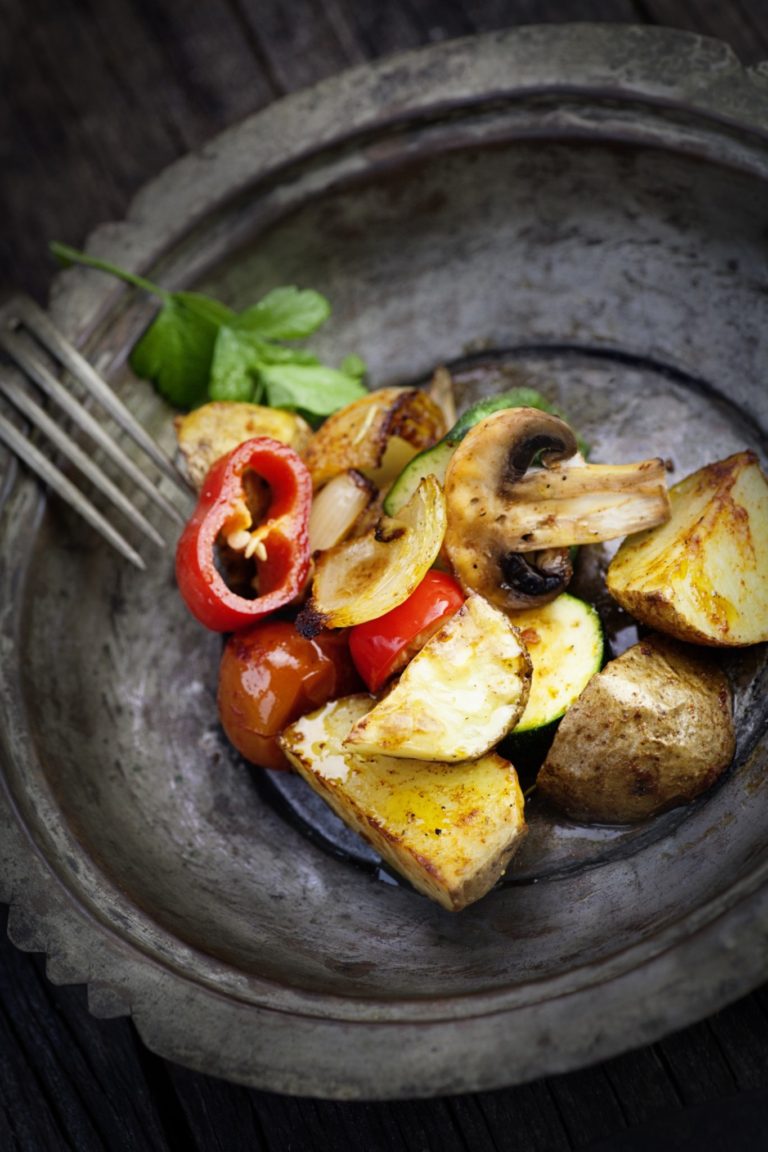 Pesto Roasted Veggies
Ingredients:
1Tbsp. balsamic vinegar
½ Tbsp. olive oil
Dash ground pepper
1 cup sliced sweet potatoes
1 cup sliced zucchini
¾ cup mushroom
1 cup broccoli flowerets
2 Tbsp pre-made garlic pesto
Directions:
Combine vinegar, oil, in a large bowl. Add vegetables and toss well. Arrange vegetables in a shallow, lightly greased roasting pan. Bake at 475 degrees for 10 minutes. Turn vegetables over with a large spoon or spatula and bake for another 10 minutes or until tender and browned. Once vegetables are cooked place in a bowl and add pesto and toss to coat evenly.
Grandma's Veggie Soup
Ingredients:
4 cups fat-free, low sodium vegetable broth
1 cup peas
1 onion, chopped
3/4 cup sweet potato, diced
3/4 cup carrot, diced
2 stalks celery, diced
1/2 cup fresh parsley, chopped
1/4 cup, cilantro, chopped
Salt and Pepper to taste
Directions:
Bring the broth to a boil in a large saucepan and add the vegetables. Reduce the heat to low, cover and simmer, until the vegetables are tender. Simmer for 4-5 minutes. Garnish with cilantro and serve hot.
Citrus Veggie Salad
Ingredients:
1 Tbsp. olive oil
2 cloves roasted garlic, finely chopped
Pepper, to taste
1/2 tsp. smoked paprika
1 large orange, peeled and segmented
1 apple, chopped
1/2 ripe avocado, peeled and cubed
1/4 cup pomegranate seeds
1/3 cup baby spinach
2 Tbsp fresh lime juice
1/3 cup chopped fresh cilantro
Directions:
In a small bowl, mix olive oil, paprika, garlic, and lime juice together to make a dressing. Combine all other ingredients together in a large salad bowl. Pour dressing over the salad and enjoy!