Baked Portobella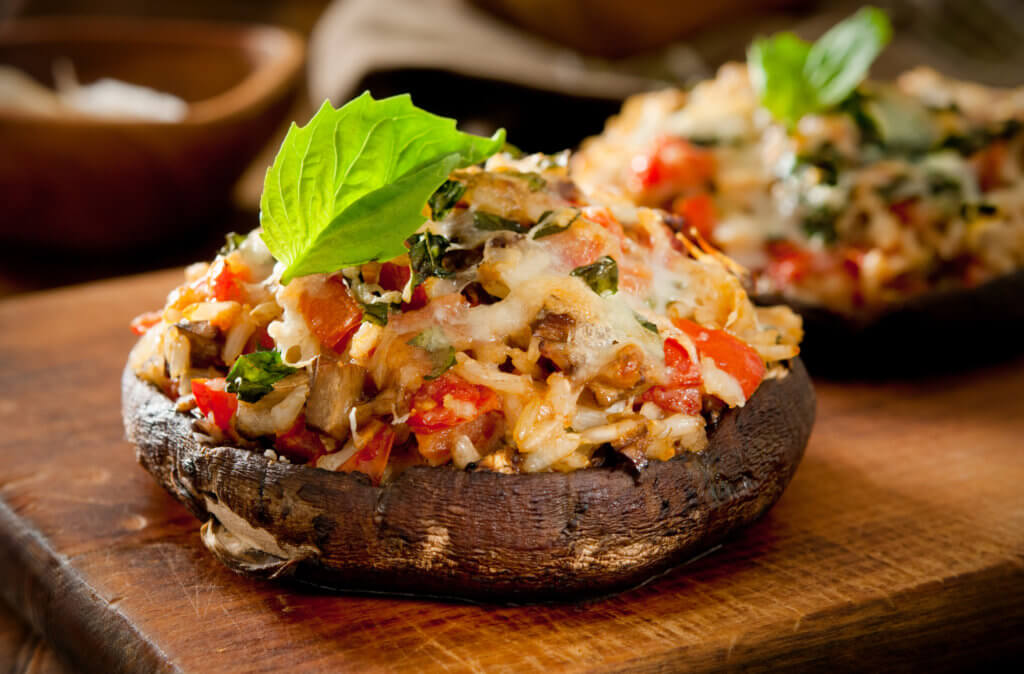 Ingredients:
1 t olive oil
1 clove garlic, minced
2 large portobella mushrooms, cleaned
Salt and pepper, to taste
4 oz mozzarella cheese, sliced and shredded
5 fresh basil leaves
1 large, fresh tomato, sliced roasted, or grilled
Directions:
Combine oil and garlic in small bowl and run mushrooms with mixture. Place mushroom cap side down on an oiled baking sheet. Season with salt and pepper and then arrange the cheese, basil and tomato slices in a circle on top of mushrooms. Bake at 450 degrees F until cheese melts, about 3 minutes.
Servings: 2 ,Serving = 1 large mushroom cap
Nutrition Information Per Serving: 237 calories, 11 g carbohydrates, 18 g protein, 14g fat, 310 mg sodium, 31 mg cholesterol, 2 g fiber
Chickpea Vegetable Curry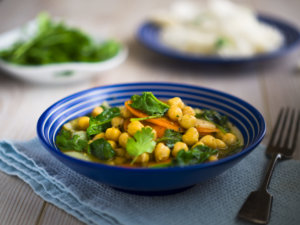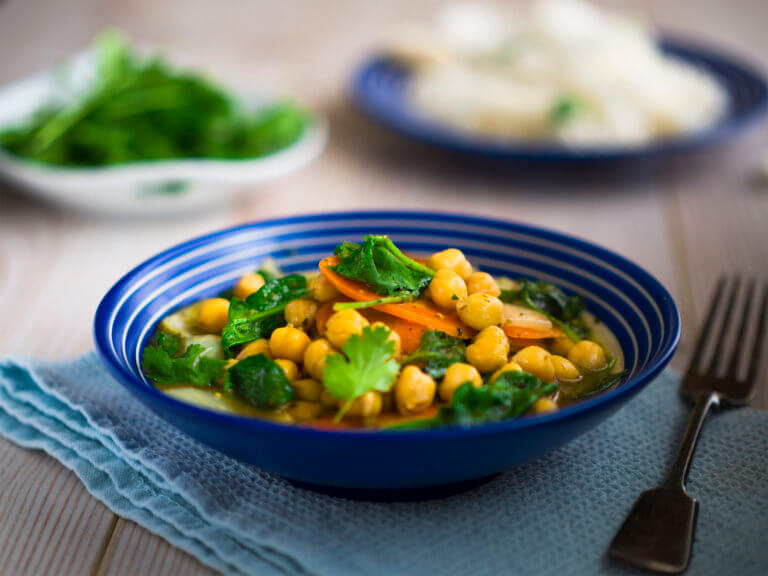 Ingredients:
1 Tbsp olive oil
4 cups chopped vegetables, such as broccoli, peppers, carrots, onion (1 inch pieces)
2 cups diced Yukon Gold potatoes, (1 inch cubes)
3 cloves garlic or 1/8 tsp garlic powder
1 ½ – 2 cups low-sodium vegetable broth
1 ½ tsp curry powder
¼ tsp ground red pepper
1 can (15 ounces) low sodium chickpeas, drained
1/3 cups golden raisins
Salt to taste
Directions:
Heat broth in a large saucepan. Add potatoes and any vegetables with longer cook times such as carrots or other root vegetables. Cook until almost tender
Heat oil in a large sauté pan over medium heat. Add remaining vegetables, cook, stirring occasionally, until vegetables are tender – about 5 minutes. Add garlic or garlic powder, cook 1 minute. Add spices, vegetables, chickpeas and raisins to the potatoes. Cook an additional 5 minutes over medium heat.
Serves 4
Nutrition Information Per Serving: 269 calories, 49 g carbohydrates, 10 g protein, 5g fat, 129 mg sodium, 0 mg cholesterol, 9 g fiber
Pesto Roasted Vegetables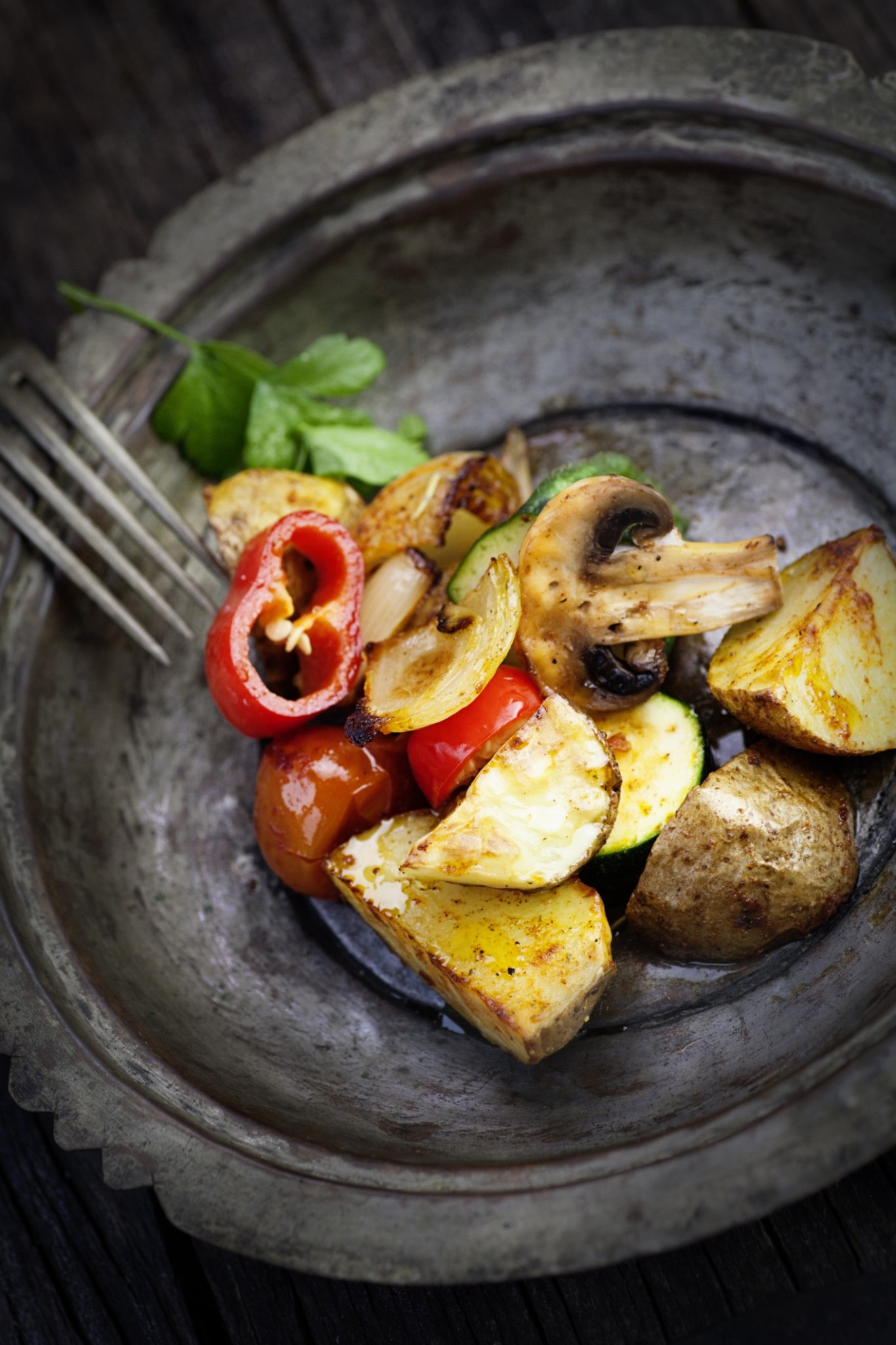 Ingredients:
1Tbsp. balsamic vinegar
½ Tbsp. olive oil
Dash salt
Dash ground pepper
1 cup sliced potatoes
1 cup sliced zucchini
¾ cup mushroom
1 cup broccoli flowerets
2 Tbsp pre-made garlic pesto
Directions:
Combine vinegar, oil, salt and pepper in a large bowl. Add vegetables and toss well. Arrange vegetables in a shallow, lightly greased roasting pan. Bake at 475 degrees for 10 minutes. Turn vegetables over with a large spoon or spatula and bake for another 10 minutes or until tender and browned. Once vegetables are cooked place in a bowl and add pesto and toss to coat evenly. Serve as a side dish.
Nutrition Information Per Serving: 157 calories, 15 g carbohydrates, 6 g protein, 8g fat, 98 mg sodium, 0 mg cholesterol, 3 g fiber
Roasted Roots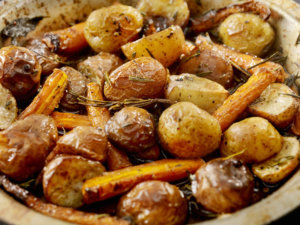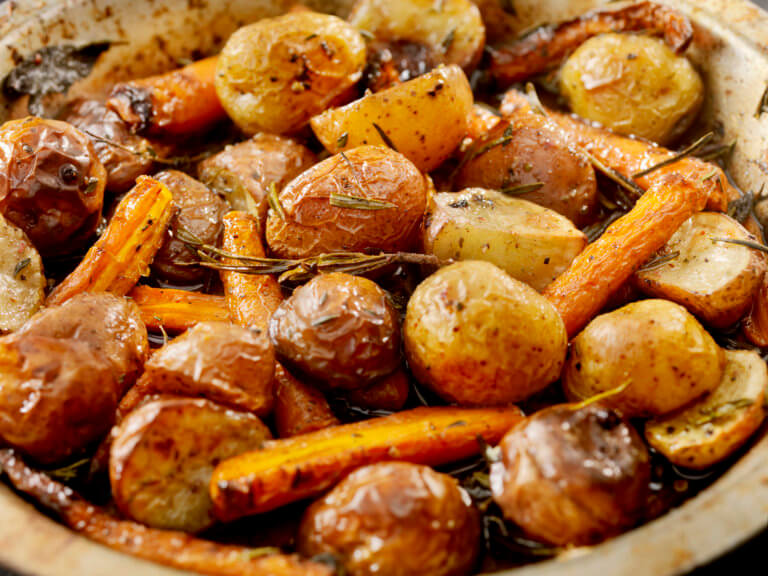 Ingredients:
6 cups chopped root vegetables (red potatoes, parsnips, carrots)
1-2 Tbsp olive oil
Dash garlic powder
Dash onion powder
1 Tbsp minced fresh rosemary leaves
½ tsp salt
Directions:
Preheat oven to 400 F. Chop vegetables to ½ inch pieces.Combine all ingredients in a bowl, toss to coat vegetables.
Nutrition Information Per Serving: 190 calories, 31 g carbohydrates, 3 g protein, 3g fat, 330 mg sodium, 0 mg cholesterol, 7 g fiber
Broiled Tomato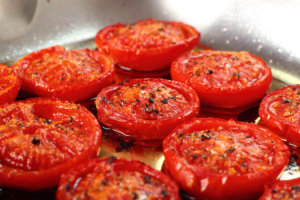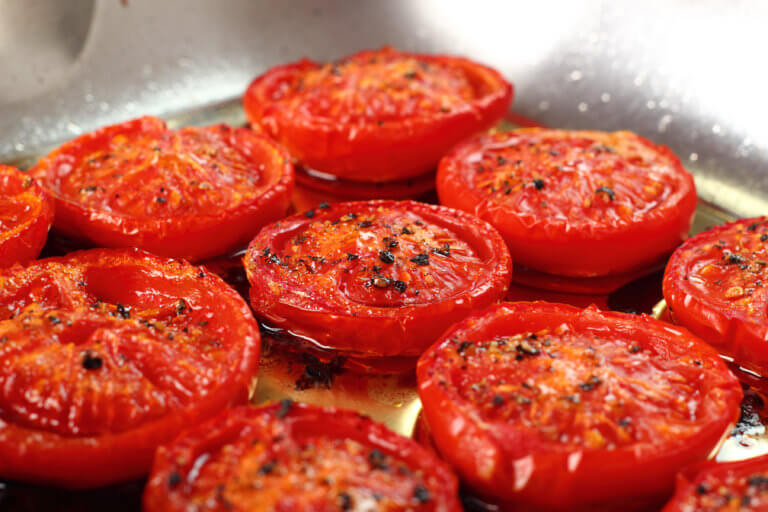 Ingredients:
2 ea large tomato
1 ea minced garlic clove
2 tsp olive oil
1 Tbsp fresh basil, chopped
¼ tsp fresh ground pepper
½ cup soft bread crumbs
1 Tbsp grated parmesan cheese
Directions:
Cut tomatoes in half crosswise. Gently squeeze out and discard seeds. Place the tomatoes cut side up on broiler pan prepared with nonstick spray. Combine garlic, oil, basil, and pepper in a small bowl. Brush evenly over the cut surfaces of the tomatoes. Broil 6 inches from heat sources until hot, about 5 minutes. While tomatoes are broiling, combine bread crumbs and cheese in a small bowl. Sprinkle evenly over the tops of the hot tomatoes. Return to broiler until breadcrumbs are browned, about 2 minutes. Serve immediately.
Servings: 4; Serving = ½ tomato
Nutrition Information Per Serving: 58 calories, 7g carbohydrates, 2g protein, 3g fat, 62mg sodium, 1mg cholesterol, 1g fiber
Home Fried Potatoes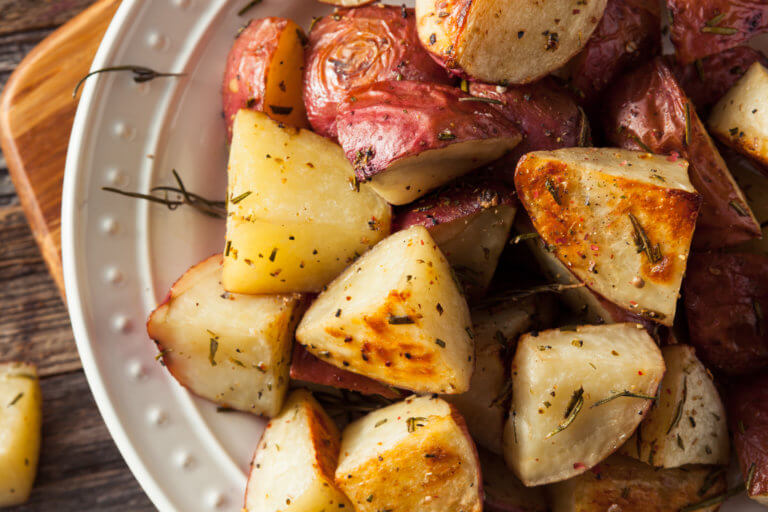 Ingredients:
1 Tbsp Olive oil
1 ½ lb small red potatoes, scrubbed, unpeeled, cooked and quartered
1 tsp paprika
Fresh ground pepper, to taste
¼ tsp salt (optional)
Directions:
In a heavy, nonstick skillet, heat oil over medium-high heat. Saute potatoes until golden brown, 5 to 8 minutes. Stir and shake pan frequently to prevent potatoes from sticking. Add paprika, pepper and salt. Toss to mix. Servings: 6; 1 Serving = ¾ cups
Nutrition Information Per Serving: 115 calories, 20g carbohydrates, 3g protein, 2g fat, 55mg sodium, 0 mg cholesterol, 1g fiber
Quick Green Beans with Sunflower Seeds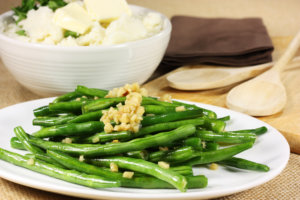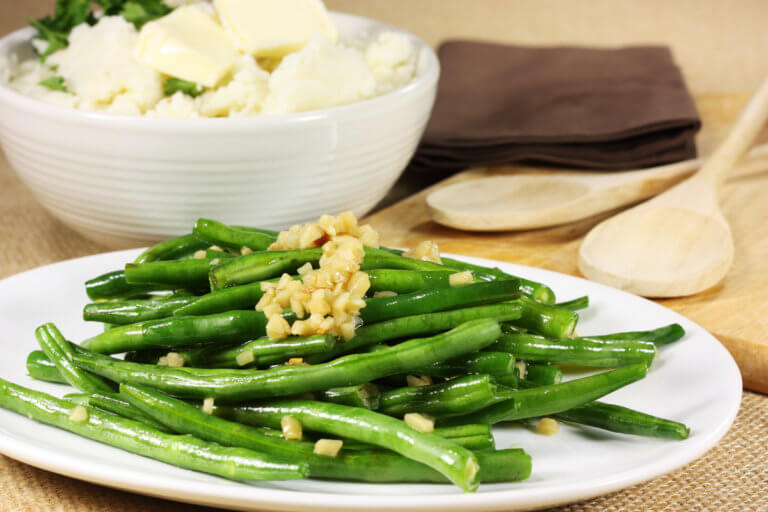 Ingredients:
1 lb fresh green beans
¼ cups chopped onion
2 ea minced garlic cloves
½ tsp salt (optional)
1/8 tsp fresh ground pepper
1/8 tsp crushed red pepper flakes
2 Tbsp shelled sunflower seeds
1 tsp chopped fresh oregano
Directions:
Cut the ends off the green beans. Place beans in a saucepan, add 1 cup water, onion, garlic, salt and pepper. Cover and bring to a boil, reduce heat to simmer and cook about 8 minutes until the beans are crisp and tender. Drain. Sprinkle sunflower seeds, oregano and crushed pepper over the bean. Toss lightly to mix.
Servings: 6; Serving = ½ cup green beans
Nutrition Information Per Serving: 44 calories, 7g carbohydrates, 2g protein, 1g fat,199 mg sodium, 0mg cholesterol, 3g fiber