Planning to begin your journey to a leaner, healthier you?! Pair your 2 Life Shake meals with a third healthy, nutritious meal. These recipes are so delicious that you'll forget you are on a weight management program!
Grilled Pork and Pear Salad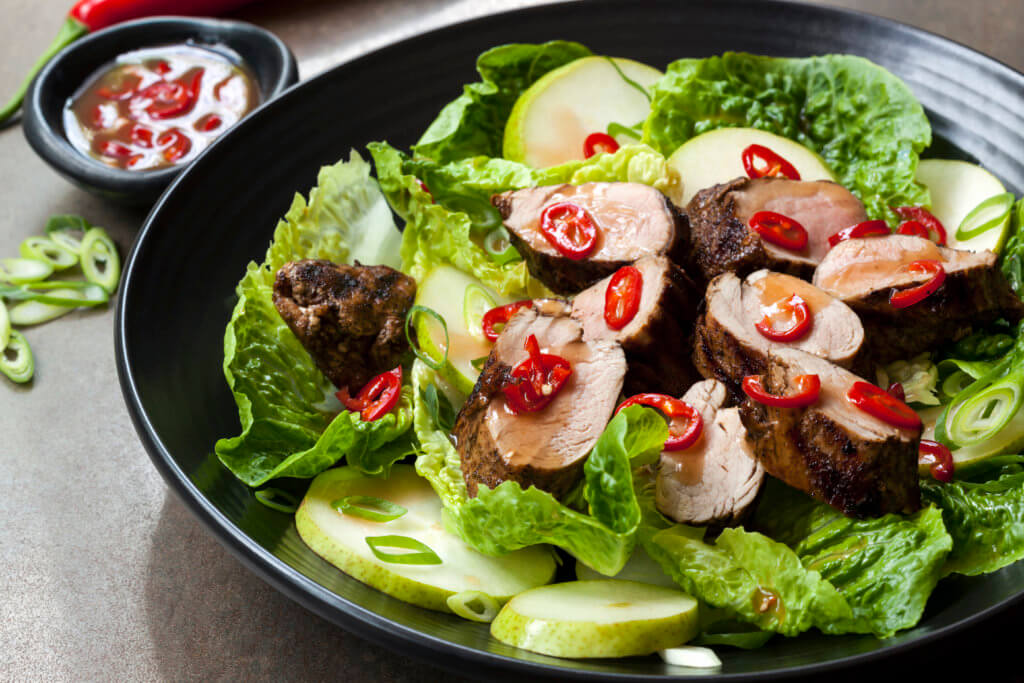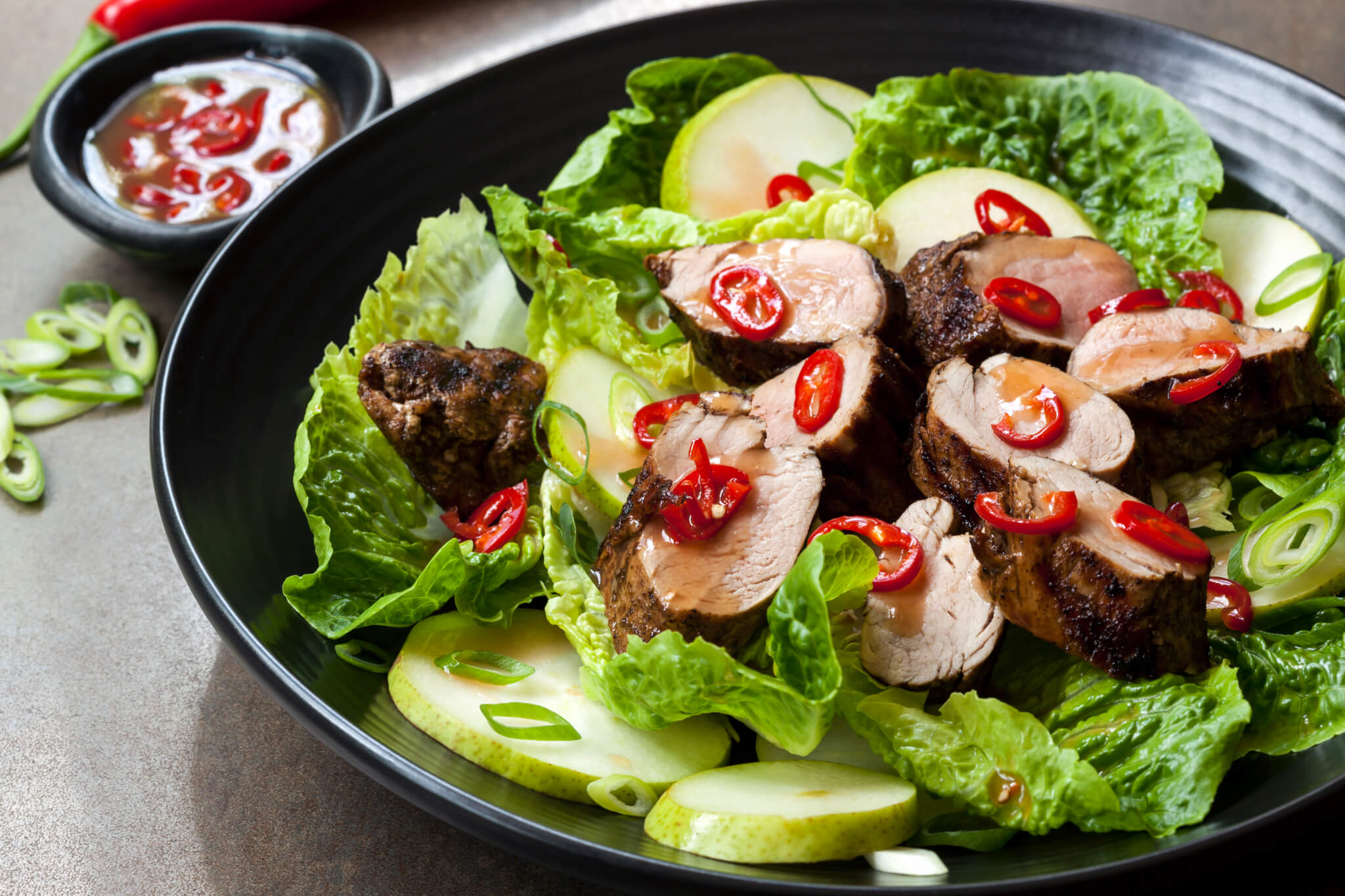 Ingredients: (Makes 2 servings)
4 Tbsp olive oil
3 Tbsp balsamic vinegar
2 cloves minced garlic
2 Tbsp maple syrup
1lb pork tenderloin
¼ tsp black pepper
2 large ripe pears, halved and seeds removed
6 cup mixed salad greens
¼ cup sliced red onion
Cooking Spray
Directions:
Preheat grill to medium-high heat. In a small bowl combine oil, vinegar, garlic and ½ the amount of maple syrup. With the leftover maple syrup use that to brush evenly on pork tenderloin. Sprinkle pork with pepper. Place on grill for 15 to 20 minutes or until desired doneness. Remove from grill and let it stand about 15 minutes before slicing. In the meantime, coat pear halves with cooking spray and brush with a little maple syrup if desired. Place cut side down on grill and grill for 5 minutes or until tender. Remove from grill and slice into wedges. To serve, arrange 1½ cups of salad greens on a plate. Top with ¼ of grilled pork and pears. Drizzle remaining oil, vinegar, garlic, and maple syrup mixture. Garnish with red onion slices.
Nutritional Information per serving: 412 calories, 26 g carbohydrates, 34 g protein, 19 g fat, 90 mg sodium, 90 mg cholesterol, 5 g fiber
Foil Baked Lemon Fish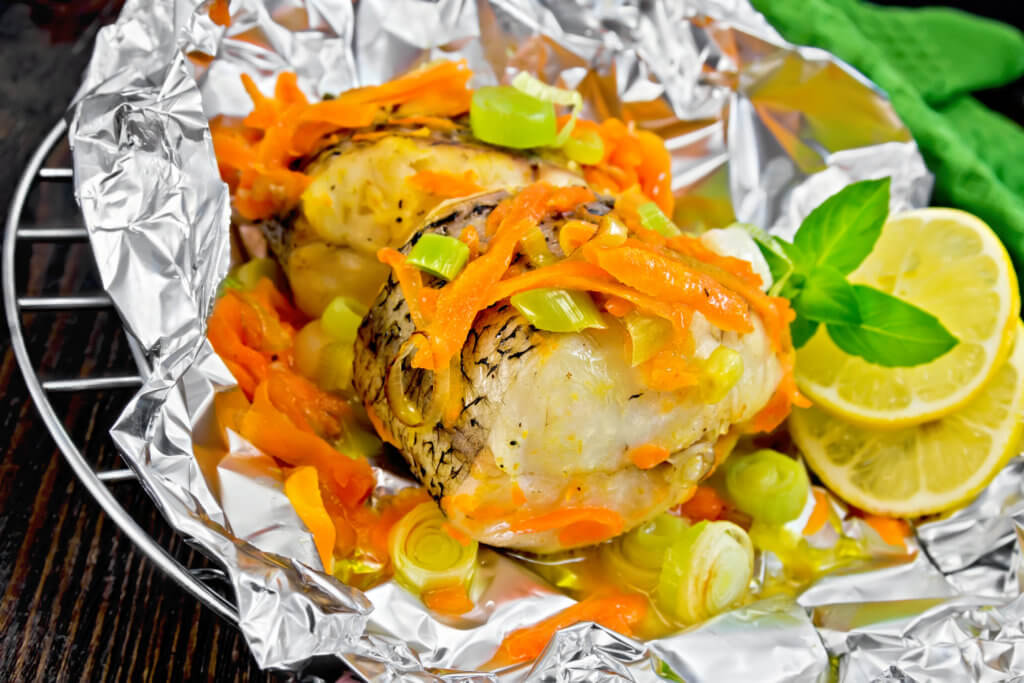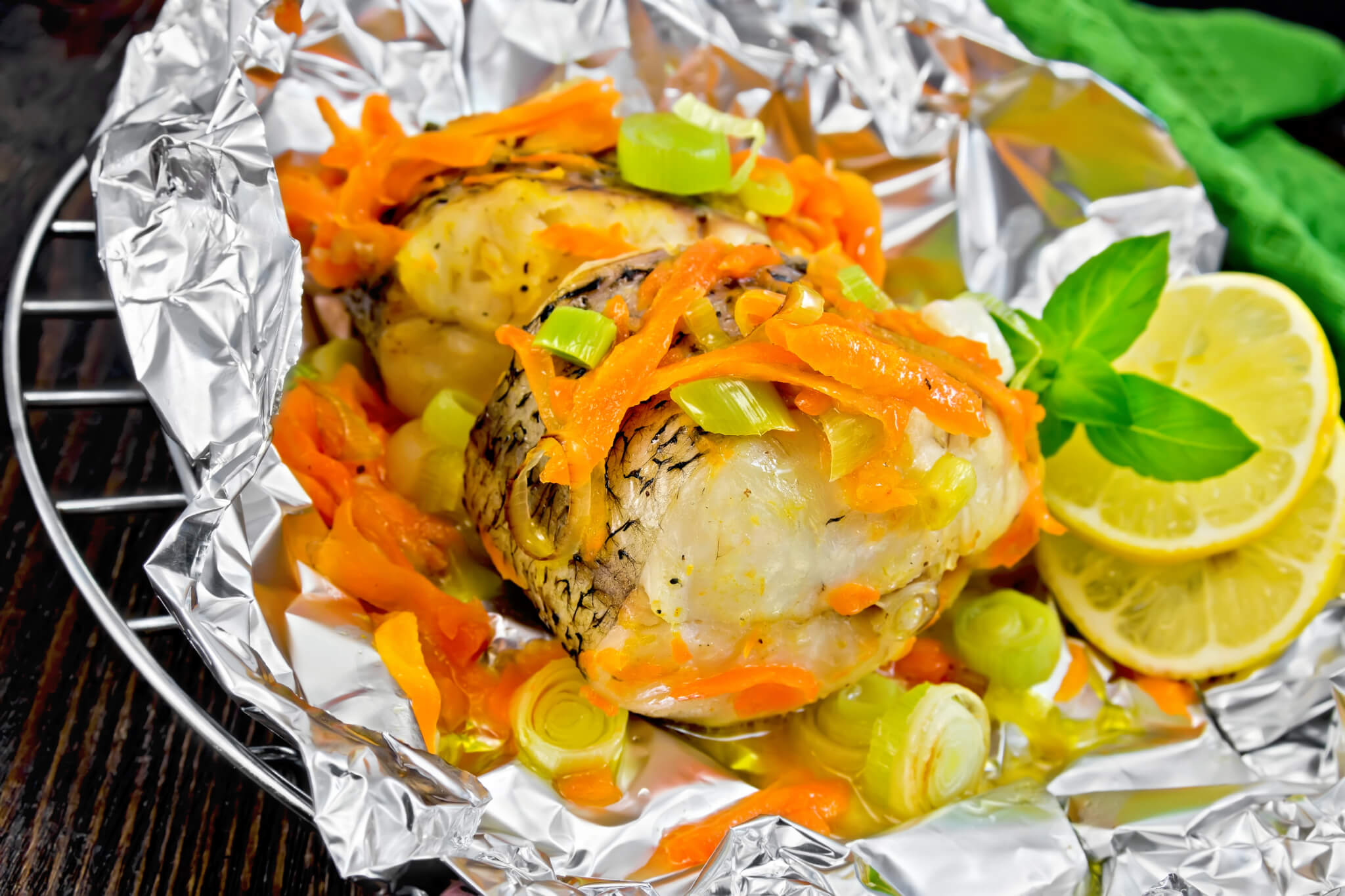 Ingredients:
4 fish fillets (about 4 oz. each)
¼ cup diced carrots
¼ cup diced celery
¼ cup chopped green onion
2 Tbsp chopped fresh parsley
2 thinly sliced lemons
Salt and pepper to taste
Directions:
Heat the oven to 350 degrees F. Cut four 2 foot lengths of foil and fold each in half to make a 1-foot square. Place 1 fish fillet slightly on each square of foil. Sprinkle ¼ cup carrots, celery, green onions and parsley on each fillet. Top with lemon slices. Wrap the fish in foil, crimp edges together slightly and place foiled wrapped fish fillets on a baking sheet. Bake for 15-20 minutes or until fish flakes easily.
Servings: 4
Serving: 4 oz fish fillet
Nutrition Information Per Serving:160 calories, 16g carbohydrates, 28g protein, 1g fat, 143mg sodium, 53mg cholesterol, 7g fiber
Broiled Fish Steaks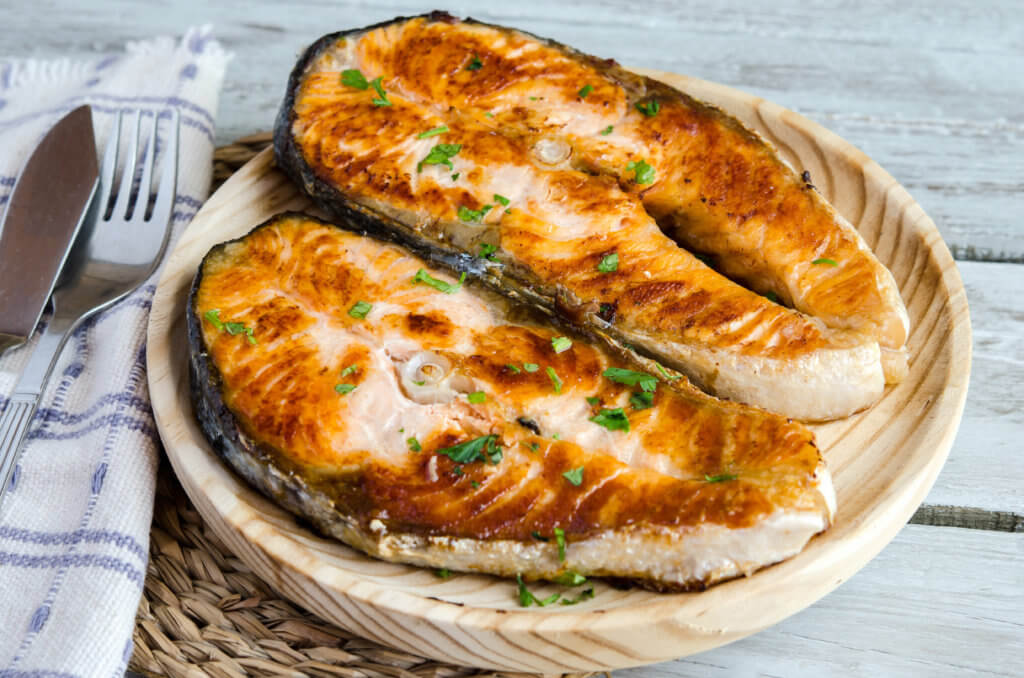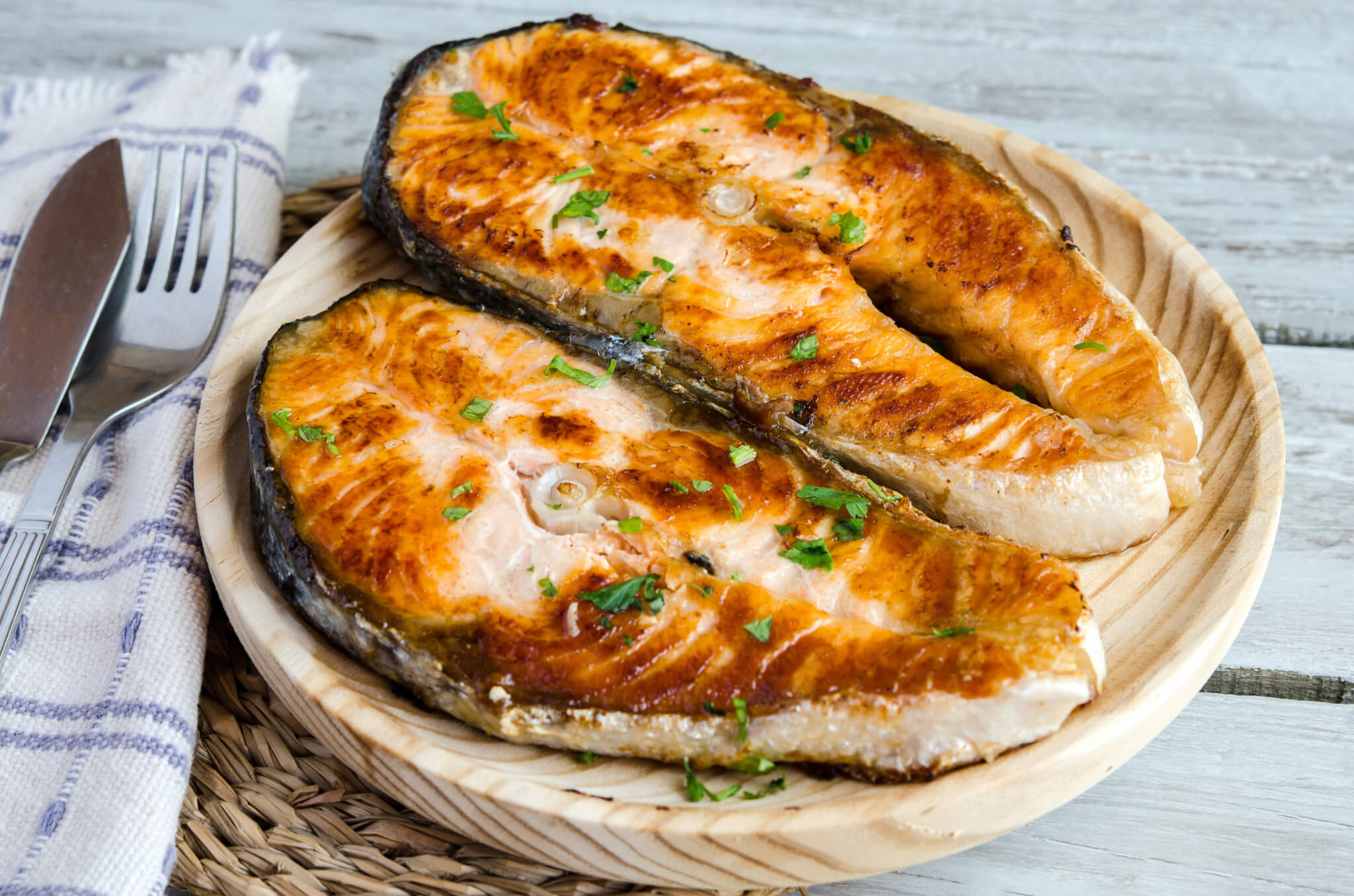 Ingredients:
6 fish steaks (about 5 oz each)
2 Tbsp reduced calorie mayonnaise
1 Tbsp lemon herb seasoning
Paprika to taste
Lemon slices and parsley garnish
Directions:
Preheat broiler. Rinse fish and pat dry. Lightly coat both sides of fish piece with mayonnaise. Place in shallow baking dish. Sprinkle with lemon seasoning and paprika. Broil 3 to 4 minutes, or until fish flakes when tested with a fork or is no longer translucent. Garnish with lemon slices and parsley. Serve immediately.
Servings: 6 1 Serving = 4 oz.
Nutrition Information Per Serving: 288 calories, 1g carbohydrates, 21g protein, 22g fat, 158mg sodium, 68mg cholesterol, 0g fiber
Turkey Chili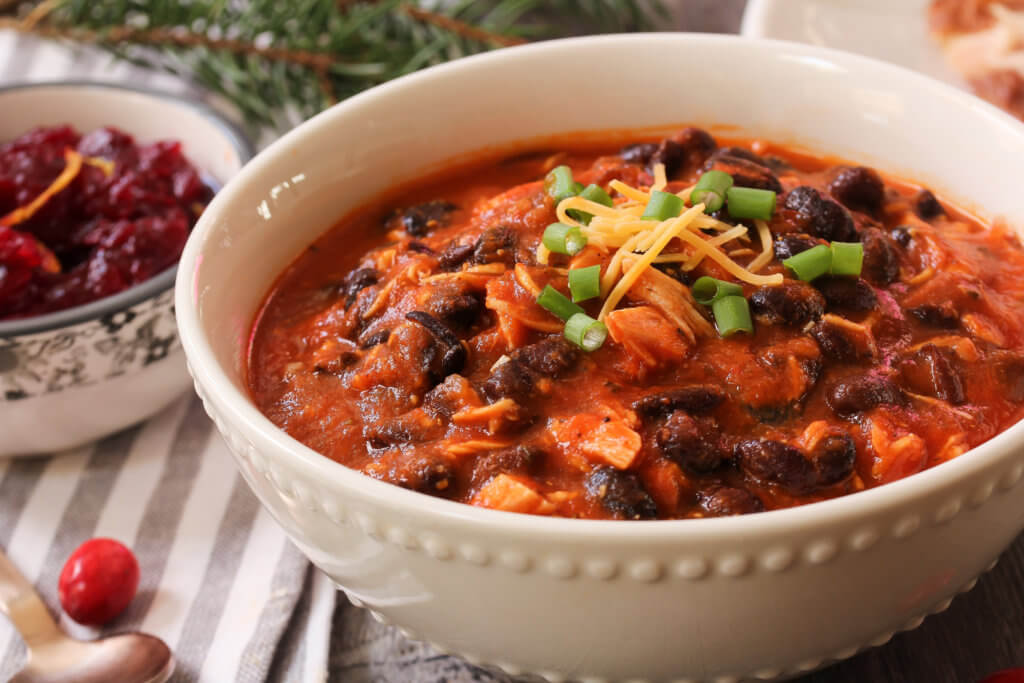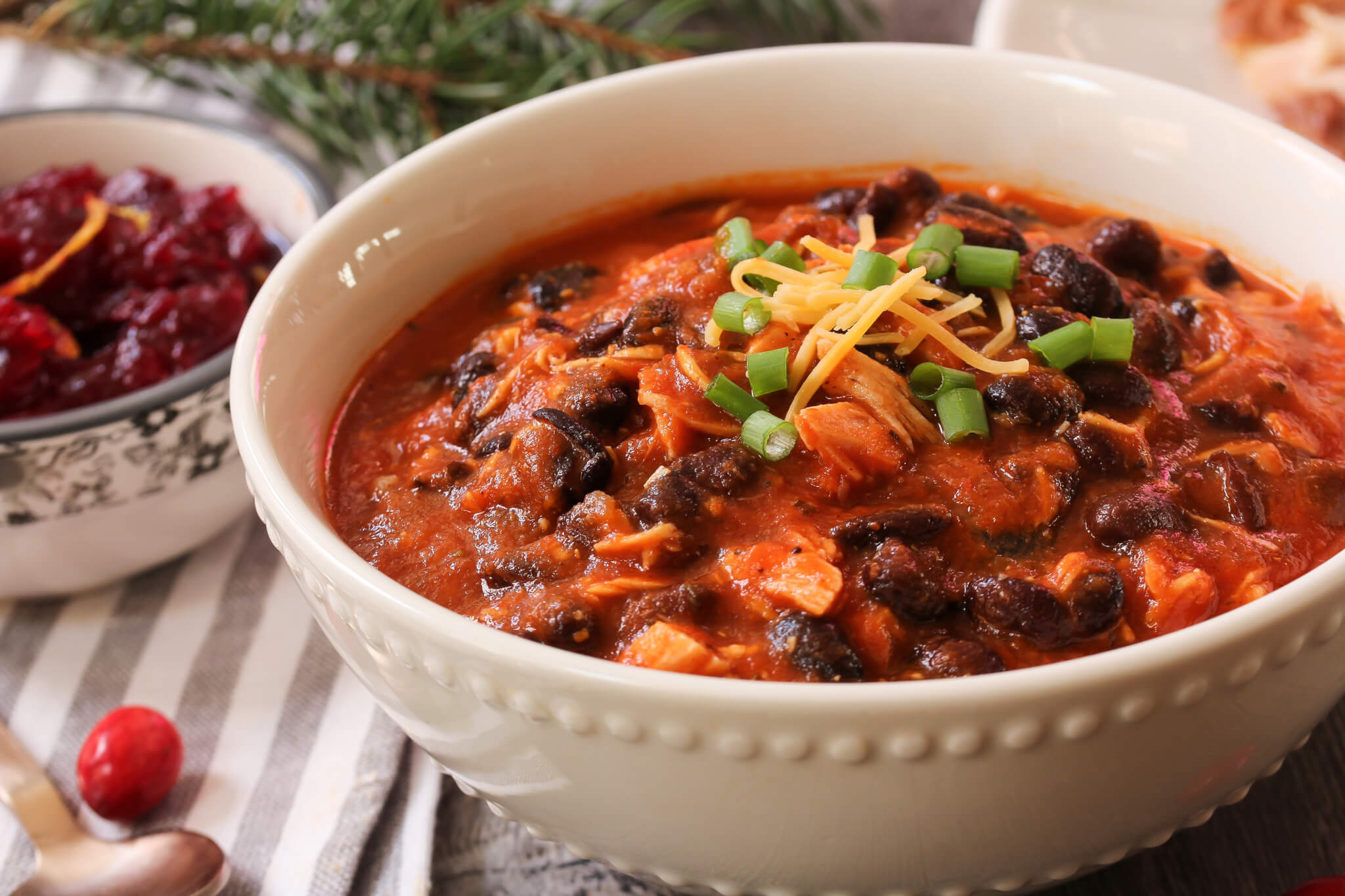 Ingredients:
1 ½ lb lean ground turkey
1 Tbsp olive oil
2 large onions, chopped
3 cloves garlic, minced
16 oz no salt added tomato sauce
1 ½ cup water
3 Tbsp chili powder
1/8 tsp cayenne pepper, or to taste
1 tsp ground cumin
1 Tbsp fresh oregano or 1 tsp dried oregano
fresh ground pepper to taste
½ tsp salt (optional)
15 oz canned pinto beans, rinsed and drained
2 Tbsp cornstarch
¼ cup cold water
Directions:
Heat a non-stick skillet over medium-high heat. Add ground turkey and sauté, stirring occasionally, 4 to 5 minutes or until meat is no longer pink. Pour contents of the pan into a strainer or colander lined with paper towels. Allow fat and liquid to drain out. In a large saucepan or Dutch oven, heat oil over medium-high heat. Add onions and sauté 2-3 minutes or until translucent. Add meat, garlic, tomato sauce, and 1 ½ cups water. Simmer 20 minutes. Stir in chili powder, cayenne pepper, cumin, oregano, pepper, salt and pinto beans. Allow to simmer an additional 30-40 minutes. Combine cornstarch and cold water. Stir into chili mixture to thicken and cook an additional 4 minutes. Serve hot.
Servings: 6 servings Serving = 1 ¼ Cup
Nutrition Information Per Serving: 352 calories, 32g carbohydrates, 28g protein, 13g fat, 355mg sodium, 90mg cholesterol, 10g fiber
Huevos Rancheros Tostados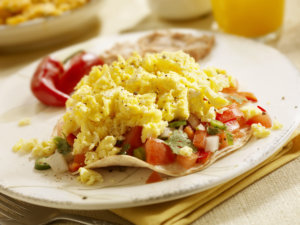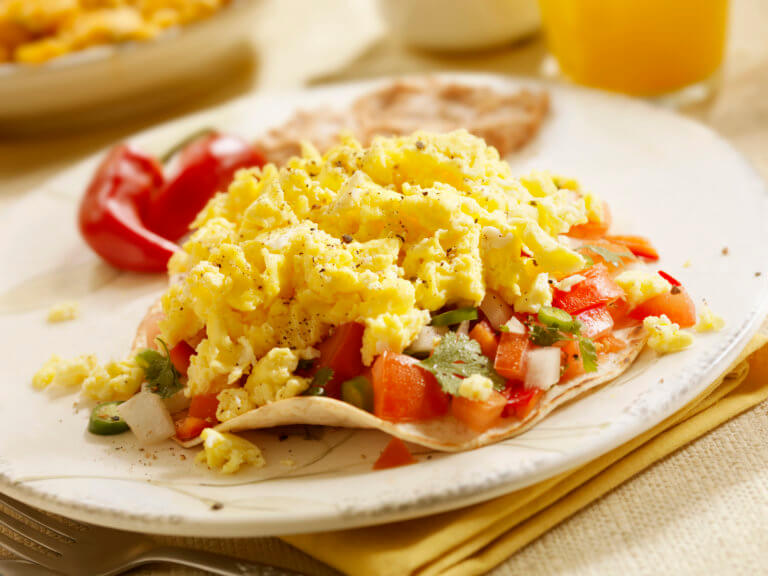 Ingredients:
4 corn tortillas
½ cup picante sauce
¼ cup ketchup
1 15 oz. can pinto beans
4 large eggs
¼ tsp salt
¼ cup fresh chopped cilantro
Directions:
Preheat oven 450 degrees F. Lightly coat both sides of corn tortillas with cooking spray, place on baking sheet. Bake at 450 degrees for 5 minutes on each side or until tortillas are crisp. While tortillas are baking, combine the picante sauce, ketchup and pinto beans in a large non-stick skillet, bring to a simmer over medium-high heat, stirring frequently. Using a wooden spoon, make 4 small wells in bean mixture, 2 inches apart. Break 1 egg into each well, and sprinkle evenly with salt. Cover and cook 5 minutes or until egg is desired degree of doneness. Place 1 tortilla on plate and top with ½ cup bean mixture and an egg. Sprinkle each with 1 tablespoon of cilantro.
Servings: 4 Serving = 1 tortilla, 1 egg, ½ C bean mixture
Nutrition Information Per Serving: 195 calories, 27 g carbohydrates, 10 g protein, 6 g fat, 782 mg sodium, 186 mg cholesterol, 5 g fiber
Beef Kabobs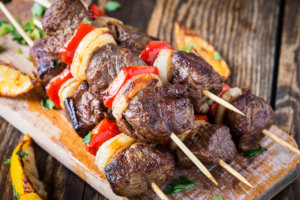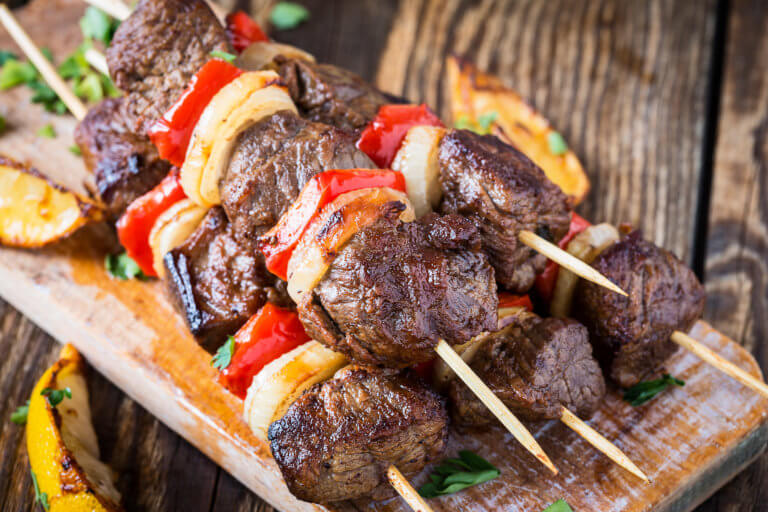 Ingredients:
1 Tbsp fresh lemon juice
1 Tbsp olive oil
1 Tbsp water
1 tsp Dijon mustard
½ tsp dried oregano
¼ tsp black pepper
1 lb boneless top sirloin steak, visible fat removed, cut into 1 inch squares
1 large red or green bell pepper
12 large mushrooms
Directions:
In a bowl, mix together lemon juice, oil, water, mustard, oregano and black pepper. Add steak, bell pepper and mushrooms, tossing to coat. Make 4 skewers alternating steak, bell pepper and mushrooms. Set. Aside. On pre-heated grill, grill kabobs uncovered for about 8-11 minutes, turning occasionally until meat measures at least 145 degrees on meat thermometer (for medium rare).
Servings: 4 Serving = 4 oz steak (1 skewer)
Nutrition Information Per Serving: 191 calories, 6 g carbohydrates, 24 g protein, 8 g fat, 82 mg sodium, 42 mg cholesterol, 1 g fiber
Baked Salmon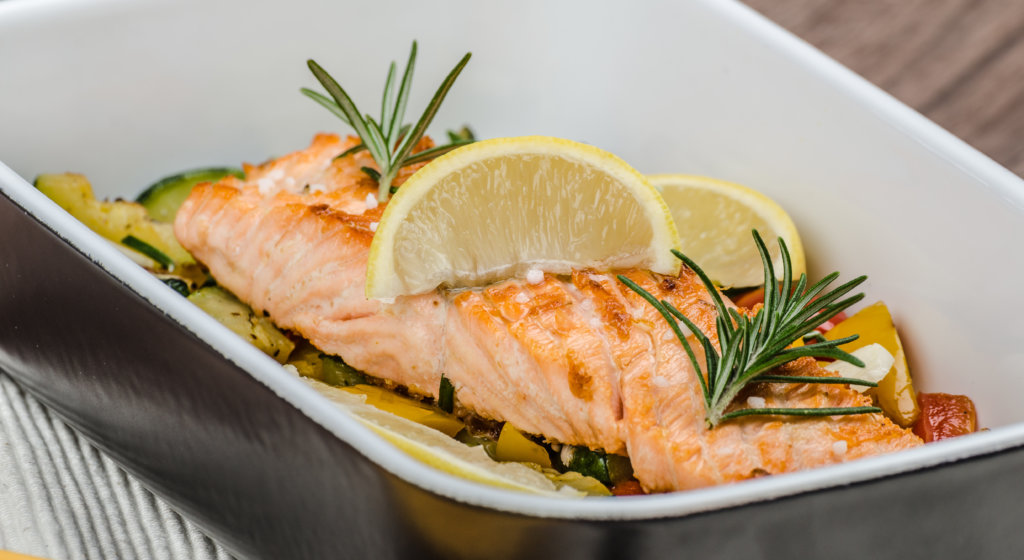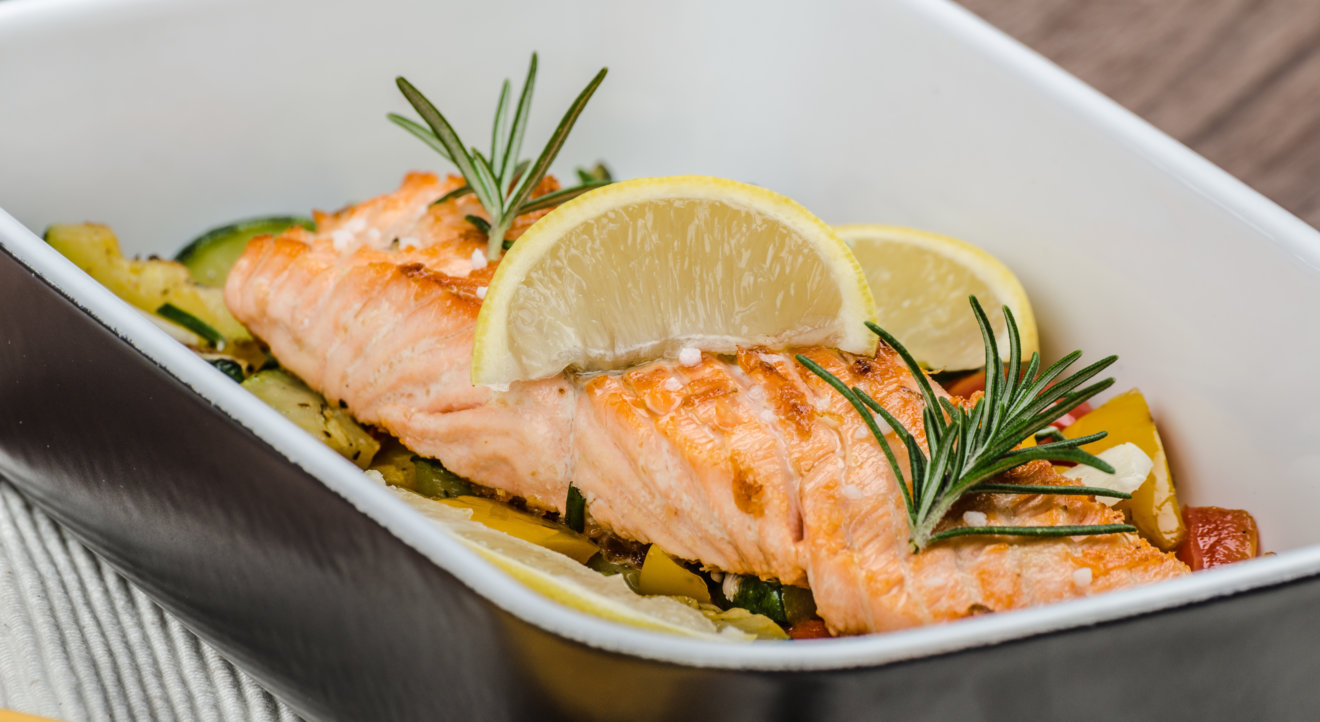 Ingredients:
1 lb salmon fillet (cut into 4 pieces)
2 Tbsp chopped shallots
¼ C white wine or vermouth
2 Tbsp lite mayonnaise
2 Tbsp lite sour cream
2 tsp fresh lemon juice
2 tsp horseradish, freshly chopped or prepared, drained
2 tsp drained capers (optional)
Directions:
Preheat oven to 450 degrees F. Prepare a shallow roasting pan or baking dish with nonstick pan spray. Place salmon fillets, skin side down in the pan. Sprinkle the shallots over the fish, pour wine evenly over all. Bake 6-8 minutes or just until the fish is opaque.
While fish is cooking, combine mayonnaise, sour cream, lemon juice, horseradish and capers, if desire, into a small bowl and mix well. Transfer the salmon and shallots to warm serving plates. Top each with a heaping tablespoon of horseradish mayonnaise. Garnish with capers, if desired.
Servings: 4 Serving = 4 oz fish
Nutrition Information Per Serving: 257 calories, 3g carbohydrates, 30g protein, 11g fat, 185mg sodium, 86mg cholesterol, 0g fiber