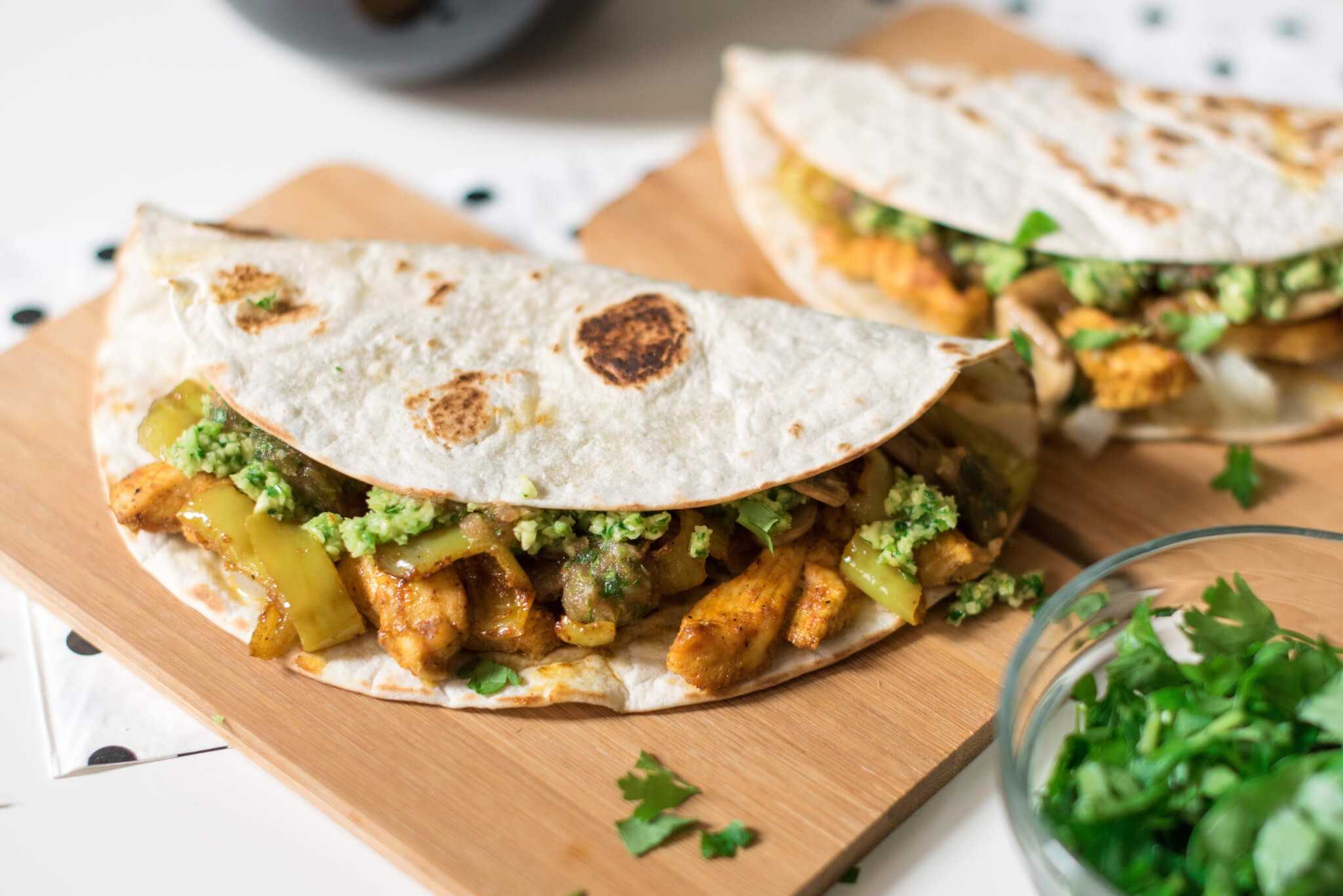 Let's face it—a lot of us wouldn't mind if Taco Tuesday was every day. We love these delicious treats no matter the occasion. But some tacos can be greasy and have lots of saturated fat. So, the next time you are craving Mexican cuisine, try out one of these healthy taco recipes that are sure to make everyone's day!
Healthy Shrimp Tacos
Ingredients:
¾ lb. medium shrimp, peeled, deveined, and cooked
1 (15 oz.) can black beans, rinsed and drained
¼ cup sliced scallions
1 medium avocado, diced
¼ tsp. freshly ground black pepper
½ cup fresh or bottled salsa verde
¼ cup chopped fresh cilantro
2 Tbsp. fresh lime juice
8 (6 inch) corn tortillas
1¼ cups red bell pepper strips (¼-inch strips, about 1 pepper)
Lime wedges, for serving
Chopped fresh cilantro, for serving
Directions:
Combine shrimp, beans, scallions, and avocado. Season with pepper. In a separate bowl, stir together the salsa, cilantro, and lime juice. Toss shrimp mixture with ¼ cup salsa mixture.
Arrange tortillas on a microwave-safe plate in batches of 5 or fewer.
Place a damp paper towel over the tortillas and microwave at HIGH for 30 seconds.
Arrange 3–4 pepper strips in the center of each tortilla. Top with ½ cup of the shrimp-and-bean mixture. Drizzle about 1 tablespoon of the salsa verde mixture over each taco. Serve with lime wedges and cilantro.
Squash Tacos with Avocado
Ingredients:
1½ lbs butternut or acorn squash, peeled, halved lengthwise, seeded, cut into ½-inch slices
1 tsp. chili powder
1 clove garlic, finely chopped
2 Tbsp. olive oil
¼ tsp. salt
¼ tsp. freshly ground black pepper
8 (6 inch) corn tortillas
1 ripe avocado, peeled, pitted, sliced into 8 wedges
¼ cup fresh cilantro leaves
¼ cup sliced white onion
1 lime, cut into wedges
Directions:
Preheat oven to 425 °F. Spread squash on a large, rimmed baking sheet. In a small bowl, stir together chili powder, garlic, oil, salt, and pepper; pour over squash and toss to coat. Roast squash, turning once, until blistered in spots and tender when pierced with a knife, about 20 minutes.
Warm a large skillet over medium-high heat. Working in batches, toast tortillas, turning once, until charred, about 2 minutes per side. Transfer tortillas to a clean kitchen towel and wrap up to keep warm. Repeat with remaining tortillas.
Fill tortillas with squash, avocado, cilantro, and onion, dividing evenly. Serve with lime wedges.
Chicken Street Tacos
Ingredients:
Marinated Chicken
2 lbs boneless, skinless chicken thighs
1 orange, squeezed
1 lime, squeezed
6 cloves garlic, minced
2 tsp. ancho chili powder
2 tsp. onion powder
2 tsp. smoked paprika
2 tsp. salt
2 tsp. pepper
Mango Slaw
2 mangos, diced small
1 small red onion, diced small
1 cup shredded red cabbage
¼ cup fresh cilantro leaves
2 limes, squeezed
Salt to taste
Tacos
12–18 corn tortillas, street taco size
2 avocados, sliced
Extra limes for serving (optional)
Tomatillo salsa (optional)
Directions:
Mix all the marinade ingredients (everything after chicken) in a medium container fitted with a lid. Whisk or shake with lid on until fully incorporated. Add the chicken thighs and marinate at least 30 minutes or overnight if possible.
Heat oven to 425 °F. Place the marinated chicken on a baking rack set on top of a rimmed baking sheet. Roast the chicken until the internal temperature reaches 165 °F, about 20 minutes.
While the chicken is baking, mix the mangos, red onion, red cabbage, cilantro, juice of two limes, and salt to taste in a bowl; set aside.
Assemble the tacos by adding sliced chicken to warm tortillas and topping with mango slaw and sliced avocado. Serve with extra lime and tomatillo salsa if desired.