The holidays mean get-togethers, parties, and festivities with plenty of treats to go around! But with so many foods on the table, it's a great idea to introduce some healthier and delicious options to the mix. Try one of these healthy hors d'oeuvre recipes that are guaranteed hits any time of the year.
Prosciutto-Wrapped Asparagus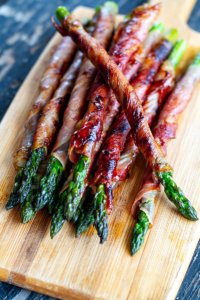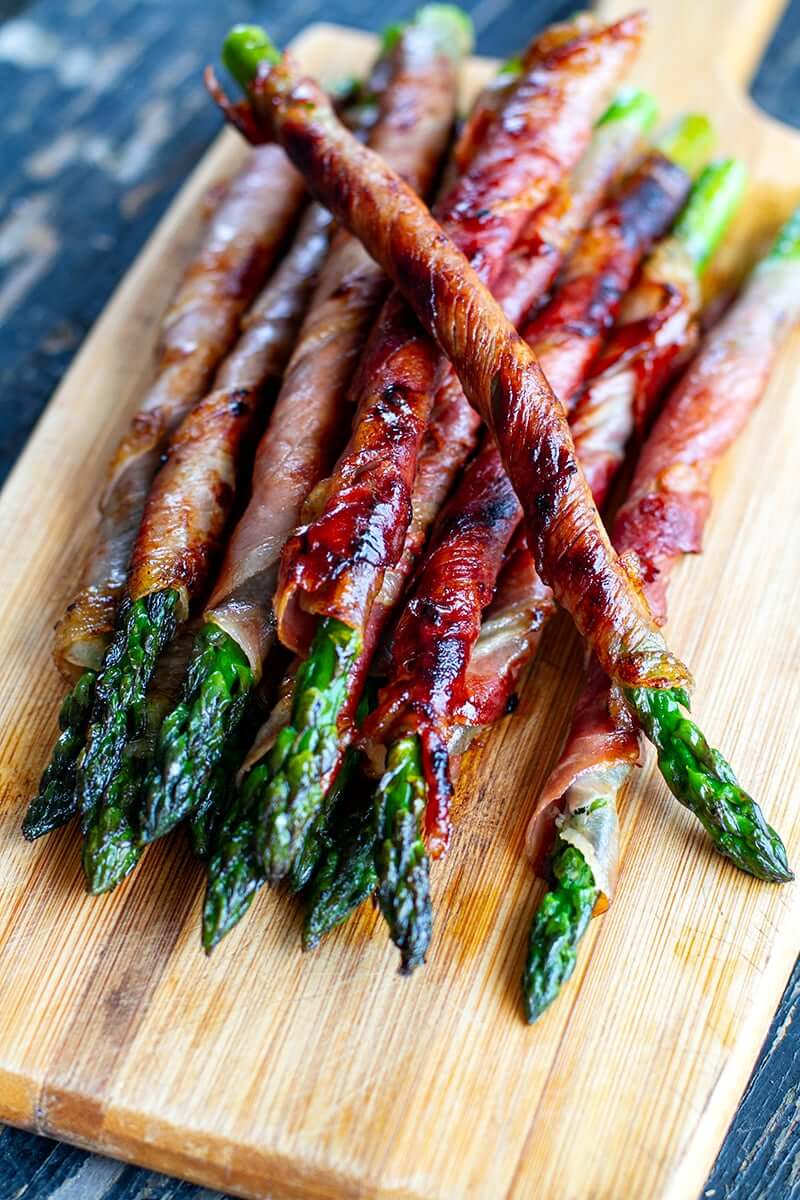 By: Irena Macri[1]
Prep Time: 15 minutes
Cook time: 5 minutes
Servings: 12
Ingredients:
12 asparagus spears
6 prosciutto slices/strips
Ghee for frying
Directions:
Wash asparagus and cut 2 cm off the ends. Cut prosciutto strips into two halves lengthwise. You should end up with 12 strips.

Place each prosciutto strip on a chopping board at a 45-degree angle. Place one of the asparagus spears on top of the meat, perpendicular to it. The tip of the asparagus should be lined up with the bottom of the prosciutto strip. Wrap the bottom end of prosciutto over the asparagus and holding the meat tight, start rolling the asparagus up. The prosciutto strip will wrap around the whole length of the spear because it's on an angle. Don't worry if parts of the asparagus spears are not covered completely.
In a large, flat frying pan, heat some ghee to sizzling hot. Fry wrapped asparagus spears for 1–2 minutes on each side or until prosciutto is brown and crispy.
[1] https://irenamacri.com/recipes/prosciutto-wrapped-asparagus/
Hummus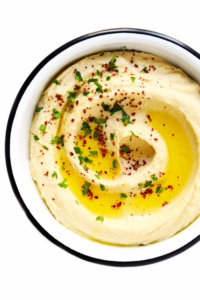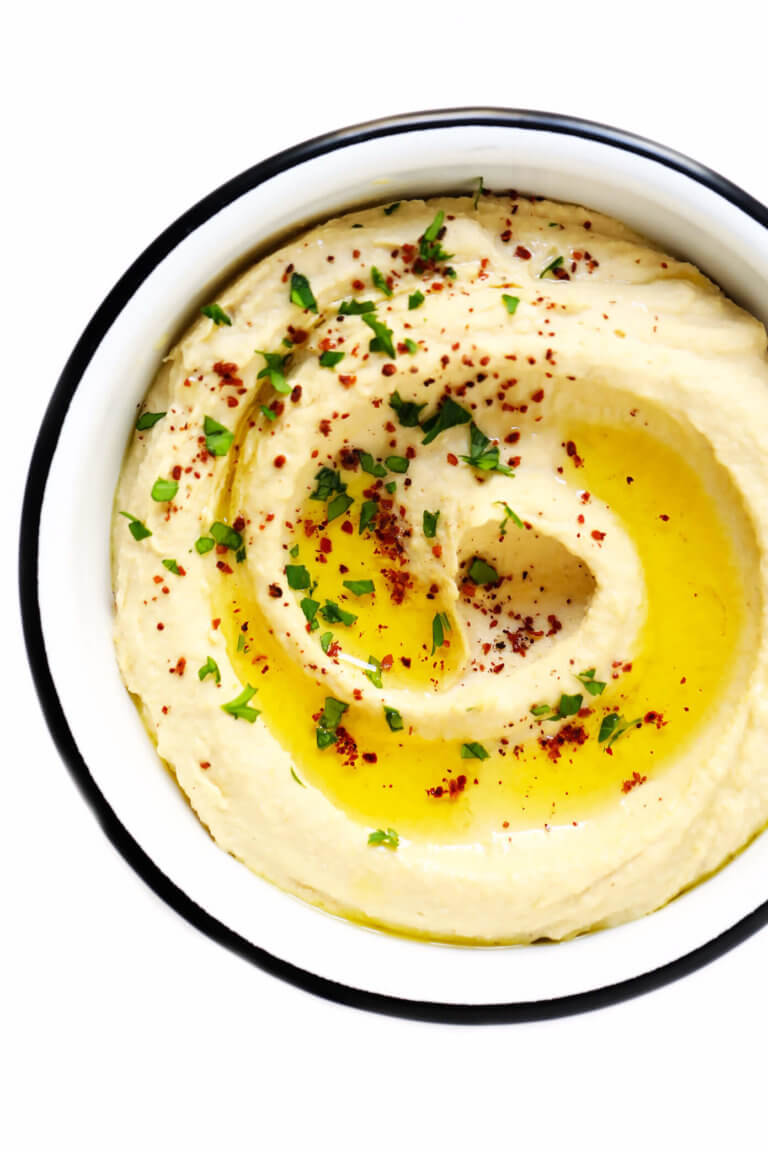 By: Gimme Some Oven[1]
Prep Time: 10 minutes
Servings: 6–8
Ingredients:
½ cup good-quality tahini
2–4 Tbsp. cold water
2 Tbsp. extra virgin olive oil
½ tsp. ground cumin
¾ tsp. fine sea salt
2 medium cloves garlic, peeled and smashed
2–3 Tbsp. lemon juice
1 15-oz. can chickpeas, rinsed and drained
Optional toppings:
Extra drizzle of olive oil
Chopped fresh parsley
Ground sumac
Paprika
Toasted pine nuts
Directions:
Add tahini, cold water, olive oil, cumin, salt, garlic and lemon juice to a food processor. Puree until smooth.
Add in the chickpeas. Puree for 3–4 minutes, pausing halfway to scrape down the sides of the bowl, until the hummus is smooth. If it seems too thick, add in another tablespoon or two of water.
Taste and season with additional salt, cumin, and/or lemon juice if needed.
Serve immediately, garnished with your desired toppings. Or transfer to a sealed container and refrigerate for up to 3 days.
[1] https://www.gimmesomeoven.com/classic-hummus/
Stuffed Figs with Goat Cheese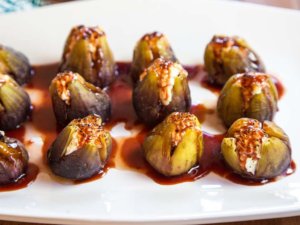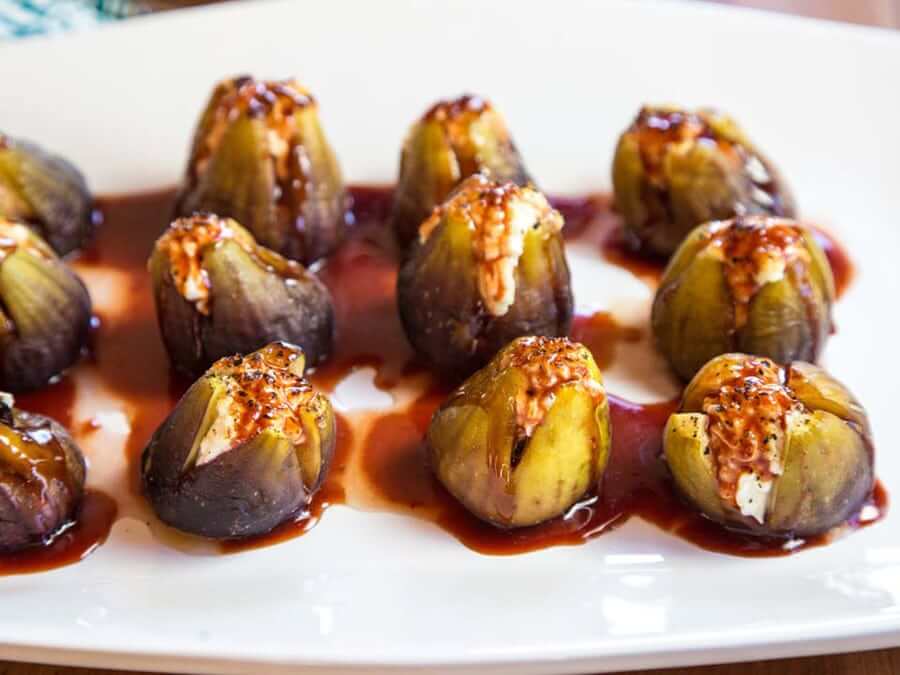 By: Tori Avery[1]
Prep Time: 5 minutes
Cook time: 15 minutes
Servings: 12
Ingredients:
12 fresh figs
4 oz. soft goat cheese (for vegetarian, use cheese with a vegetarian rennet)
1 tsp. extra virgin olive oil
Salt and pepper
¼ cup date honey (or regular honey)
Directions:
Make a batch of date honeyin advance of this recipe for best flavor, or you may substitute regular honey.
Preheat oven to broil. Trim off stems of figs and cut an "X" in the top of each fig one-third of the way through. Place the figs on a sheet pan lined with greased parchment or a nonstick silicone baking mat. If they are a little wobbly, you can shave a bit off the bottom of the figs so they stand upright.
Place goat cheese in a plastic or piping bag and massage with warm hands until softened. Cut a tip off one of the bottom corners of the bag and pipe the cheese into each fig, dividing your 4 oz. of cheese evenly between the 12 figs.
Lightly brush the figs with olive oil and sprinkle with a little salt and a generous amount of freshly cracked black pepper.
Broil the figs for about 4 minutes or until you can see little brown bits on the goat cheese. Date honey or regular honey should be gently warmed in a small saucepan until easily pourable and warm but not hot.
Remove figs from oven and drizzle with warm date honey.
Serve warm or at room temperature.
[1] https://toriavey.com/toris-kitchen/stuffed-figs-with-goat-cheese/
Marinated Artichoke and Olive Appetizer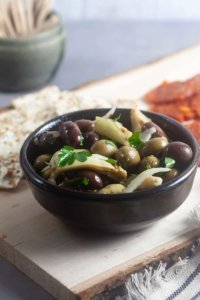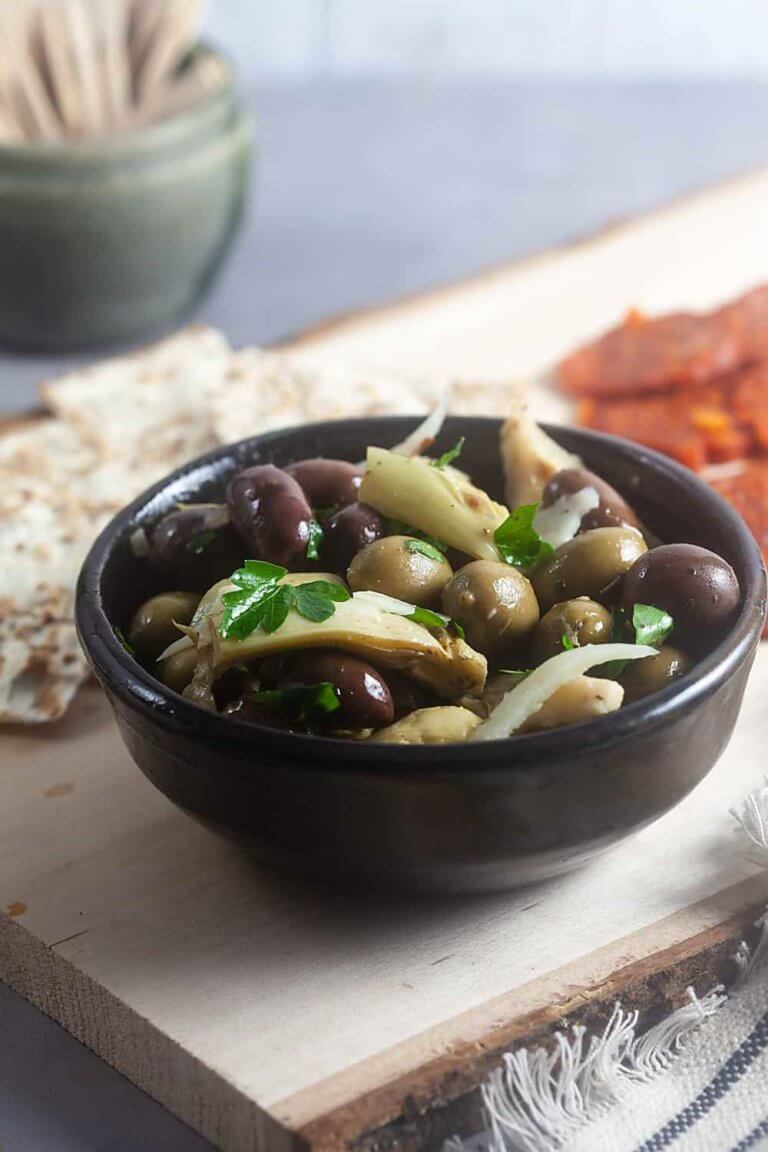 By: Healthy Delicious[1]
Prep Time: 5 minutes
Cook time: 3 minutes
Servings: 10
Ingredients:
2 Tbsp. extra virgin olive oil
2 garlic cloves, thinly sliced
1 lemon, zested
1 tsp. red pepper flakes
1 Tbsp. sherry vinegar
1 small jar marinated artichoke quarters, drained
1 jar marinated mixed olives, drained
2 oz. shredded Manchego cheese
¼ cup chopped fresh parsley
Optional: flatbread for serving
Directions:
Add the olive oil to a small pot set over medium heat. When the oil starts to shimmer, add the garlic and lemon zest.
Cook 2–3 minutes or until the garlic begins to turn golden. Immediately remove the pot from the heat and stir in the pepper flakes and vinegar.
In a medium bowl, combine the artichoke quarters and olives. Pour the oil mixture over the salad and mix well. Gently stir in the Manchego and parsley.
[1] https://www.healthy-delicious.com/marinated-artichoke-and-olive-appetizer/