This Valentine's Day skip the crowded, overpriced restaurant serving up dishes heavy in butter and salt and make a delicious heart-healthy dinner together.
Heart disease accounts for nearly one-third of all deaths worldwide. Certain foods can influence blood pressure, triglycerides, cholesterol levels, and inflammation, so your diet plays a major role in heart health and can impact your risk of heart disease. It's never too early or too late to start eating healthier, and what better way to show your love than to cook up a delicious meal that doesn't make you feel like you're missing out.
If you're concerned about heart health or just want to eat healthier, try eating more of these 15 foods.
Leafy Green Vegetables (spinach, kale, collard greens)
Whole grains (whole wheat, brown rice, oats, rye, barley, buckwheat, quinoa)
Berries (strawberries, blueberries, blackberries, raspberries)
Avocados
Fatty Fish and Fish Oil (salmon, mackerel, sardines, tuna)
Walnuts
Beans
Dark Chocolate
Tomatoes
Almonds
Seeds (hemp seeds, flaxseed, chia seeds)
Garlic
Olive Oil
Edamame
Green Tea
Below, you'll find a heart-healthy, easy Valentine's Day dinner menu for two that incorporates most of the items listed above.
Appetizer – Tossed Green Salad with Vinaigrette, Nuts, and Seeds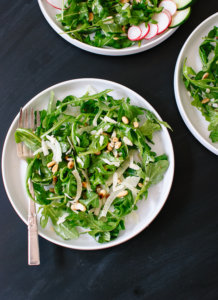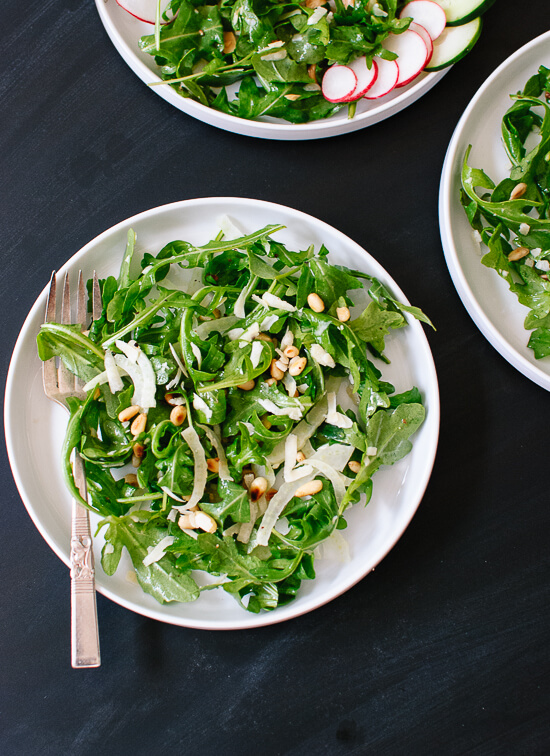 Ingredients:
Salad
2 cups greens of choice or mixed greens (spinach, kale, or collard greens)
8 almonds, chopped
8 walnuts, chopped
Dressing
2 tablespoons lemon juice
1 teaspoon red wine vinegar
2 teaspoons extra-virgin olive oil
Dash salt
Dash pepper
Directions:
In a bowl, combine greens and nuts.
In a jar with a tight-fitting lid, combine the dressing ingredients and shake well.
Drizzle over salad, toss to coat, and serve.
Main Course – Perfectly Baked Salmon with Lemon and Dill, Garlic Quinoa, and Slow-Roasted Tomatoes
Perfectly Baked Salmon with Lemon and Dill (via Inspired Taste)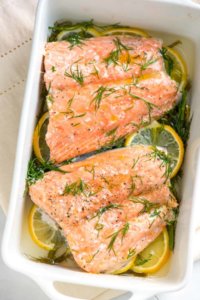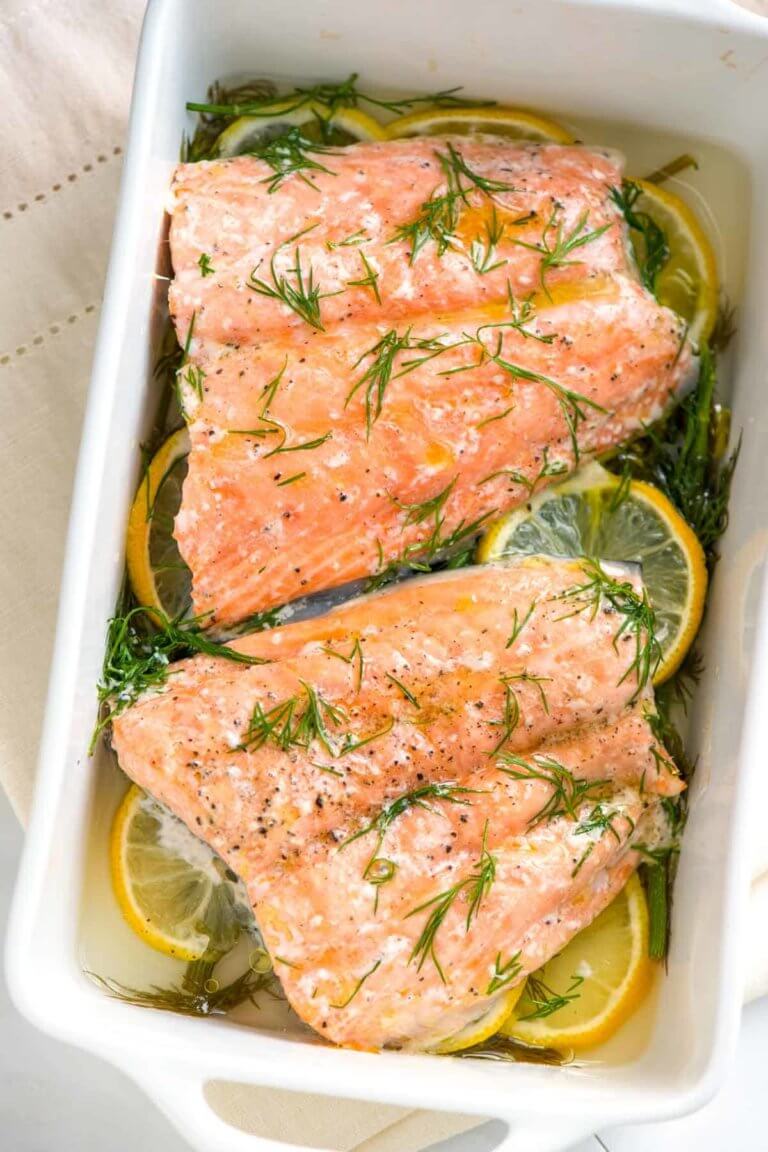 Ingredients:
½ pound salmon fillets, preferably wild-caught
½ tablespoon olive oil
Salt and fresh ground black pepper
½ lemon, cut into slices
3 to 4 sprigs of fresh dill, plus more for serving
¼ cup dry white wine, such as sauvignon blanc (substitute: fish stock, chicken stock, or water)
Directions:
Heat oven to 325 °F.
Lightly oil and season both sides of the salmon with salt and pepper.
Arrange lemon slices and fresh herbs on the bottom of a baking dish large enough to fit the salmon, and then place the salmon, skin-side down, onto the bed of lemon and herbs.
Pour wine (or stock) into the baking dish, and then cover with aluminum foil. Bake the salmon until the fish flakes and white bubbles of protein appear on the surface, 12 to 30 minutes, depending on the thickness of the fillets. Check the salmon after 10 minutes to see its progress.
Check the temperature of the salmon using an internal thermometer. You want the thickest part of the salmon to read 125 °F. Take the salmon out of the oven and loosely cover with foil for 5 minutes (the fish will continue to cook during this time). Serve, scattered with chopped fresh herbs on top.
Garlic Quinoa (via All Recipes)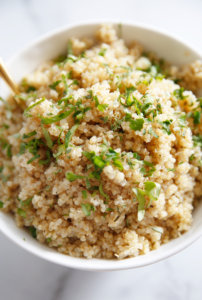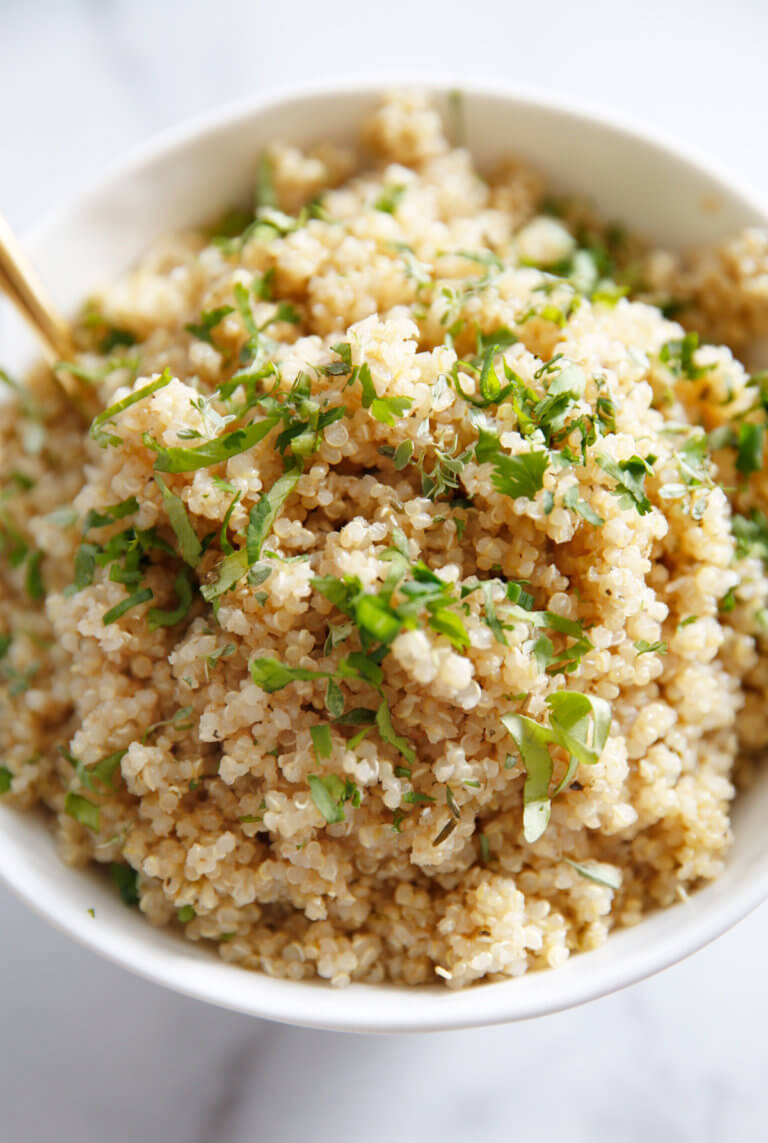 You'll have extra.
Ingredients:
1 tablespoon ghee
1 tablespoon minced garlic
2 cups chicken or vegetable broth
1 cup quinoa
Directions:
Melt butter in a saucepan over medium heat. Cook and stir garlic in melted butter until just browned, about 5 minutes.
Pour chicken broth into the saucepan; add quinoa and stir. Bring the mixture to a boil, reduce heat to low, cover, and simmer until liquid is absorbed, about 15 minutes.
Remove saucepan from heat and rest mixture 5 minutes before fluffing with a fork.
Slow Roasted Tomatoes (via Martha Stewart)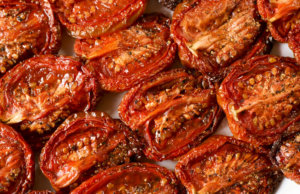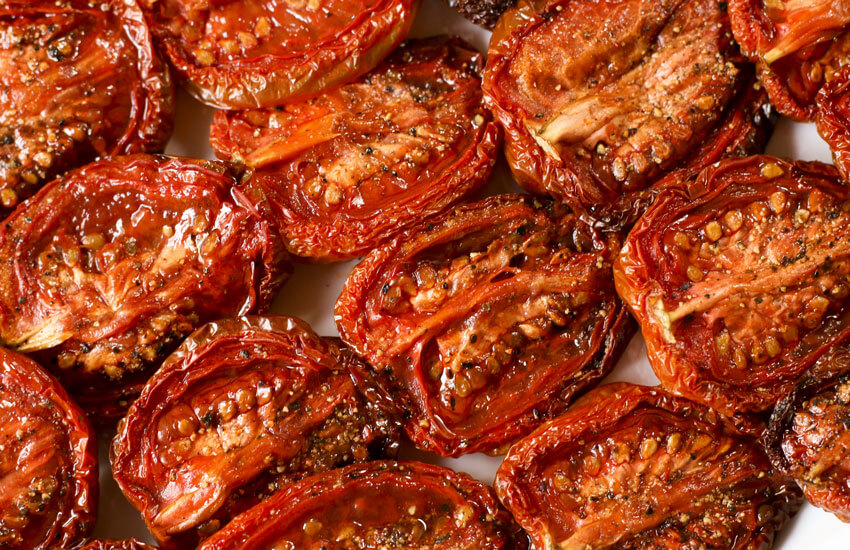 Ingredients:
3 plum tomatoes, halved lengthwise
1 tablespoon extra-virgin olive oil
1 teaspoon fresh thyme leaves, or ¼ teaspoon dried
Coarse Himalayan salt and ground pepper
Directions:
Preheat oven to 325 degrees. Place tomatoes on a rimmed baking sheet, cut side up. Drizzle with oil, and sprinkle with thyme leaves; season with salt and pepper.
Roast until tomatoes begin to collapse, brushing occasionally with pan juices, about 90 minutes. This can be made ahead and reheated in the oven at 325 degrees for 10 to 15 minutes.
Dessert – Chocolate Avocado Mousse Topped with Berries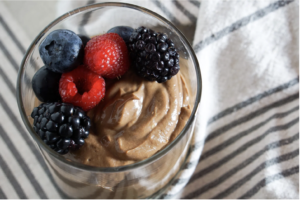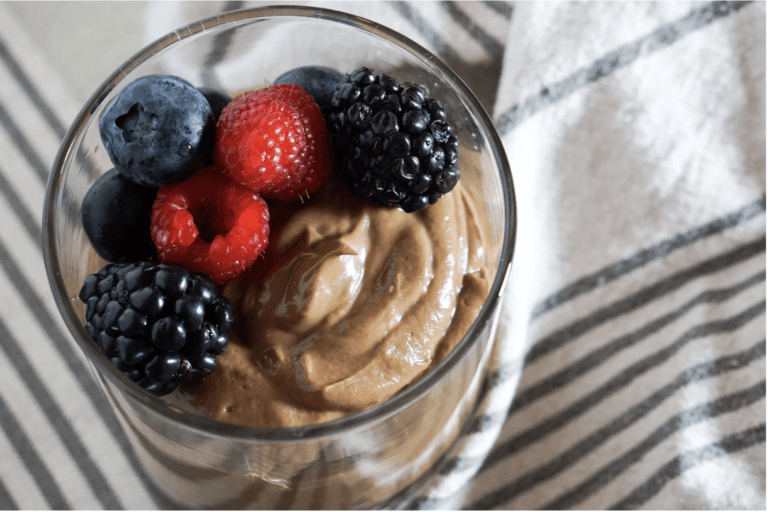 Ingredients:
1 ripe, medium-sized avocado
3 tablespoons unsweetened cocoa powder
5 tablespoons nondairy milk
3 tablespoons maple syrup, honey, or agave, optional
Strawberries, blueberries, raspberries for topping
Directions:
Cut open the avocado and scoop out the pit. Cut avocado into large chunks and put in the blender.
Add the cocoa, maple syrup (or honey or agave), and nondairy milk. Blend, starting on low and then moving to high speed until it is smooth.
If the avocado is larger, you will need a bit more of each ingredient. If it is too thick, drizzle in a bit more nondairy milk. Add more cocoa to taste.
Refrigerate the mousse and serve cold. Top with assorted berries.
Happy Valentine's Day! Don't forget that spending Valentine's Day with a loved one is also great for your heart.