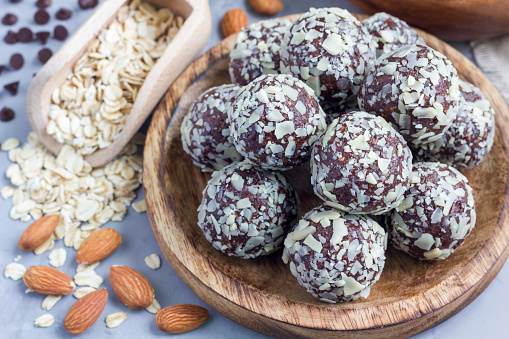 Enjoy these no bake pumpkin spice energy bites anytime of the day!
Special thanks to our Facebook Friends for sharing their delicious Life Energizing Shake recipes.
Ingredients:

2 scoops Pumpkin Spice
Life Shake
™
10 dates, pitted
1 Tbsp. maple syrup
1 tsp. vanilla extract
3/4 cup rolled oats
1/2 tsp. cinnamon powder
1/4 cup pumpkin puree
1/2 cup almonds, crushed
Directions:
Add all ingredients in a blender and blend until the dates and oats are mixed in. If the mixture seems a bit dry, add a little water until the right consistency is reached. Roll into balls and coat them with crushed almonds and freeze for 30 minutes. Store in an airtight container and keep refrigerated for up to 1 week.
For more delicious recipes, Subscribe Now to Naturally.