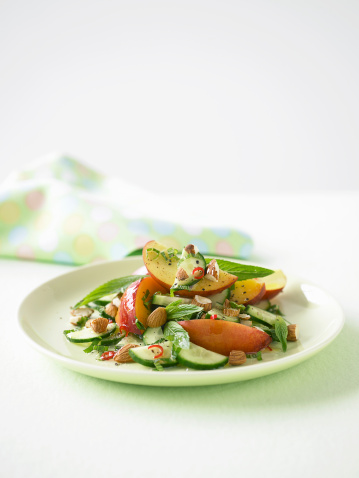 This summer try our super tasty, light and healthy Cucumber Peach Salad.
Ingredients:
1 lettuce heart
1 medium sized tomato, diced
1 cucumber, sliced
½ pound ripe peaches, cut into wedges
½ red onion, chopped
1 carrot, peeled and shredded
2 Tbsp. lemon Juice
2 Tbsp. red wine vinegar red wine vinegar
1 ½ tsp. olive oil
Small basil leaves for garnish
Salt and Pepper as desired
Directions:
Combine peach, tomato, carrot, lettuce, onion, and cucumber in a large bowl. Mix olive oil, lemon juice, vinegar, salt, and pepper. Pour over peach, tomato, carrot, onion, and cucumber. Toss well to coat. Garnish with basil.
For more delicious recipes, Subscribe Now to Naturally.