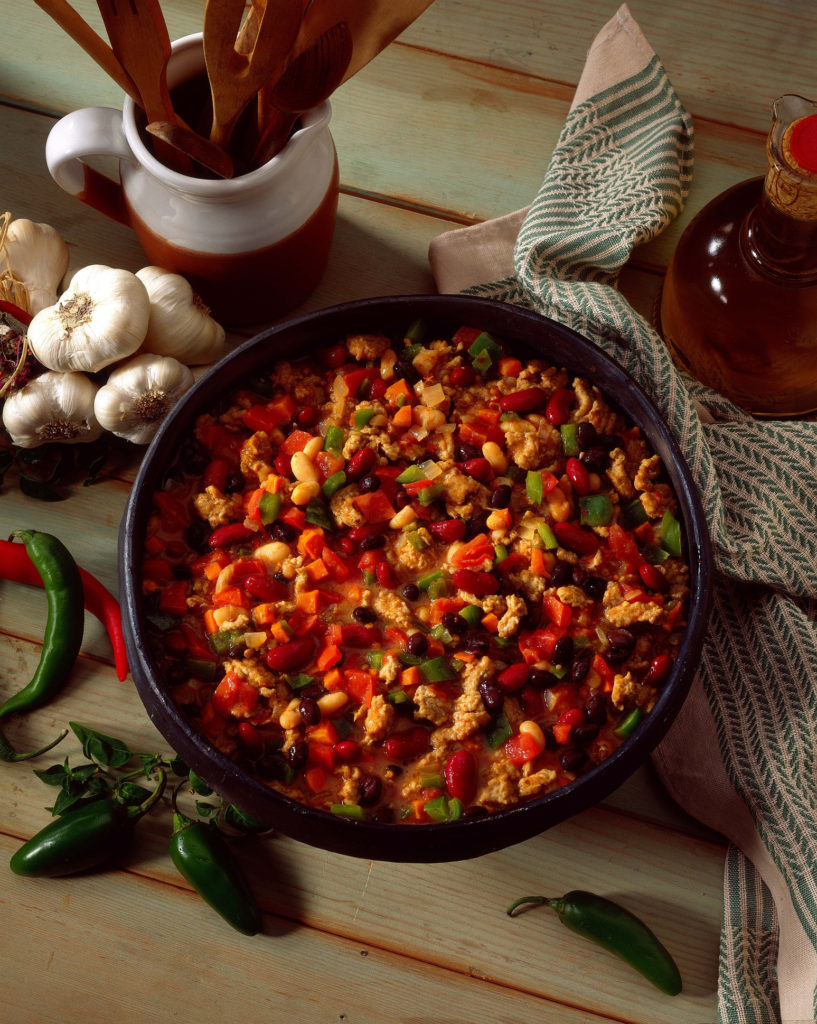 Try this spin on a cold-weather favorite.
Makes 8 servings
Ingredients:
1½ lb. lean ground turkey
1 Tbsp. olive oil
2 large onions, chopped
3 cloves garlic, minced
16 oz. organic no-salt-added canned tomato sauce
1½ cups water
3 Tbsp. chili powder
⅛ tsp. cayenne pepper, or to taste
1 tsp. ground cumin
1 Tbsp. fresh oregano or 1 teaspoon dried oregano
Fresh ground pepper to taste
½ tsp. salt (optional)
15 oz. canned organic no-salt-added pinto beans, rinsed and drained
4 Tbsp. arrowroot
¼ cup cold water
Directions:
Heat a non-stick skillet over medium high heat. Add ground turkey and sauté, stirring occasionally, 4 to 5 minutes or until meat is no longer pink. Pour contents of pan into a strainer or colander lined with paper towels. Allow liquid to drain out. In a large saucepan or Dutch oven, heat oil over medium-high heat. Add onions and sauté 2-3 minutes or until translucent. Add meat, garlic, tomato sauce and 1 1/2 cups water. Simmer 20 minutes. Stir in chili powder, cayenne pepper, cumin, oregano, pepper, salt and pinto beans. Allow to simmer an additional 30-40 minutes. Combine arrowroot and cold water. Stir into chili mixture to thicken and cook an additional 4 minutes. Serve hot.
Nutrition Facts:
335 calories, 26 g protein, 26 g carbohydrates, 13 g fat, 586 mg sodium, 90 mg cholesterol, 9 g fiber