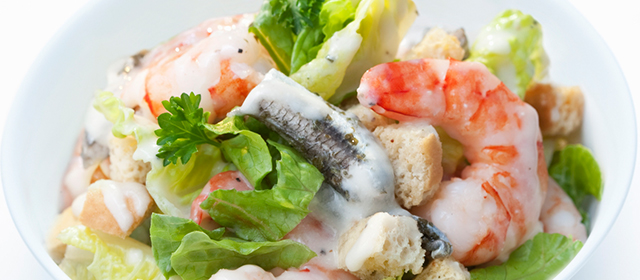 Go green! Give your salad an even-more healthy makeover.
Makes 4 servings
Ingredients:
1 cup edamame (soy beans removed from shell)
3 tbsp. olive oil
½ tsp. black pepper
1 lb. shrimp, deveined and peeled
1 tbsp. red wine vinegar
1 tbsp. lemon juice
1 tsp. grated lemon rind
2 tsp. minced garlic
½ cup sliced red onion
1 bag fresh baby spinach, washed and ready to eat
Directions:
Combine 1 tbsp. olive oil, ½ tsp. lemon rind, and ¼ tsp. black pepper together in a small bowl. Add shrimp and mix until shrimp is coated. Heat a medium sized sauté pan on medium to high heat. Sauté shrimp until cooked. Set aside. In a small bowl combine the remaining olive oil, lemon rind, pepper, plus vinegar, onion, and spinach. To serving arrange 2 cups of salad mixture with 1/4th of the sautéed shrimp on a plate. Enjoy!