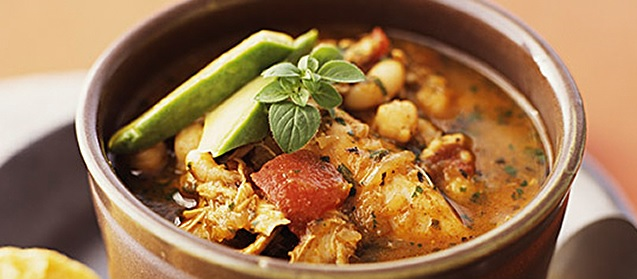 A warm soup for a cold winter's night.
Makes 4 servings.
Ingredients:
1 cup canned chipotle chilies in adobo sauce
1 tsp. olive oil
1 cup green bell pepper, chopped
½ cup green onion, chopped
3 cloves garlic, minced
1 Tbsp. ground cumin
1 lb. cooked chicken breast, skinless and cut in strips
28 oz. low sodium chicken broth
15 oz. canned, low sodium, diced tomatoes, undrained
10 oz. canned or frozen, no salt added corn kernels
Directions:
Remove chipotle chilies from can and mince. Heat oil in a large saucepan over medium to high heat. Add bell pepper, onions, garlic and cumin. Sauté until vegetables are soft (4-5 minutes). Add chilies, cooked chicken, chicken broth, tomatoes and corn. Bring to a boil; reduce heat and simmer for 3 minutes.
Nutrition Facts:
338 calories, 43 g protein, 25 g carbohydrates, 7 g fat, 501 mg sodium, 96 mg cholesterol, 5 g fiber