Finding a variety of activities to participate in is not a problem for Shaklee Pure Performance Team athlete Isabella Isaksen. As a member of the US team at the 2016 Games in Rio, "Izy" competed in the Modern Pentathlon, a grueling two-day event that includes fencing, swimming, equestrian show jumping, pistol shooting, and cross country running. With an eye on the 2020 Games in Tokyo, she continues to train hard with her husband, Amro Elgeziry, also a Shaklee athlete and Games competitor.
With a full schedule of training comes a full tote bag, so we couldn't help asking, "Izy, what's in your bag?" Here's what she told us.
Training for five events in the Modern Pentathlon means I'm often out of the house from 6:00 a.m. to 6:00 p.m., so when I leave home I must take everything with me that I might need during the day. Hence, the giant bag! There are a few things that rotate in and out depending on the competition season, but these are the essentials I always carry with me.
Sporting equipment: My training often requires me to go from one event straight to another. That's why I always keep a swimsuit, goggles, a swim cap, and running shoes in my bag. I'm always ready to go!
Sunglasses: Living in Colorado means it's almost always sunny. Sunglasses are an absolute necessity! Style is important, but I need glasses that I can use in my outdoor events and training long hours in the sun.
Skin care: Swimming in chlorine every day can make my dry skin unbearable. Following a skin care routine makes my skin much happier. I start off with YOUTH® Luminous Gel Oil Cleanser. I love it because it makes my skin feel super-clean without drying it out. I then use a toner and finish with YOUTH® Restoring Eye Treatment. The instructions recommend applying the Eye Treatment twice a day, but the harsh conditions of my training (being in the water, wearing a fencing mask, riding, and running in all sorts of weather conditions) occasionally require me to apply it more often. Plus, the cooling applicator tip makes it a pleasure to swipe on.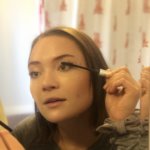 YOUTH® Lash Revitalizing and Conditioning Mascara: This mascara is the newest addition to my bag, but it's already a favorite. I think mascara is the quickest way to look put-together, and I love that the YOUTH® Mascara can look so natural if you just use one swipe, or you can completely transform your look by building it up. The two lengths of the brush on the applicator make it easier for me to go for volume or definition depending on the look I'm seeking. When I need to go straight from practice to dinner or a meeting, I swipe this on and feel completely ready to go.
YOUTH® Activating BB Cream: This product is one of my favorites! It really is a 5-in-1 product. My skin gets really red after a full day of training, so I love how this product evens out my skin tone. It's also super-hydrating (a must) and includes SPF 30. A quick freshening up with the BB Cream combined with the Mascara, and I'm ready for anything!
In addition to carrying these items in my day bag, whenever I travel to competitions and training camps, I always take Shaklee with me. My favorite in-competition meal is Life Shake™ Plant Protein Vanilla (not pictured). It gives me the energy I need without weighing me down in competition. I also love to bring along the Germ Off Disinfecting Wipes. I put a few in a zip bag and throw it in my carry-on—perfect for wiping down my tray table in flight.
The products we use for our body, both inside and out, make a huge difference in our health and I love knowing that Shaklee products are completely safe. Of course, you don't need to compete in five different events at the elite level to stay healthy, but it's good to know that Shaklee supports pure performance in whatever you do!