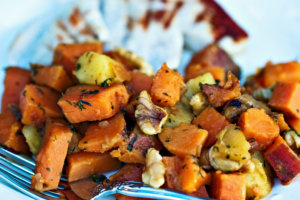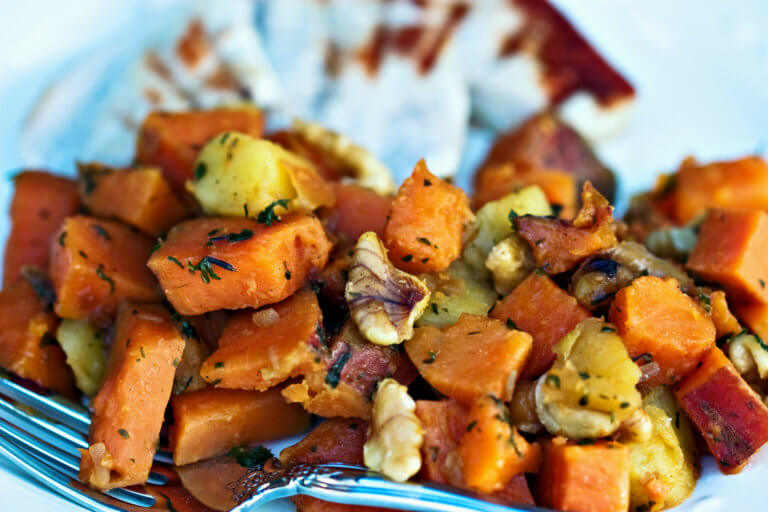 Sweet Potato Breakfast Hash
Ingredients:
1 Tbsp olive oil
1 Tbsp rosemary
1⁄2 red onion
1 clove garlic, minced
1 sweet potato
1 jalapeño (optional)
2 bell peppers
2 green onions
Directions:
Heat olive oil in a large skillet over med-high heat. Add diced sweet potato, cover and let cook for approximately 10 minutes or until it begins to soften, stirring occasionally. While the sweet potato cooks, dice the red onion and mince the garlic. Add to the skillet. Dice bell peppers, jalapeño, green onion and rosemary (if using fresh) and add to skillet. Cover and let cook for approximately 5 minutes, or until sweet potato is tender. Enjoy!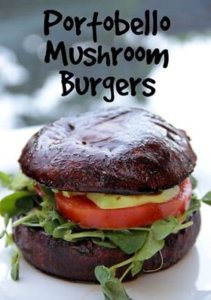 Portobello Mushroom Burger
Ingredients:
2 Large Portobello Mushroom Caps
3 Tbsp Balsamic Vinegar (no sugar added)
1 clove fresh garlic minced
2 Tsp Dried Basil
1 Tsp Dried Oregano
1/2 Tsp Ground Black Pepper
1 Large Tomato sliced
1 Avocado sliced
1 Cup Pea Shoots sprouts
1 Tbsp Yellow Mustard
Directions:
Slice the mushroom stems off (option to save for dressing) Slice about 1/2″ of the mushroom top off (as if slicing a bun). Combine the balsamic, garlic, basil, oregano and pepper in a small bowl and mix well. Place the mushroom caps on a cookie sheet with foil and a little olive oil (to prevent sticking). With a large spoon pour the marinade over each mushroom cap and let sit for about 10 mins. Preheat the oven to 425 F.Bake the mushrooms for about 10 mins. Check and see if they are done – otherwise flip them and bake another 10 mins. Place the bottom of the mushroom cap on a plate – add your choice of toppings and top with the top portion of the baked mushroom cap.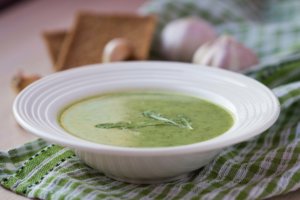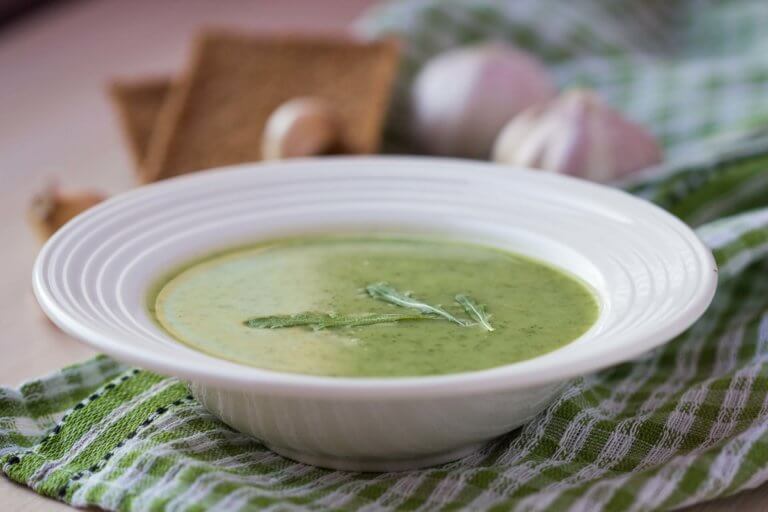 Cleansing Green Veg soup
Ingredients
1 Tbsp olive oil
1 yellow onion
4 cloves garlic
1 small head of broccoli (2 cups florets)
1 zucchini, diced (2 cups diced)
Green cabbage (2 cups shredded)
2 stalks of celery, diced
6 cups water
½ tsp dried basil
½ tsp dried parsley
¼ tsp dried thyme
2 bay leaves
10 oz baby spinach or kale, roughly chopped
½ cup parsley
Juice of one lemon, about 3 tablespoons
1/2 avocado
½ teaspoon black pepper
Directions:
In a large soup pot, saute onion and garlic in 1 tablespoon coconut oil over medium heat until onions are translucent, about 3-5 minutes, stirring
occasionally so the garlic doesn't burn. Add dried parsley, basil, pepper, and thyme, and stir for 1 minute. Add remaining veggies and water, plus bay leaves. Cover, bring to a low boil, and reduce heat and simmer for 15 minutes.Turn off heat and add baby spinach or kale. Stir to incorporate and cover pot with the lid to let wilt, about 5 minutes. Meanwhile, in a blender or food processor, add avocado, lemon juice, and ¼ cup of broth from the pot and blend until smooth.* Stir the avocado and lemon mixture into the broth until completely incorporated, as well as ½ cup chopped fresh parsley. Taste and season with additional pepper if necessary. Serve hot!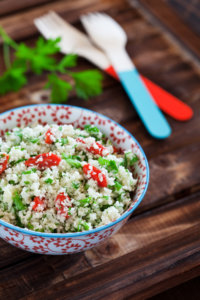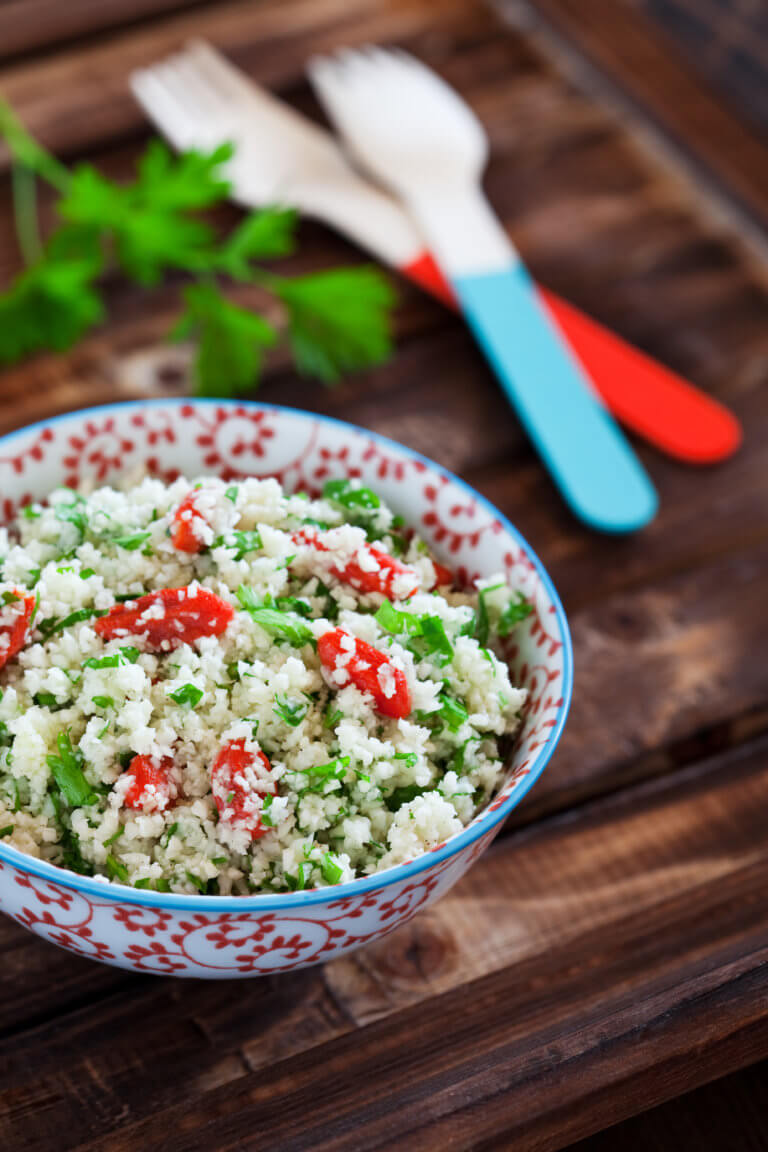 Cauliflower Tabbouleh
Ingredients:
1 head cauliflower pulsed in food processor to be size of rice or quinoa
1 English cucumber diced small
1 tomato, seeded and diced
1/2 – 1 cup of chopped parsley
1/2 cup chopped mint
2 spring onions diced small
For Dressing:
juice of two lemons
6-7 Tbsp olive oil
1 tsp diced garlic
1/4 tsp pepper
Directions:
Break the cauliflower into smaller pieces and place in the food processor. Pulse it 5-10 times depending on the desired size. Add all ingredients up to dressing and toss. Put all dressing ingredients into a jar and shake well. Dress salad and taste. Add more pepper and lemon as needed.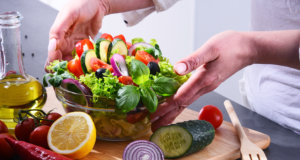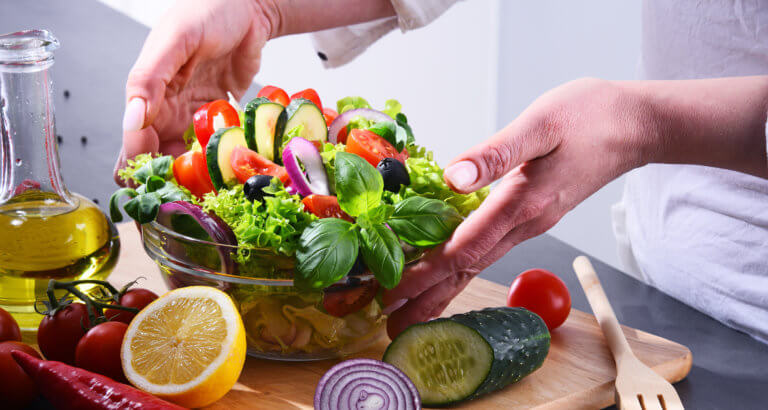 Detox Herb Salad
Ingredients:
1 head of broccoli, chopped into bite-sized pieces.
1⁄2 head cauliflower, chopped into bite-sized pieces.
1 large carrot, shredded.
1 pear, chopped.
1⁄4 c. minced red onion.
1⁄2 bunch cilantro, minced.
1⁄2 bunch dill, minced.
1⁄2 bunch mint leaves, minced.
Dressing:
2 lemons, juiced.
1⁄4 c. extra-virgin olive oil.
1/4 tsp black pepper
Directions:
Prepare the dressing. Preparing the dressing first allows the flavors to intermingle before using it on your salad. Add the lemon juice, raw apple cider vinegar, olive oil, and black pepper to a container with a lid. Shake vigorously until well blended. Taste and adjust seasonings to your preference. Allow the dressing to sit for at least 15 minutes before dressing your salad. Toss the salad. It is important to chop your broccoli and cauliflower into small pieces for easier digestion. Try pulsing them in a food processor, or use a sharp knife to chop them into bite-sized pieces. Add the broccoli and cauliflower to a large salad bowl along with the shredded carrot, chopped pear, red onion, cilantro, dill, and mint. Add enough dressing to coat the salad, but not drown it. Mix thoroughly. And enjoy!!!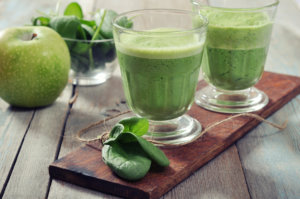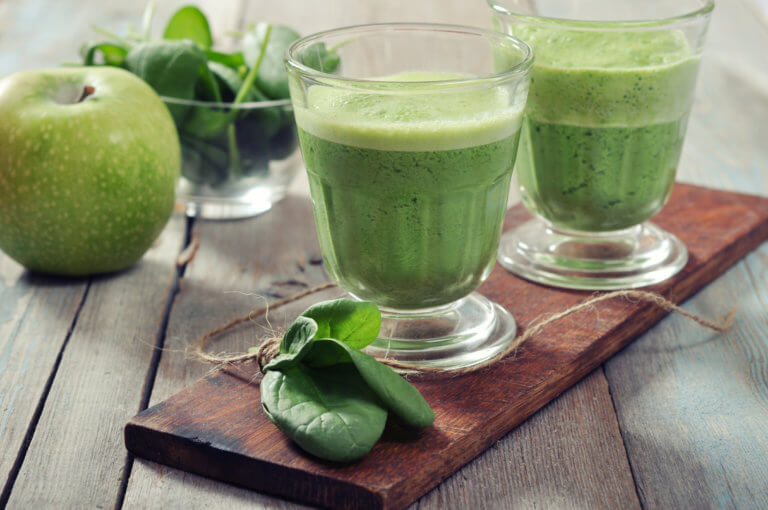 Green Apple Smoothie
Ingredients:
8-10 oz water
1 small organic granny smith green apple, sliced & seeded
1 handful greens (spinach, kale, collards)
1/2 banana
Directions: Blend all ingredients together until smooth